People love to share their bedroom decor ideas on social media platforms like Instagram and TikTok.
Scroll through your feeds and you're bound to come across plenty of cute, comfy, and aesthetically pleasing bedrooms. (In fact, here at Saatva, we always enjoy sharing photos of our customers' stylish bedrooms on our Instagram account!)
If you love interior design and are looking to give your bedroom a makeover, there are a few trendy decor ideas you can implement in your sleep space. Keep reading for 16 aesthetic room ideas that will help you create a bedroom worthy of TikTok fame.
1. Make a DIY tufted headboard
A well-decorated bedroom isn't complete without a headboard. It's the perfect glam accessory to complement your entire bedroom design style.
A DIY headboard is easy and won't put a dent in your bank account. All you need to create an amazing DIY headboard is a staple gun, fabric, filling, and a piece of wood.
2. Hang cute fairy lights on the wall
Fairy lights are the perfect piece of wall decor to give you a cute and cozy bedroom. You can hang these string lights along your bedroom wall, ceiling, or headboard.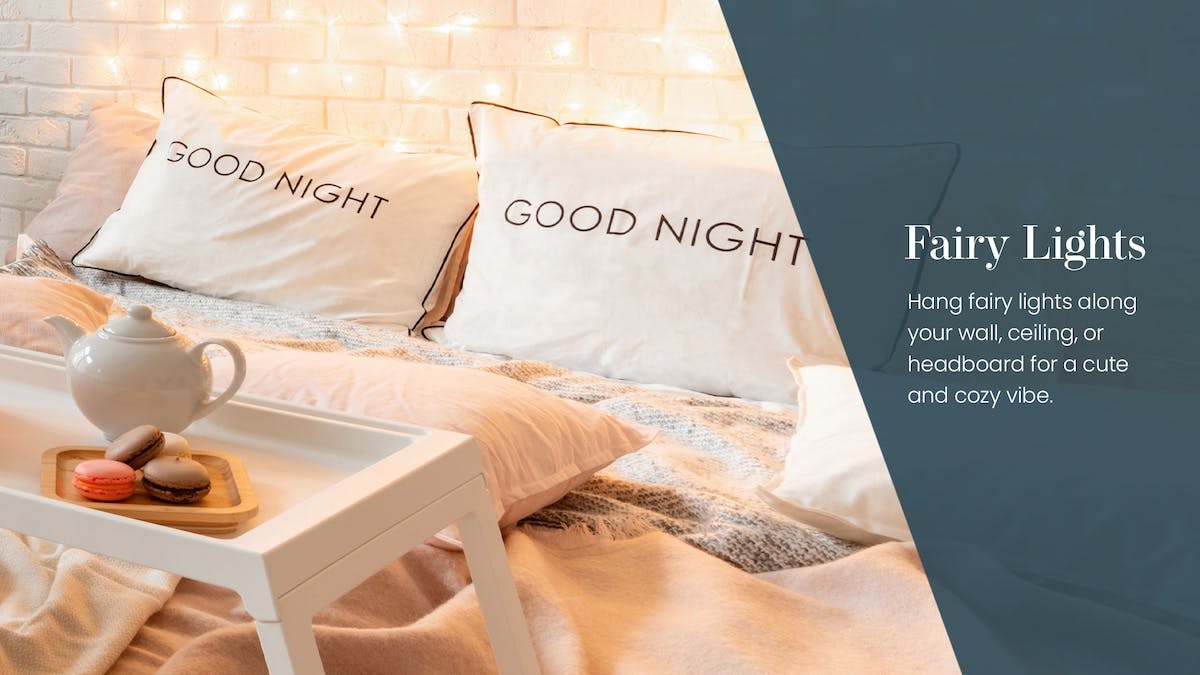 As an added bonus, fairy lights eliminate the need for a light fixture and come in color-changing LED lights that you can use to further customize your bedroom.
3. Create a gallery wall
Gallery walls are increasing in popularity in the interior design space. They're a great way to display plenty of wall art in a single location. For example, you can arrange a photo collage with a variety of personal photos, art prints, posters, and much more.
Best of all, you can use Command adhesive strips to hang everything in your wall collage up-no screws or nails needed. That means this bedroom decor idea is perfect for apartment renters and college students living in a dorm room.
4. Incorporate fun textural elements
Playing with texture is important if you want an aesthetically pleasing bedroom decor style. You can add texture by using throw pillows, shag carpets, or a fuzzy blanket.
This can help make certain elements of your bedroom pop instead of just having a single texture across the entire room.
5. Include some greenery
Placing plants in your sleep space is an easy way to change up your bedroom decor. Plus, certain plants can actually help improve your sleep. (Learn more about the best plants for sleep.)
Putting up a few plant hangers on the wall and some potted plants across the room can help brighten up the space and allow more natural light to flow in.
If you don't have a green thumb, you can use faux greenery to provide the same look without all of the maintenance.
6. Get a bed canopy
A bed canopy can instantly increase how cozy your bedroom feels. It can also give you more privacy, which is excellent for small spaces like a studio apartment.
Using a bed canopy would allow you to share your bedroom space with a living room or home office because it would make the spaces feel different from each other. (Here's how to create a bedroom office that won't ruin your sleep.)
7. Change up your color palette
Chances are, you chose a bedroom color palette when you first moved in. But if you're feeling your decor needs a revamp, you can always switch up the color scheme.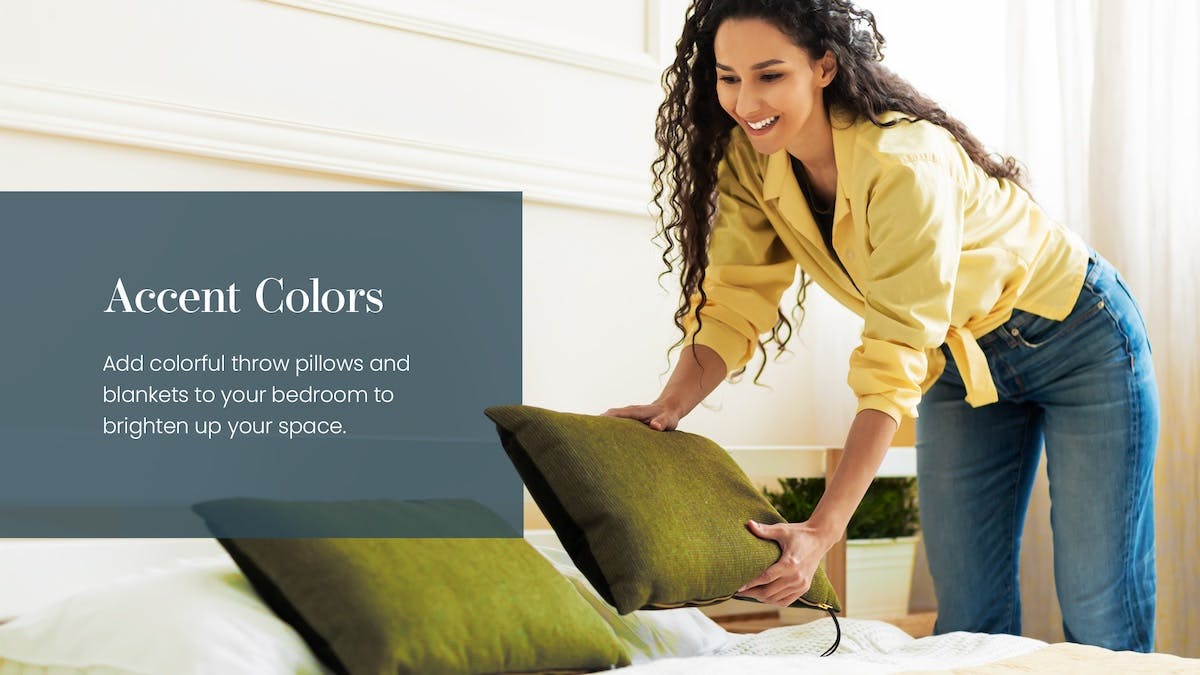 This is a pretty easy task. You can change out some wall art, the paint colors, or your bedding. Even small accents like throw pillows and blankets are easy to change when you feel the need to refresh your bedroom color palette.
8. Put up some boho tapestries
If you want a bohemian bedroom, then consider hanging up some boho tapestries. They can add a light and airy feel to your bedroom.
Boho tapestries are a low-cost way to decorate your walls. They look super-cute and are renter and dorm room-friendly.
9. Go minimalist
Minimalist decor is a popular interior design trend right now, and for good reason. A minimalist bedroom is often more calming than a cluttered one. A 2016 study shows that a room free of clutter effectively lowers stress which can, in turn, help you sleep better.
Minimalist bedrooms often use a very small and muted color palette, Scandinavian style furniture, and minimal (but intentional) decor elements. Minimalist bedrooms are easy to clean and have a very crisp aesthetic.
Embracing minimalism might involve decluttering, using a black and white color palette, or getting less extravagant furnishings.
10. Have fun with an accent wall
You can boost the playfulness of your bedroom decor with an accent wall. This is an excellent way to add more patterns and color to your interior design style.
There are a few different ways to incorporate an accent wall into your bedroom. You could paint one wall a bright color or add a painted mural. You could also use wallpaper to accomplish the same look and feel.
11. Lean a full-length mirror against the wall
Placing a full-length mirror against a wall can help open up small rooms and make them feel bigger and brighter. A mirror is also useful to have in your bedroom because you can use it to check your outfit or do your makeup.
12. Customize a neon sign
It's become increasingly popular to add neon signs to bedroom wall decor. Neon signs fit in well with gallery walls and other wall art.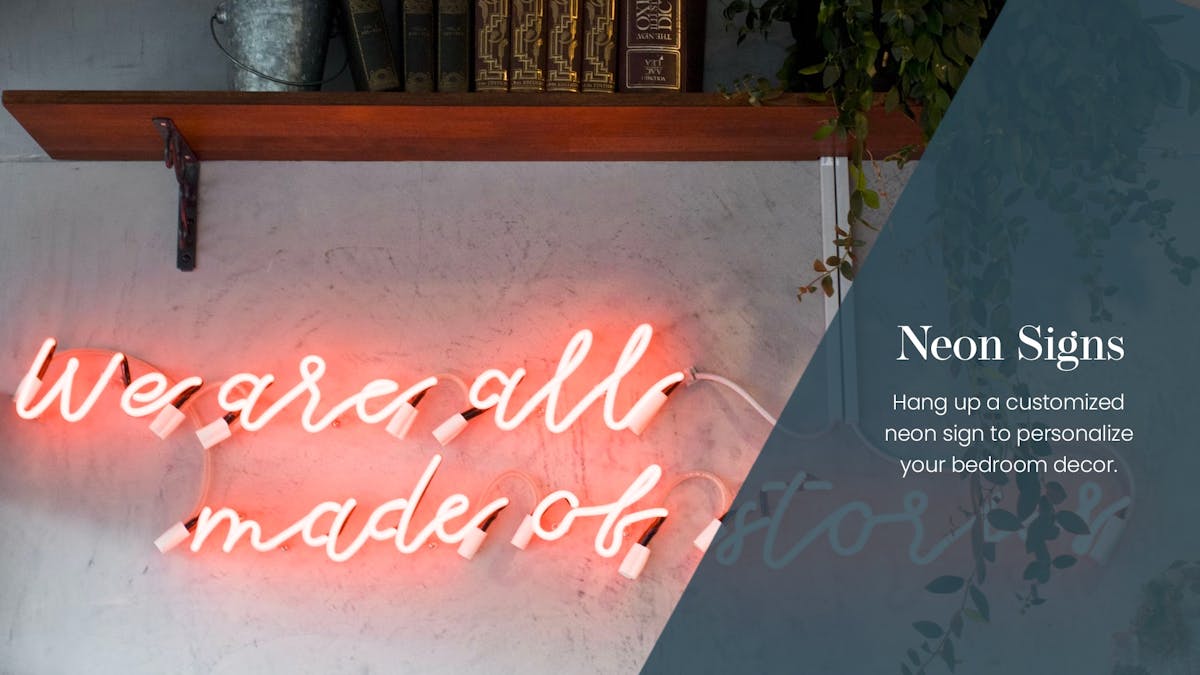 A custom neon sign can make your bedroom feel more personalized. You can get a customized sign to say just about anything you want, whether that's your name, a short quote, or something else.
13. DIY a macrame wall hanging
You can put your DIY skills to work and bring a funky, indie touch to your bedroom decor by creating macrame wall hangings. Much like custom neon signs, macrame wall art pieces are quite popular.
A macrame wall hanging is easy to create. All you need is some macrame cord, scissors, string, and a wooden dowel to hang it on.
14. Play with pastel elements
Pastel colors are extremely trendy right now. They also happen to make for a great color scheme for an aesthetically pleasing bedroom.
Including some elements of pastel pinks, purples, and blues can elevate your bedroom decor and make it feel cozier.
15. Use natural materials
Natural materials like linen and wood give off a cottagecore aesthetic. So if that aligns with your interior design style, then adding natural materials to your bedroom could work well for you.
Rattan furniture is a nice natural option that you can use to introduce a bit of rustic charm into your bedroom layout.
16. Get a disco ball
The recent resurgence of Y2K style has made retro elements like disco balls trendy again.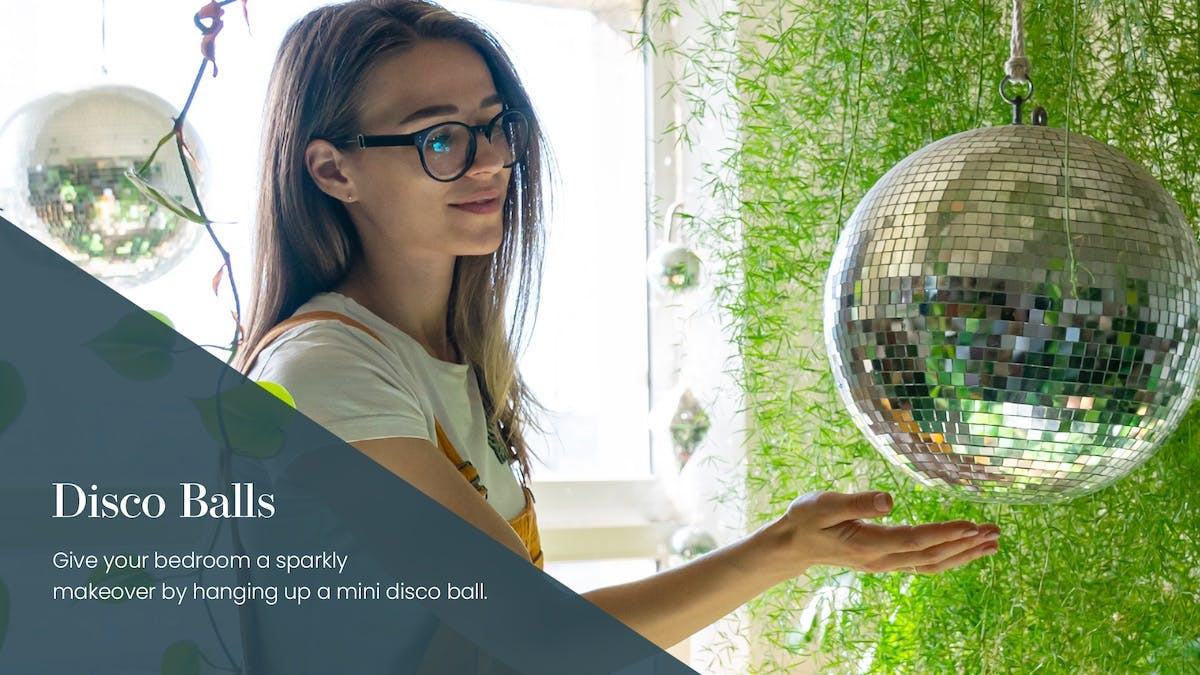 A mini disco ball could be the perfect sparkly element to add to your bedroom. It can create cool textures and patterns when it reflects light across surfaces.
Shop high-quality bedroom essentials with Saatva
Switching up your bedroom decor can be incredibly fun. There are a lot of styles on social media you can check out for inspiration.
When you change your bedroom decor, you should also think about upgrading your bedroom essentials, like your mattress, sheets, and pillows. Saatva has a wide range of high-quality mattresses and bed accessories to help you give your bedroom a makeover.
Check out our luxurious and comfortable options for the bedroom, from mattresses to href=https://www.saatva.com/bedding/pillows>pillows to bed frames. No matter what aesthetic you choose, we have high-quality products to help elevate your decor.