When putting together a bedroom, you remember to include all of the must-haves: the soft, stylish linens, the furniture (like dressers, nightstands, and a reading chair), and of course, a mattress that will help you get a quality night's sleep.
But what about bedroom lighting—have you considered this as you daydream about your future bedroom?
You probably prioritize the spots in your home where lighting is essential, such as task lighting in the kitchen or outdoor lighting on your porch—but you might simply view your bedroom as the place where all you do is power down for the night.
The thing is, a little good lighting can go a long way in your sleeping space.
The importance of lighting in the bedroom
Amanda Evans of Vancouver, British Columbia's Amanda Evans Interiors, says lighting is key throughout a home—and that includes the bedroom.
"The bedroom is an area in your home that influences how you sleep, rest, and ultimately, recover for the day ahead," she says. "The ambiance and feel that you accomplish in this space is key to all those activities, so it's important to find the perfect balance between natural light, dimmers, accent lighting, and more so they can function throughout the natural progression of the day."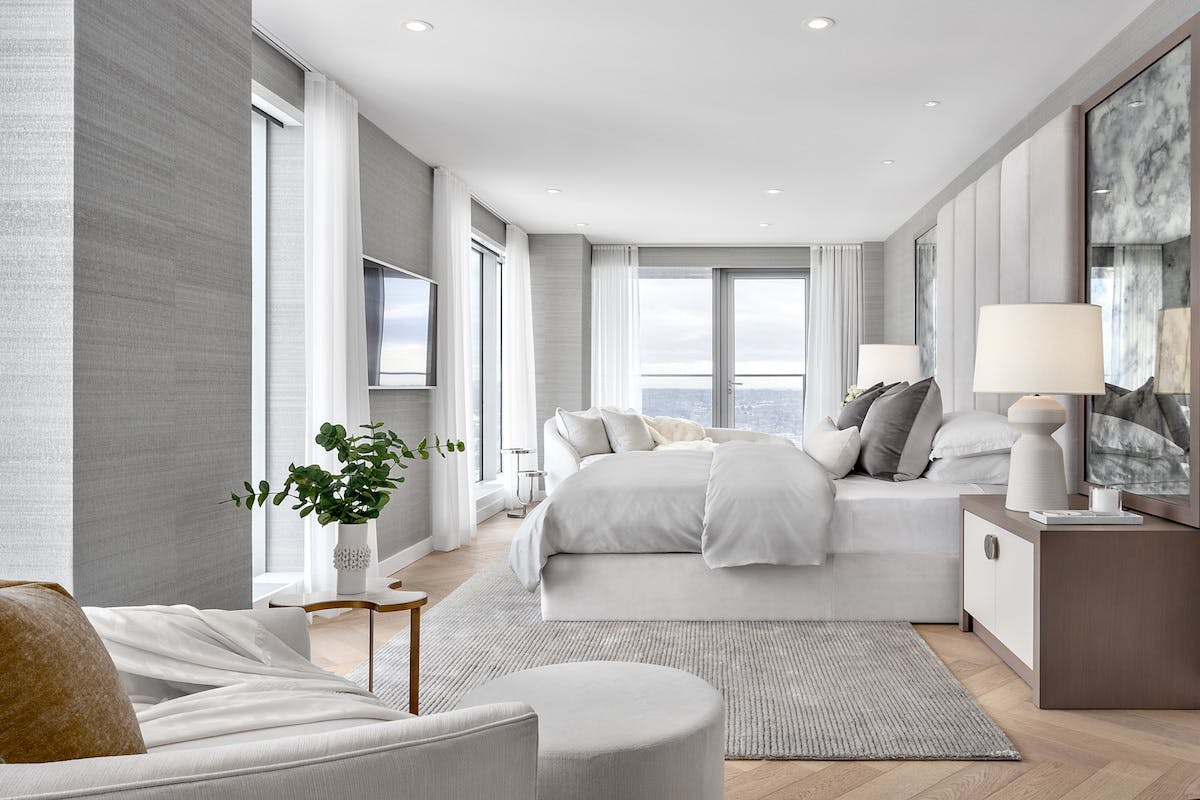 Layer lighting in your bedroom, like Evans did here. (Image courtesy of Amanda Evans Interiors)
How to achieve the perfect bedroom lighting
Below, Evans shares her top six tips for achieving optimal lighting in any bedroom space.
Layer lighting
When you hear the word "layers" for a bedroom, your bed linens likely come to mind, right? Well, just like how you layer on the blankets when it turns chilly outside, it's helpful to layer the lighting in your bedroom as well. It's all about including a combination of lights that suit different needs.
"Layers of light are critical in a bedroom," Evans observes. "This means having overhead general lighting, task lighting, and ambient lighting that can make all the difference and are necessary if you use your bedroom for different tasks."
Consider bed height
Sure, bed height is important when considering nightstand heights or if you can easily get in and out of bed, but it's also a factor when setting up bedroom lighting.
Evans points out that buying a mattress, box spring, and metal frame can end up positioning the bed far too high off the ground, which actually can affect the amount of light received.
She says that the optimal height for a mattress off the floor is between 24 and 26 inches, which should be aligned with your nightstands.
Use dimmers strategically
It's not ideal to sit in a room that's lit by super-bright lights right before you go to sleep. Dimmers are an excellent choice in the bedroom because they can help signal to the body that it's time to get some rest.
"When designing a bedroom, whether it's new construction or a renovation, we always add recessed pot lighting on a dimmer," Evans says. "This layer of light is great for general lighting when you are getting dressed, tidying up, or other everyday tasks. When dimmed, the overhead lighting illuminates the fabrics and textures and finishes the room with a nice, soft glow when you want to relax."
Think through window coverings
Although natural light is pleasant during the day, this is the type of light you'll want to keep out of your bedroom at night.
"Don't ignore window coverings," Evans advises. "Proper window coverings can greatly affect sleep quality. It's best to have blackout drapery—but even well-lined drapery will help reduce the natural light in the room, leading to a better night's sleep."
Go beyond a ceiling light
Ceiling lights are pretty standard in bedrooms—but don't rely on just that light to provide enough illumination for your entire space. In fact, Evans says this is the biggest mistake one can make when it comes to bedroom lighting.
She emphasizes that one central ceiling fixture won't provide the right kind of light for a bedroom. Instead, Evans recommends adding layers with table lamps and recessed lighting.
Weave in decorative lighting
After you've integrated the practical lighting in your bedroom, like a good ceiling light and recessed lighting, it's time to bring in decorative accent lighting.
"A beautiful table lamp or wall sconce over the nightstand serves as a decorative piece but also as ambient lighting that is perfect for nighttime when you want to unwind with a good book," says Evans.
From thinking of lighting as an afterthought to skipping out on rugs, here are the top bedroom decorating mistakes to avoid when designing your sleep space.