As you build a new life with your partner, one thing you want to have on your wedding registry is great bedding. After all, as feng shui experts say, the bedroom in many ways is the foundation for a successful marriage.
Choosing the right bedding-from sheets to pillows to blankets to comforters-might seem simple, but there are a few things you'll want to keep in mind before adding any of these items to your registry.
"When selecting bedding, registrants should also consider their sleep styles and if they need specific sleep solutions, like cooling mattress pads or weighted blankets, for example," explains Jessica Joyce, a wedding registry expert at Bed, Bath & Beyond.
The best bedding for your wedding registry: how to choose
To help you make sense of the different bedding items out there and decide what to include on your registry, I tapped Joyce for her expertise. As someone who got married a year and a half ago, I'm also sharing my tips for adding bedding to your registry.
Select sheets and pillows according to your sleep persona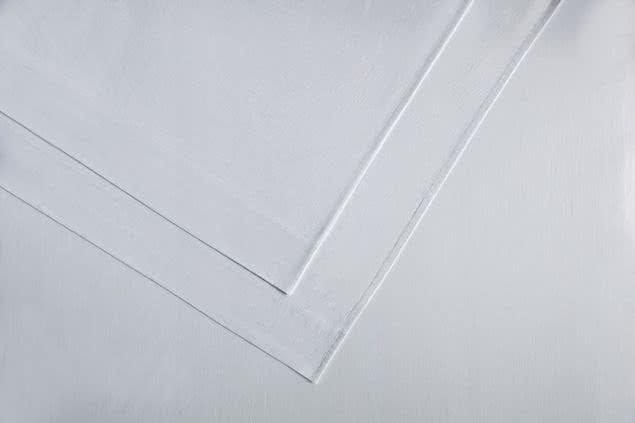 Percale cotton sheets are a good option for hot sleepers because they sleep cool
"People spend one-third of their lifetime in their bed, and the first step to getting a good night's sleep is identifying your sleep persona," says Joyce. "Couples' sleep personas can vary so you want to ensure you're outfitting your space to accommodate your specific sleep needs."
For example, my husband is a hot sleeper who tends to move around a lot in bed. On the other hand, I'm usually hogging the comforter and snooze on my right side for most of the night.
Before adding sheets to my registry, I made a note of the bedding we already had and researched different materials and weaves that suited our needs. I chose cotton and linen sheets for my registry because they're both lightweight and breathable materials that can be easily layered with blankets or a comforter during colder months.
"If you are a hot sleeper, you should strongly consider getting a natural fiber sheet set," says Joyce. "Cotton is the all-around favorite as a natural fiber."
Within the cotton category, she likes percale sheets for hot sleepers because they have a crisper finish and therefore feel cooler, as opposed to sateen sheets, which feel warmer and cozier.
During the winter, meanwhile, Joyce says, "cold-weather sleepers might want to invest in some cozy flannel sheets."
Joyce also advises that every couple should have at least two sets of bed sheets for every bedroom in the house-one for the bed and one for the laundry.
When it comes to a comforter, it's worth adding a high-quality one to your wedding registry. "Don't shy away from adding a few higher-ticket items to your registry wish list, such as a great down comforter," Joyce notes. Down is the gold standard of comforter fillings-and a good down comforter should last you up to 15 years.
Down isn't your only option, though. Because my husband tends to run hot at night, I chose a down alternative comforter with eucalyptus for its cooling effects.
Related: Best tips for buying sheets
As for pillows, Joyce advises couples to find ones that will support their individual sleep positions. "For example, if you're a side sleeper, make sure that you register for a pillow with a high-firm profile so that it comfortably fills the gap between the outer edge of your shoulder and your ear," she says. A memory foam pillow is a good option for side sleepers because it provides excellent pain and pressure relief for your head, neck, and shoulders.
If you're a back sleeper, then add a thinner to medium-thick pillow to your registry. This will help keep your head, neck, and spine properly aligned. A latex pillow is an especially nice choice for back sleepers because it's buoyant, responsive, and excels at head and neck support. It also sleeps cool.
Stomach sleeper? Opt for a thinner pillow, which will allow you to breathe and minimize the amount of strain on your neck. Because you sleep face-down with your nose right against the pillow, choose one made from a hypoallergenic material, like latex or bamboo, along with a hypoallergenic cover and pillowcase made from a natural material like cotton.
Beyond taking your sleep position into account, Joyce suggests hot sleepers get cooling pillows.
Plus: "Always remember, one good-quality pillow can make up for the multiple low-quality pillows, so keep that in mind when doing your research and comparing prices," she adds.
Consider pillow and mattress protectors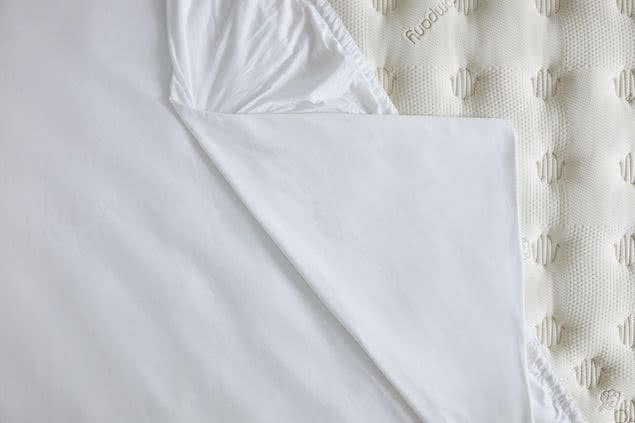 Add a mattress protector to your wedding registry to keep allergens out of your bed
For allergy sufferers, Joyce recommends a mattress protector and pillow protectors to shield against dust mites and other allergens. My husband and I are both prone to allergies, so I added pillow protectors to our registry. Pillow protectors also work to prevent sweat and drool from seeping into fabrics, making it easier to keep your pillows clean.
Related: Mattress pads, protectors, and toppers: Which do you need?
Get a mattress topper for additional support
A mattress topper can help alleviate back and neck pain
If you or your partner wakes up with back or neck pain, Joyce says getting a memory foam mattress topper can help provide more support and alleviate the strain. A latex mattress topper, on the other hand, is a good option for hot sleepers since latex sleeps cool.
In general, a mattress topper adds another layer of comfort to a firm or extra-firm mattress and can help protect your mattress from stains and sweat.
In the middle of planning your big day? Here's how to keep wedding stress from ruining your sleep.