Summer is the perfect time to up your smoothie game. Not only are these blended drinks super-refreshing on the hottest of days, but they've also got some serious benefits.
"The number one benefit of a smoothie is convenience," says Brooke Scheller, doctor of clinical nutrition, certified nutrition specialist, and director of nutrition at meal subscription service Freshly. "It can truly be a one-stop-shop for a variety of healthy ingredients without having to cook and with little preparation." What's more, blending food before eating it can make it easier for your body to digest nutrients, adds Scheller.
With National Smoothie Day around the corner on June 21, we've rounded up our favorite energizing morning smoothies and relaxing bedtime smoothies to start and end your day on the right foot. Cheers!
How to create the perfect morning smoothie
"The great thing about a smoothie is that you can cram a lot of foods and ingredients into one single meal," says Scheller. "It's also a good opportunity to introduce ingredients that pack a nutritional punch in a more approachable way-think superfood greens powders, iron-rich goji berries, protein-packed collagen powder, and omega-3-rich chia seeds."
According to Scheller, some of the best ingredients to add to a morning smoothie include:
Protein: Protein is critical for a smoothie as it helps aid in satiety and balance blood sugar so that you're not hungry shortly after," says Scheller. However, many protein powders contain artificial sweeteners, so Scheller prefers standard grass-fed collagen powder, which acts as a complete protein. "Collagen is also an important protein to help support skin, joints, and can even support gut health," says Scheller.
Healthy fats: Fats help aid in absorption of nutrients, like vitamins A, D, E, and K," says Scheller. "Healthy fats also work in tandem with protein to keep you feeling full for longer." Nut butter, whole nuts, chia seeds, and avocado are all great examples of healthy fats you can add to a morning smoothie.
Vegetables: Since these are our most nutrient-dense foods, and most of us don't consume enough, I recommend making this a staple in your smoothie," says Scheller. Her favorite veggie to add to a smoothie is cauliflower, which won't impact the flavor. You can also toss a handful of greens, like spinach or kale, into your blender.
Fruit: This is your solution to an unflavored protein powder-gain sweetness from naturally occurring sources in fruit," says Scheller. "Fruits also contain a range of vitamins and antioxidants to help meet your nutritional needs." That said, fruit can be high in sugar. Use a handful of berries or half a banana to reap the fruit benefits but cut back on sugar.
Superfoods: Since smoothies are an opportunity to consume a lot of foods in one convenient place, adding superfood ingredients is a plus," says Scheller. She likes cacao powder, greens powder, and goji berries.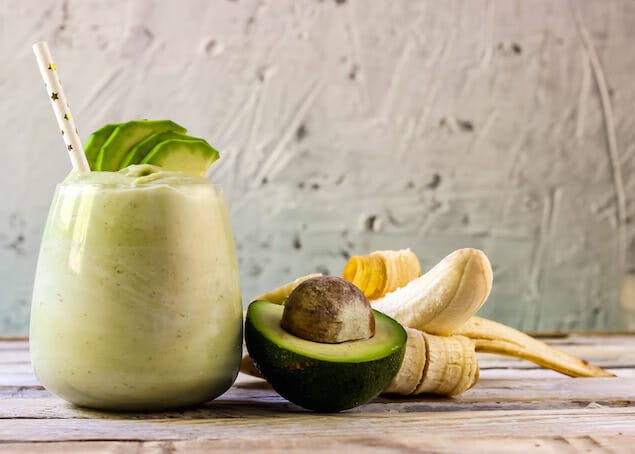 The best morning smoothie recipes
Enjoy a tasty, nutritious breakfast with one of these morning smoothies that'll boost your energy and set you up for a successful day.
Cacao avocado smoothie
Satisfy your sweet tooth with this healthy recipe from Scheller:
Ingredients:
8 oz unsweetened almond milk
½ banana
¼ avocado
1-2 scoops collagen powder
2 tbsp cacao powder
Handful of spinach
Handful of ice, if desired
Directions:
Blend all ingredients in a blender until smooth.
Mixed berry smoothie
Load up your blender with fresh summer produce for an antioxidant-packed smoothie. This mixed berry smoothie recipe from Deliciously Sprinkled combines blueberries, raspberries, and blackberries with yogurt and vanilla extract for a sweet morning treat. Add collagen powder for your protein fix.
Protein is critical for a smoothie as it helps aid in satiety and balance blood sugar so that you're not hungry shortly after.
Green tea and chia seed smoothie
Green tea has a host of health benefits, with one of the major ones being its ability to energize you without making you feel jittery. This breakfast smoothie recipe from Aberdeen's Kitchen contains green tea, fiber-packed chia seeds, and a variety of fruits including blueberries and cantaloupe.
Kale pineapple smoothie
Get your fill of greens in the A.M. with this kale pineapple smoothie recipe from Nourish Move Love. Kale is called a superfood for a reason: It's loaded with vitamins and minerals needed to keep you running throughout the day. For an extra burst of energy, add matcha green tea.
Related: The best morning routine for your lifestyle
How to create the perfect nighttime smoothie
A pre-bedtime smoothie should set you up for a good night's sleep. "Since magnesium is a calming, stress-reducing nutrient, this is a great add for a nighttime smoothie," says Scheller. Cacao powder is another rich source of magnesium and a great addition to a nighttime smoothie.
"If you're looking for something less filling or an after-dinner treat, try a cacao hot chocolate," suggests Scheller. Simply heat your favorite unsweetened, non-dairy milk-like oat or almond-over your stovetop and mix in 1-2 tbsp of cacao powder. Sweeten with a little honey or maple syrup and sprinkle with cinnamon. (Learn more about the connection between nutrition and sleep.)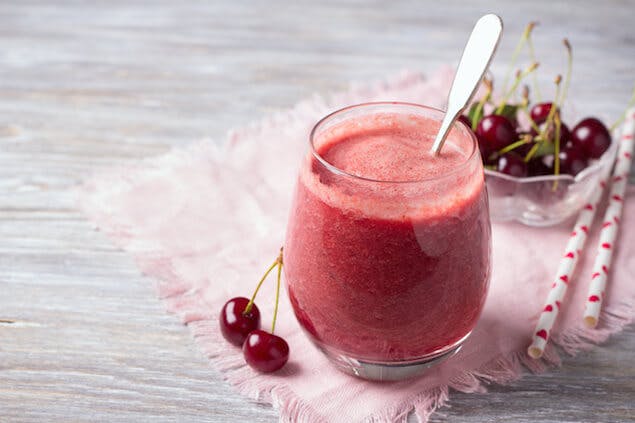 Best smoothie recipes for bedtime
Skip the prepackaged, artificially sweetened desserts and wind down with one of these delicious nighttime smoothies for sleep.
Tart cherry and chamomile tea smoothie
One of the most effective foods to promote sleep: tart cherries. This sleep-inducing smoothie recipe from Simple Green Smoothies combines tart cherry juice, chamomile tea, old-fashioned oats, spinach, banana, and almond butter for a relaxing nighttime snack.
Kale banana smoothie
This green smoothie recipe from Hello Glow offers another opportunity to load up on the good-for-you superfood. In addition to kale, ingredients like banana are full of magnesium, which relaxes the muscles and primes you for sleep. The almond butter in this smoothie is also high in magnesium.
Since magnesium is a calming, stress-reducing nutrient, this is a great add for a nighttime smoothie.
Kiwi smoothie
Kiwi is one of the best fruits for sleep as it's high in vitamin C, which is essential for healthy shuteye. This little green fruit takes center stage in this relaxing bedtime smoothie from Milk and Pop. Along with kiwi, the smoothie also features magnesium-rich banana, relaxing chamomile tea, and filling almond butter.
Mango and cherry smoothie
This kid-friendly smoothie recipe from Steam Powered Family is something the whole family will enjoy. Tart cherries are a natural source of melatonin, the sleep hormone, while mango is chock full of magnesium.
Smoothies aren't the only beverages that can help you snooze. Here are the best drinks to sip before bed for a more restful night's sleep.