With so many options on the market, finding your perfect mattress can be difficult. If you're looking for something that sleeps cool and has a bit of springiness, you've likely narrowed down your options to innerspring and latex mattresses.
While these mattress types are similar, they do have quite a few notable differences as well. Let's explore the key differences between innerspring and latex mattresses to determine which one can help you get the best sleep.
What is the difference between latex and innerspring mattresses?
When it comes to selecting the ideal mattress type for you, you'll need to consider construction, cost, and features like firmness level and motion isolation.
Latex mattresses are made with high-density, hypoallergenic latex foam. They're known for their body-contouring abilities and durability. They're a softer, plusher option compared to a traditional innerspring mattress.
Innerspring mattresses use a metal coil system to offer an increased level of support for your pressure points. They often come with a plush comfort layer on top but still remain on the firmer side.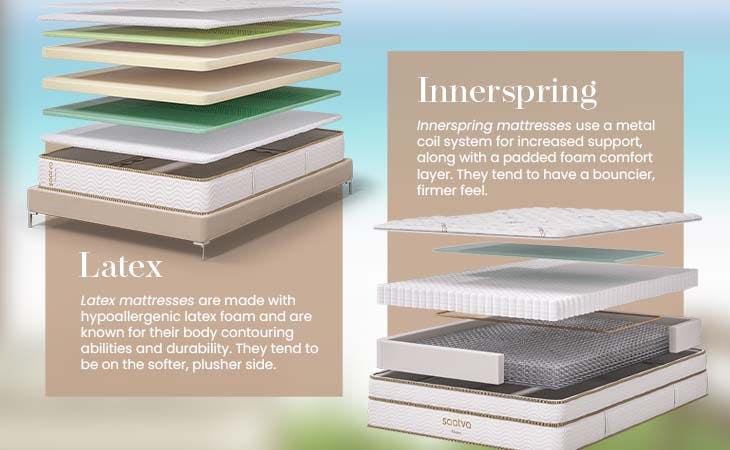 Let's explore some of the key differences between latex and innerspring mattresses:
| Mattress Trait | Innerspring Mattresses | Latex Mattresses |
| --- | --- | --- |
| Average Price (Queen Size) | $500-$1,800 | $1,300-$3,000 |
| Lifespan | 6 to 8 years | 15 years |
| Firmness Levels | Medium-firm to extra-firm | Soft to firm |
| Construction | Metal coil base with a small, padded comfort layer | High-density latex foam built with your comfort in mind |
| Motion Isolation | Low | High |
| Edge Support | High | Low |
| Ideal Sleeping Position | Back sleepers and stomach sleepers | Side sleepers, back sleepers, and stomach sleepers |
Key benefits of latex mattresses
Latex mattresses are made from layers of latex foam, which is produced from the sap of the rubber tree. They've been around for a long time but haven't always been popular due to their higher price point. However, they've been gaining popularity in recent years because of their long list of high-quality benefits.
Some of their key features include:
High-density and durable layers of foam: Latex mattresses offer some of the highest density and durable foam on the mattress market. They tend to have a lifespan of 15 years or more.
Increased airflow and breathability: Latex foam mattresses can help keep you cool throughout the night with increased levels of airflow and improved breathability.
Hypoallergenic: Natural latex mattresses are also hypoallergenic and naturally resistant to mold and dust mites. However, synthetic latex doesn't have the same hypoallergenic properties.
Sustainability and eco-friendliness: Since latex is a natural material, purchasing a latex mattress can be appealing to people who are looking for a sustainable, eco-friendly product.
Soft and plush feel: Though latex mattresses have an increased level of firmness compared to memory foam, they still offer the same comfortable cushioning.
Drawbacks of latex mattresses
While latex mattresses have a lot of benefits, they also have their drawbacks. The biggest thing that turns people off from buying latex mattresses is the cost.
High cost: Durability doesn't come cheap. Because of the cost of harvesting and processing the material, organic latex mattresses tend to come with a higher price tag than other beds.
Less supportive: Latex mattresses may not offer the same level of support and spinal alignment as coil mattresses. If you suffer from back pain, this may not be the right mattress for you.
Heavy: Latex mattresses are often harder to move because of their weight.
Latex mattresses: ideal sleep styles
At the end of the day, your ideal mattress type comes down to your personal preferences and ideal sleeping position.
When it comes to buying a latex mattress, here's how your sleep style could influence your decision:
Back sleepers will find that latex mattresses offer enough support for the pressure points in their back throughout the night.
Side sleepers will find that latex foam offers contouring support and can offer pressure relief for lower back pain.
Stomach sleepers may find that latex foam isn't supportive enough for their back. They need a much firmer sleep surface and should look for a latex mattress with zoned support if they prefer this type of sleep surface.
Key benefits of innerspring mattresses
An innerspring bed gets its primary shape and support from a series of steel or titanium coils at the mattress' core. The coiled core then gets covered with layers of fabric, foam, or other padding and sometimes even another layer of springs.
Innerspring mattresses offer a variety of benefits compared to their latex counterparts, including:
Extra support: Innerspring mattresses offer a level of support that can't be found in foam beds. They don't sink over time, stay sturdy, and work well with all body types.
Unique feel: The hallmark of an innerspring mattress is bounciness, thanks to all those springs at the bed's core. However, the feel of the mattress will be determined by the material the comfort layers or pillow top is made out of. These materials could include wool, foam, and other padding.
Low cost: A high-quality innerspring mattress can cost half as much as an organic latex mattress.
Customizable coils: There are a variety of coils you can choose from when shopping for an innerspring mattress. They can help determine different features on your mattress. For example, pocketed coils will offer lower levels of motion transfer.
Drawbacks of innerspring mattresses
While innerspring mattresses offer a lot of benefits, they have their own drawbacks as well.
Firmer feel: Many people gravitate toward materials like latex or memory foam because of their luxurious and plush feel. Spring mattresses have a smaller comfort layer, so they're a little more on the bouncy side.
Shorter lifespan: Innerspring mattresses don't have the same lifespan as latex mattresses. Generally, an innerspring bed should be replaced every six to eight years, while latex beds can last over 15 years.
Low levels of motion isolation: Motion isolation is what keeps you from feeling your partner move throughout the night. Because they're so bouncy, innerspring mattresses have a much lower level of motion isolation.
Innerspring mattresses: ideal sleep styles
Determining if an innerspring mattress is the right type of mattress for you comes down to your sleeping style. Let's see how each sleeping position is affected by an innerspring mattress.
Back sleepers will experience the right level of support for their back and neck throughout the night.
Side sleepers will be more likely to experience back and neck pain while sleeping on an innerspring mattress. The firm surface doesn't allow the body to contour with the mattress and can irritate your pressure points.
Stomach sleepers will get the most relief on an innerspring mattress. Because it offers so much support, your back and neck can remain comfortable throughout the night.
Other mattress types to choose from
While innerspring mattresses and latex mattresses each have many benefits, they still might not be the correct fit for you. Luckily, there are quite a few other mattress options to choose from, including:
Memory foam mattresses
Gel memory foam mattresses
Hybrid mattresses
Memory foam and hybrid mattresses are the next most popular mattress types after innerspring and latex. They both offer luxurious and plush feels. However, they're constructed quite differently.
To learn more about the other mattress materials on the market, read our other comparison articles below:
Improve your sleep with these innerspring and latex mattresses from Saatva
Our flagship luxury mattress is expertly engineered with coil-on-coil construction for durability, a layer of memory foam for enhanced back support, and a cushiony Euro pillow top for extra comfort.
This hybrid mattress combines the pressure-free support of natural latex with the classic innerspring feel. Handcrafted with pure materials for the ultimate in cool and healthy sleep.
Natural latex responds to every curve for pressure-free support and responsive comfort. Natural latex is supple, resilient, and durable, for the ultimate in elevated sleep. (It's naturally hypoallergenic too.)
FAQs
Do latex mattresses contain springs?
Latex mattresses don't contain springs. Instead, they're made with layers of high-density, hypoallergenic latex foam, which comes from the sap of the rubber tree.
Are latex mattresses better for back pain?
Latex mattresses can be just as good for back pain as innerspring mattresses. Look for a latex mattress that has zoned support in the center third.
Find high-quality latex and innerspring mattresses with Saatva
Finding the perfect mattress type for you can be difficult, especially if you don't know exactly what you're looking for. With so many different mattress manufacturers to choose from, it can make your shopping process incredibly stressful.
Luckily, Saatva has a solution. Our wide range of high-quality mattresses includes both innerspring mattresses and latex mattresses to suit all sleeping preferences. Take our comprehensive online mattress quiz to figure out which one of our mattresses is right for you. Then take advantage of our 180-night home trial and industry-leading warranty.