The 8:30 a.m. Antarctic air jolts us wide awake as we take a short Zodiac ride to a floating ice field in the Errera Channel. Our driver cuts the engine and seven of us-other millennials like myself from the U.S., Australia, Canada, and Italy-look around for Quark Expedition's Ocean Endeavour. The comfy 199-passenger ice-strengthened ship looks like a tiny bath toy in the distance, making it a far swim should we fall in the 30° water.
While our borrowed drysuits keep water out and body heat in, our thermals, hats, gloves, and neoprene booties are all we've got for extra warmth. Not exactly survival gear for a polar plunge. As our expedition leader, a 20-something Californian with a surfer's drawl, unloads boards into the frigid water, it sinks in that on this summer's day in December, I will become one of the first people to stand-up paddleboard on the seventh continent.
Stand-up paddleboarding in Antarctica
That I've come to the edge of the earth to do this may seem a bit crazy. After all, it was only 200 years ago that man first set foot on Antarctica, and a mere 100 years since explorer Ernest Shackleton and his crew ended up on ice floes after their ship was crushed by pack ice en route to the South Pole.
"We've gone from extreme exploration to an experience that is available to everyone," says British historian Huw Lewis-Jones, PhD, the former curator of the Scott Polar Research Institute in Cambridge. Lewis-Jones lectures us on the white continent throughout the 11-day voyage that includes a four-day round-trip from Argentina across the Drake Passage, the roughest waters on the planet.
A hundred years ago, the world didn't know what had happened to Shackleton. He had lost his ship, and his entire team was floating on sea ice," says Lewis-Jones. Today, we have the comfort and safety of modern technology, but there's still a real challenge to be found here."
Fortunately for us, our little exploration doesn't end like Sir Ernest's. It's an exhilarating three hours, filled with impossibly cute Gentoo and Adelie penguins diving off cliffs and curiously swimming around or beneath our paddleboards to get a closer look. Thankfully, walruses, Weddell seals, and whales keep their distance, though there are plenty of skuas (predatory seabirds) flying overheard, enjoying our company along the jagged coastline of a barren island.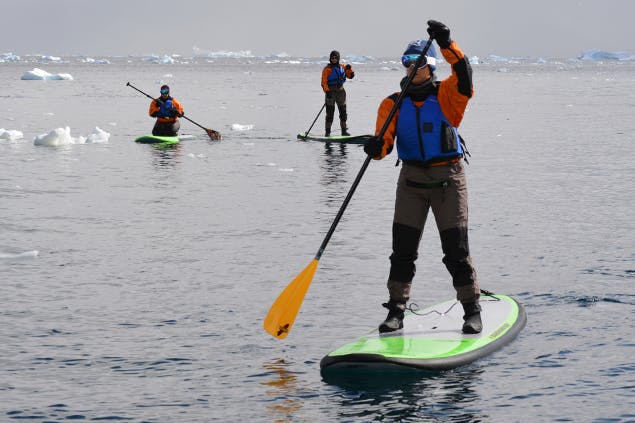 The author stand-up paddleboarding in frigid water
Gearing up for a night on the ice
As much as I love exploring the unspoiled beauty of this unique ecosystem while standing atop a paddleboard, it's a more passive and horizontal activity-namely, sleep-that leaves the most lasting impression of Antarctica.
It is summer in the Southern hemisphere and the weather is fine: crisp, clear, and at about 35 degrees, relatively warm (I've seen colder days in NYC). So, naturally, a few dozen of us brave campers sign up to sleep on the Antarctic ice itself.
We happily, though nervously, swap our warm beds aboard the ship for borrowed bivy sacks (short for bivouac sack, a term I'd never heard until now) to cover and shield our sleeping bags from potential inclement weather, plus layers and layers of blankets, clothes, and accessories. Picture this: double pants, triple socks, quadruple tops, a thick balaclava, gloves, and a hat. Who needs a mattress when you practically are a walking mattress? Besides, I'm so exhausted from the morning's adventure that I figure I could pass out on a rock, or in this case an ice cube.
When we step off the Zodiac to our campsite-the serene, otherworldly frozen landscape of Ronge Island-we are completely surrounded by white, save for the coastline where we arrive. The toy boat" we came from is now completely out of sight, and all we have for miles and miles is snow and ice (90% of the planet's supply). This is truly no man's land, with no nation claiming ownership; the Antarctic Treaty of 1961 declared it a scientific preserve. As isolated and desolate as this place is, it's still bustling with life: The skuas haven't left us since this morning, plus there are undoubtedly penguins on nearby shores and seals sunbathing out on the ice and humpbacks somewhere in the deep.
"That I've come to the edge of the earth to do this may seem a bit crazy. After all, it was only 200 years ago that man first set foot on Antarctica, and a mere 100 years since explorer Ernest Shackleton and his crew ended up on ice floes after their ship was crushed by pack ice en route to the South Pole."
Chilling out on the coolest place on earth
Our leaders invite us to pick a spot on the beach" to settle in for the night and advise us to build a low snow wall (about half a foot) around our sleeping bag. No crawling into a cozy tent tonight. We're roughing it for real, out in the open. The makeshift wall is our best protection if the wind picks up later on-and it does. What we have in our favor this evening is the warmish 24-hour sun shining down on us, which also makes it hard for our bodies to know when to call it a night. Our guides tell us quiet time" will be enforced at 11:30 p.m.
Together with my half of my paddleboarding crew from earlier, we lay out four bivy sacks within a few feet of each other and start nesting, much like the penguins we had witnessed in the previous days cuddling atop their eggs. We walk around our little beach, taking photos of the endless horizon and waiting for a sunset that never comes. We investigate the alfresco loo, thoughtfully placed close to, but far enough away from, our beds." It consists of two buckets behind a man-made four-foot wall of snow, so it's not as private as one might like. A stick with a flag is placed about 20 or 30 feet away on the freshly made trail. If the stick is planted with the black cloth waving in the wind, you know the facilities are in use. It's enough of a hike from my bed that I vow to stop drinking water to avoid a 3 a.m. trip to the toilet.
When it's time to turn in, few of us are sleepy, despite feeling exhausted. A respectful hush befalls the chatty crowd, and we commit to basking in this extraordinary experience in silence. For this New Yorker, it's a little too quiet. I wish I could enjoy the stillness, but I'm not programmed to, so as I slip into my fleece-lined sleeping bag, I slide on my earbuds, turn on my iPhone, and watch a Netflix show that I had previously downloaded. I'm surprisingly warmish, but my face, which has to remain partially out of the sack so I can breathe, is freezing. I'm forced to put away the blue screen, draw my hat over my eyes like a curtain, and pull my balaclava to my mouth, exposing only my nostrils for air.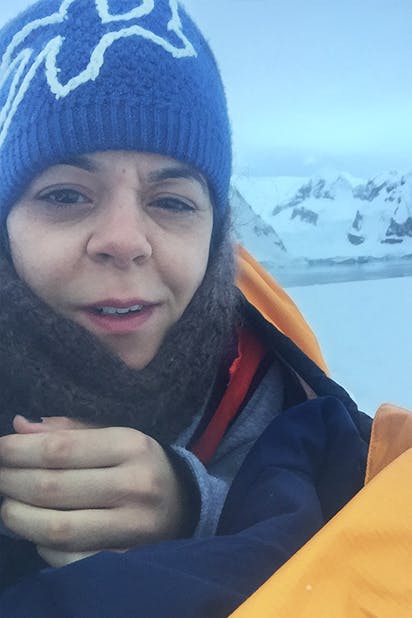 The author braving the cold in Antarctica
The best wake-up call of my life
Like any decent night's sleep, it happens in the blink of an eye. While I remember tossing and turning a bit, trying to carve out a soft spot in the ice, and curling up in the fetal position to fend off the shivers, I don't fully wake up until I hear a rhythmic "poof "sound in the distance. Poof! Long pause. Poof! Forgetting for a minute where I am, I think to myself, Five more minutes, Mom. Eventually, the sound gets too loud and consistent to ignore.
When I finally sit up and unroll my hat from eyes, I see a mist suddenly shoot skyward from the calm, glassy shoreline a few feet away from me. It looks like a fountain mustering up the strength to gush. What is that? I think. Oh my god. It's whale's breath. I just woke up to the sound of humpbacks releasing oxygen through the two blowholes atop their head.
I know, I know, it's almost impossible to imagine, and I saw it with my own two eyes (albeit, my vision was a bit blurry from sleeping in my contact lenses). Never mind that it's 5:30 a.m. and the sun seems to be almost exactly where we left it. We're all up now and mostly speechless in the face of mother nature's most beautiful and majestic alarm clock.
Next, learn what it's like to sail around the world and sleep on a tiny boat.
Have your own extreme sleep story? We'd love to hear from you! Email us at sleepenlightened@saatva.com.