You're not alone if you feel confused trying to figure out the difference between double beds and full-size beds. Here's the thing: They both have the same dimensions and are essentially two names for the same size bed.
The mattress market is flooded with what may seem like a mind-boggling variety of sizing options and materials. This can make selecting a new bed a challenge.
In this article, we'll provide an overview of the full-size bed, who may benefit from using one, and what other mattress sizes are available so you can find your perfect match.
What is a double bed?
The double-size bed got its name in the 1940s because couples would commonly share this size bed. Unlike today, when there is a multitude of different size beds, you were mostly given the choice between a single bed and a double bed back then.
Single beds were what we now consider to be standard-size twin beds. Double-size beds today are more commonly used in kids' bedrooms or for single sleepers. The standard double bed dimensions measure 54 inches by 75 inches.
Is a full-size bed different from a double bed?
A full-size bed is the exact same thing as a double bed. Whatever you choose to call it, the bed dimensions of a double mattress or full mattress measure 54 inches by 75 inches.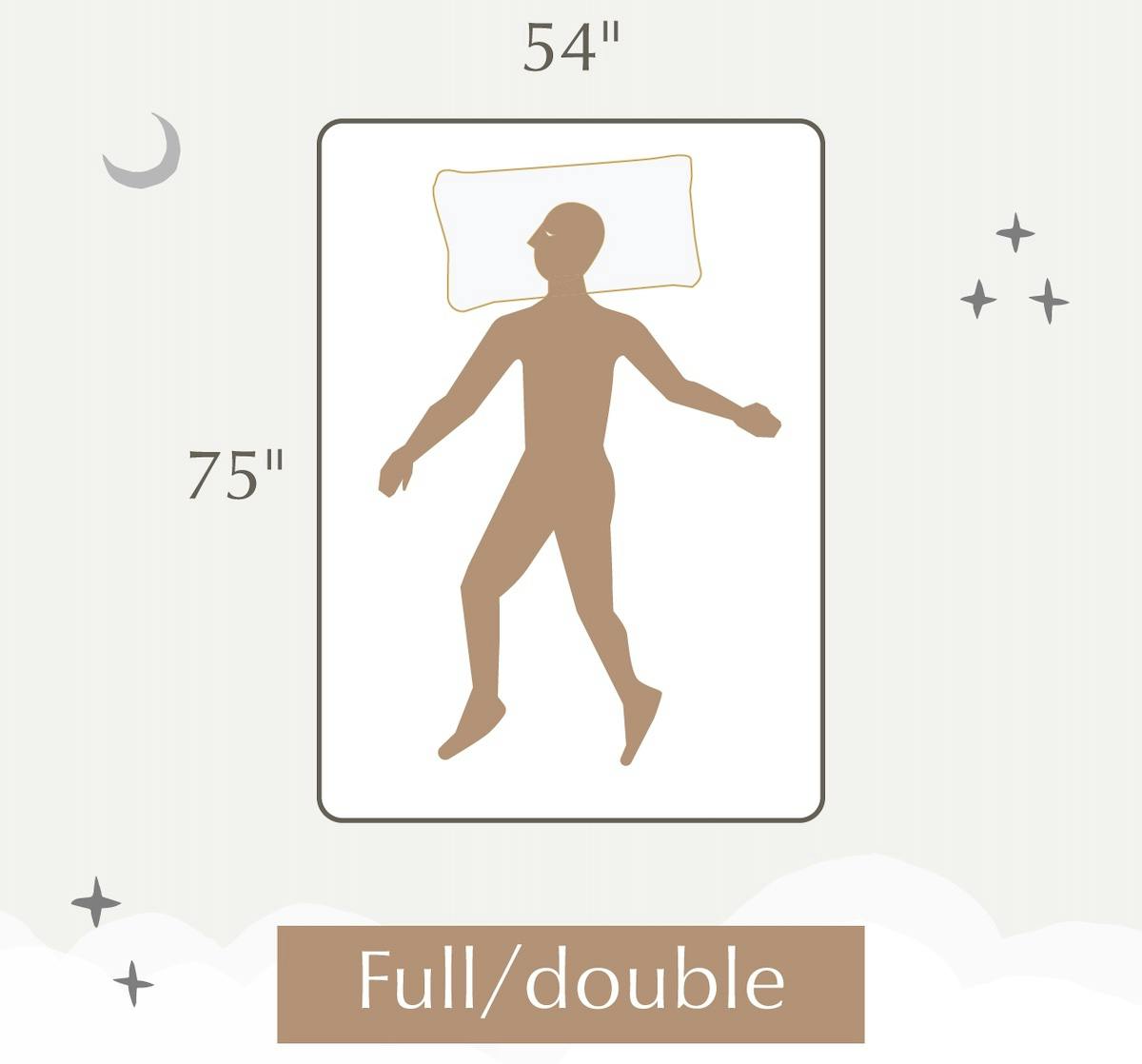 Full-size beds work well in small sleeping spaces where you may not want to have a lot of large bedroom furniture. While they're best suited for single sleepers, they can be a great space saver and offer an alternative to queen beds and king-size beds for couples.
Who should use a double bed?
Selecting a new mattress size can be tricky. Finding the right one can depend on your age, bedroom size, and whether you sleep with a partner. A double bed isn't the right size for everyone, but they do work well in a lot of different spaces.
Double beds tend to be perfect for:
Children and teenagers
Single sleepers
People with small bedrooms
Guest rooms
Below, we'll go into more detail below on the specifics of why a double bed could be beneficial in those spaces.
Children and teenagers
Many parents want to get a mattress they won't have to replace frequently as their children grow and upgrade to "big kid beds." Getting a double bed frame and mattress can help ensure your child won't outgrow the size too quickly.
Double beds offer more than enough space for teenagers and children of all sizes. You can also find both trundle beds and bunk beds that use full-size mattresses. This is useful if you have more than one kid in the same bedroom for sleepovers or if your children share a bedroom.
Single sleepers
Although a double bed may not be the most comfortable for couples, a single person will have more than enough room on it. A grown adult can fully fit, and sleep comfortably, on a double bed.
Queen beds are much longer and wider compared to double beds, so they may have too much space for a single person. If you don't mind having a smaller sleep surface, then a double bed can be a great way to save you both money and space in your home.
People with small bedrooms
It's no secret that a full bed frame is a much better space saver compared to a queen bed frame. This means it can easily fit into small spaces. It can be a struggle to fit all of your bedroom furniture into a small room and still have ample storage space.
That's why a full-size bed can help you conserve space and allow you to fit more in your room. You can also get a full-size storage bed or platform bed frame to add more storage space underneath your bed. A full-size bed, rather than a queen, also offers the extra room to add a headboard or footboard to your full bed frame.
Guest rooms
Although a full-size or double bed probably wouldn't work well in the typically larger primary bedroom of your home, a full-size bed could be perfect in a small room you plan to use as a guest room.
In fact, full-size bed frames make a great option for a guest room because they offer enough space to fit one person or even two people if it's not long-term. Of course, you could use a queen-size bed if the room is large enough, but many guest rooms tend to be on the smaller side.
Other mattress dimensions and sizes
Whether you're buying a new mattress for a young child or teenager or shopping for a new bed for yourself, there are many different sizes to choose from. Whatever the need, it's important to find the best mattress that will work well with your (or your child or teenager's) bedroom and sleeping preferences.
Some of the most common mattress sizes include:
Twin and twin XL mattresses
Full XL and double XL mattresses
Queen-size mattresses
King-size and California king-size mattresses
Twin-size and twin XL mattresses
Twin-size and twin XL mattresses are very similar in size and both are commonly referred to as "single beds." But a twin bed has the mattress dimensions of 38 inches by 75 inches, making it 20 inches narrower than a full-size bed.
A twin XL mattress measures 38 inches by 80 inches, making it 20 inches narrower than a full bed but 5 inches longer. Twin or twin XL mattresses make a great size bed for a child or an adult with a small bedroom space. The twin XL's extra 5 inches of length may be good for single sleepers or taller people.
Full XL and double XL mattresses
If you find the standard-size double bed is too small for your liking, you can always explore the double XL-size mattress. This size measures 54 inches by 80 inches, providing an extra 5 inches of length to your mattress.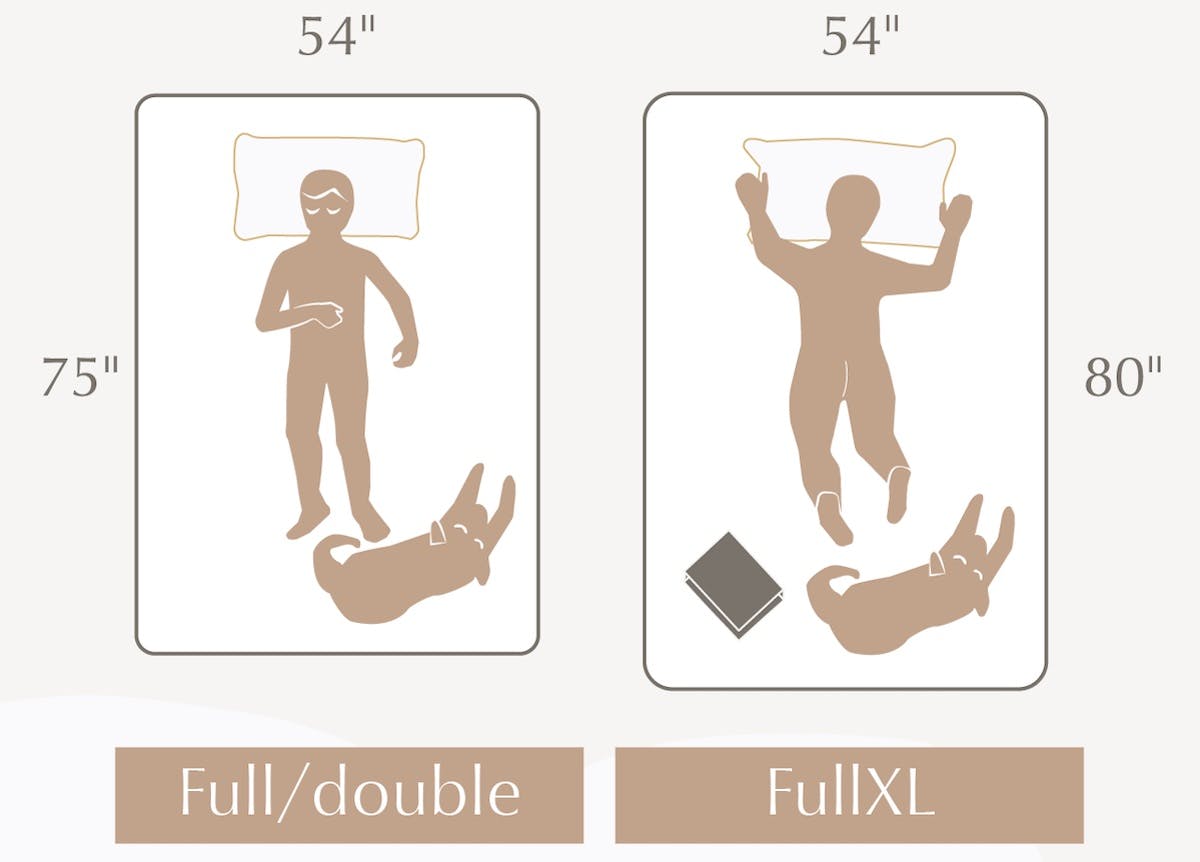 This is a great option for single sleepers or those with a smaller bedroom space. It won't feel quite as cramped as a traditional double bed, but it's still only suitable for one person over the long term.
Queen-size mattresses
A queen-size mattress measures 60 inches by 80 inches, making it longer and wider than a standard-size double bed. The queen-size mattress typically offers more than enough space for two sleepers, though it also can work well for a single sleeper who likes a larger sleep surface.
A queen bed can be a great option if you have a smaller primary bedroom or a guest room because it won't take up quite as much room as a king-size bed.
King-size mattresses and California king-size mattresses
A standard king-size mattress measures 76 inches by 80 inches, while a California king measures 72 inches by 84 inches. While the California king isn't as wide, it offers an additional 4 inches in length.
King-size beds and California king-size beds are made for larger bedroom spaces, and both provide more than enough room to sleep two adults comfortably. Either one is a great mattress size for those who have a larger primary bedroom or want a little extra space to share with their partner—or even a place for kids and pets to gather on weekends.
Frequently asked questions
Do full and double mattresses have the same dimensions?
Whether you call them full mattresses or double mattresses, both beds have the exact same dimensions. They both measure 54 inches by 75 inches.
What type of bed frame is best for a double bed?
Just about any type of bed frame will work well for a double bed, and you have plenty of options to choose from. You can select a metal platform bed frame with support slats, an
adjustable bed base
Saatva Adjustable Base Plus
Our deluxe adjustable base with even more customized comfort options
, or even a bunk bed style frame.
You're most likely to want a bed frame that allows you to include extra storage space in your bedroom if you have a double bed. You may also find a kid-friendly bunk bed or trundle bed is the best way to go for you.
How many people can fit on a double bed?
A double bed was originally made to fit two full-sized adults. But over the years, our average height and weight went up. Now it's recommended you only have one person sleep on a double bed for an extended period. Two full-grown adults may find they don't have enough space to fit comfortably.
What size bed sheets do you need for a double bed?
Standard double/full bed sheets will work for a double bed. But if you have a non-standard size double bed, you may want to consider getting special fitted double XL or full XL sheets.
Our best full-size mattresses for adults and kids
Find the perfect mattress size for your sleep style
There are a variety of different mattress types, sizes, and dimensions on the market, which makes it possible to customize your sleeping experience. Depending on what size your room is and what your sleeping habits are like, you may benefit from one size over another.
Saatva provides top-level customer service and high-quality products so you can find a new mattress you love. Whether you're looking for a comfortable full-size mattress for yourself, the
best bed for your child
Youth Mattress
Our dual-sided nontoxic crib mattress for little ones
, or any other mattress size for your home, you can find what you're looking for here.
Take our mattress quiz to discover the perfect new mattress for yourself or your children.