Having a baby calls for a lot of prep work, and some parts (decorating a baby's nursery!) are more fun than others (preparing for your postpartum recovery).
Wondering where to begin when it comes to how to design a nursery? Much of the answer to that question lies in personal preference: How do you want to design your baby's nursery?
Of course, there are safety, health, and convenience factors to keep in mind too. After all, what many new parents often overlook is that while it's wonderful for a nursery to look nice, it's also important that's it's safe for the baby and that it works effectively for you as a new parent-at midnight, 2 a.m., 4 a.m., and…you get the point.
How to design a nursery room
Fortunately, there are ways to blend your aesthetics wish list with a functional setup that looks just as good as it performs. Here's where to start.
Choose a style and theme
This is the fun part-and inspiration can be found far and wide from Pinterest and Instagram to your sister's sense of interior design, your decor dreams, and your personal style. But most style-savvy parents suggest keeping something else top of mind: the next decade (or two).
No matter what you wind up choosing decor-wise, leave room for growth. For example, while a room painted in pink hues might be adorable now, if you're planning on someday having multiple children share a room, think about that when choosing paint colors, art, or furniture. Thematically, keeping things simple can also pay off and work with you as children grow.
Wallpaper, window treatments, or wall-to-wall carpets might be longer-term investments that make more sense, for example. You also want the space to be soothing, relaxing, and comfortable, which is where simple staples such as cozy rugs or calming colors (whites, greens, and blues) can come in.
Otherwise? Aim to have the nursery fit in well with your home's overall theme and decor. If most of your house is farmhouse-style, what kind of staples can you add to your baby's room to fit that mold? If you live in a modern apartment, keep that in mind when designing your child's space.
Select the right crib
The American Academy of Pediatrics (AAP) notes that more than 3,500 babies die unexpectedly due to sudden infant death syndrome (SIDS) or accidental deaths from suffocation or strangulation every year.
That's part of the reason why the group came out with its safe sleep tips for infants, which include:
Always putting your baby to sleep on his or her back
Using a firm sleeping surface
Keeping soft objects and bedding out of the crib (that means no bumpers either)
Be sure you are using a crib that is built to current standards according to the U.S. consumer product safety commission and approved for sleep, says Jada Shapiro, doula and founder of boober, a marketplace for expectant parents and new families to find classes and on-demand care providers for pregnancy to postpartum.
Most cribs on the market in the United States will fit the bill and meet all three of these criteria, so choosing a crib ultimately comes down to personal preference in terms of style. Still, it's of paramount importance to keep safety pointers in mind.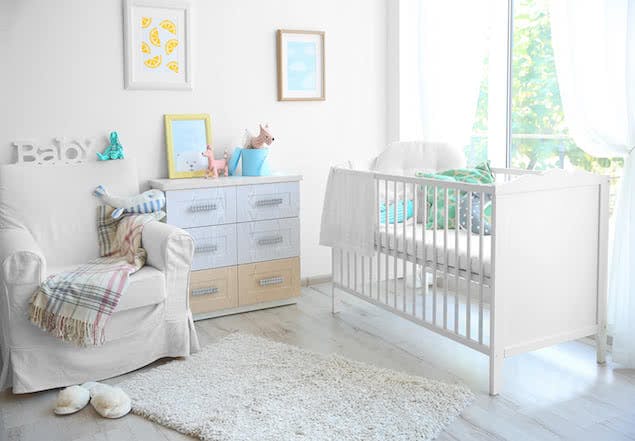 A comfortable chair is a must for any baby nursery.
Be smart about other furniture
Beyond a crib, there are other furniture staples and items you'll want to include in your nursery, from a changing table (or dresser with a changing pad on it) to a diaper dispenser.
I chose to go with an antique dresser that my husband and I already have with a washable changing pad (no linens required). There are also plenty of formal changing tables new parents can choose from too. It's worth noting, though, that it's also important to leave room for growth with your furniture choices (and in the long term, a dresser might get you more use than a changing table just as a crib that could work as a bed one day would work better than a bassinet).
Parents are often also split on the decision of whether or not to invest in a fancy diaper pail, but I've found the Ubbi-a thin, steel product that stores diapers odor-free-to be not only stylish but also incredibly useful.
Something else you don't want to skip? A comfortable, reclining chair or glider with arms and a footrest is a must in all nurseries since you'll be feeding your baby eight to 15 times per day early on and want to maximize your comfort while you nourish your baby, says Shapiro.
Blackout curtains-which can help your baby to sleep longer and more comfortably as their circadian rhythm develops-will be a useful investment as well. Plus, they have the added safety advantage of keeping a room cool, which is important as heat can increase a baby's risk of SIDS.
Baby Nursery Checklist: Must-Have Items
Crib that meets current safety standards
Changing table with plenty of storage
Diaper pail
Comfortable reclining chair or glider with arms and a footrest
Essentials for baby like diaper cream, wipes, burp cloths, and swaddles
Essentials for you, like a water bottle and healthy packaged snacks
Nursing pillow, bottles, and any other supplies needed for feedings
Working smoke detector
Think about storage
Storage in the nursery is all about easy access to the things you need most frequently, reminds Shapiro. A lot of the time that can mean staples like diapers. (After all, a new baby goes through 10 to 12 and sometimes even more per day!) Make sure to stock the changing table with easy access diapers that you can grab with one hand, and fill the drawers with lots more, Shapiro suggests.
Keeping a nursery stocked with other essentials-items like diaper cream, wipes, burp cloths, and swaddles-will also come in handy. And don't forget items for yourself! Keeping a water bottle, some healthy packaged snacks, and any other calming items you might like could come in handy for those long overnight feedings.
Add a nursing station
The ideal nursing station needs a comfy chair with armrests, a footstool, burp cloths, and a small side table next to your reclining chair to hold a hydrating beverage or a mug of nourishing bone broth and healthy snacks that are easy to eat with one hand, says Shapiro.
Other things that can be helpful at your nursing station include a nursing pillow like the bbhugme, a lumbar support pillow, breast pads like Bamboobies, or a device to catch milk from the other side (if you tend to leak) like the Haakaa or the Elvie Catch, says Shapiro. "If you are someone who needs to express their breast milk, have your breast pump parts and bottle nearby," she advises.
Baby-proof the room
Baby-proofing the nursery (and your home) while you're pregnant gives you the time you need to get your house as safe as possible to welcome your little one before they arrive, says Shapiro.
On top of choosing a safe crib, be sure that there are no cords or strings from any nearby blinds that could hang into the crib and pose a strangling threat, Shapiro says.
If you plan to paint or wallpaper, be sure to use a non-toxic, non-VOC paint or product, she adds.
You should also make sure you have a working smoke detector in the nursery too-and never leave a baby unattended on the changing table. You also want to make sure your nursery rug is non-skid.
The easiest way to check that your nursery is totally up to date safety-wise? Review the AAP's full list of recommendations for a safe nursery.
Eventually, your baby will grow into a toddler. To help you get your growing child into a regular sleep routine, we've put together these toddler sleep tips.