Nobody wants to see their favorite white sheets stained with blood. But the good news is, a blood stain isn't hard to remove if you take the right steps.
It's entirely possible to get the blood out of your sheets and make them look brand new again. All you need is a little persistence, a few items commonly found in your pantry, and these easy steps. Afterward, your sheets will be good as new!
6 steps for getting blood stains out of your bed sheets
True, removing blood stains from your bed sheets isn't as simple as just throwing your sheets into the washing machine and hoping your trusty laundry detergent will do the job. The trick here is to act as quickly as possible to not let the stain set in. But even if you don't manage to do it right away, it's still possible to clean blood stains off your sheets and pillowcases if you follow these simple steps.
Just keep this in mind: These steps for removing blood stains are meant for sheets that aren't made of delicate fabrics.
1. Soak fresh blood stains in cold water
The fresher the stain, the easier it will be to get it out. Simply soak fresh blood stains in cold water as soon as you notice them. In many cases, it will be enough to get rid of the stain completely. Avoid using hot water as it will cook the blood and set the stains.
2. Soak dried blood stains in warm water
If the blood is already dried, use warm water and soak it for a little while.
3. Use an enzyme cleaner
When soaking old stains especially, use an enzyme cleaner such as one formulated for pet stains. Enzyme cleaners target and lift protein-based stains, like blood. This is the perfect way to pre-treat your sheets to help lift the stain before washing them.
4. Wash sheets per usual
After soaking, you can wash the sheet as usual. Follow the directions specific to your sheets, including using the proper wash cycle and water temperature.
5. Use bleach if necessary
If the stain doesn't come out after the first wash, wash one more time, using bleach.
6. Check before drying
Be careful to check the sheets before throwing them into the dryer to make sure the stain is gone. If the stain isn't completely removed after following these steps, drying will only set the stain further.
If the above steps didn't work for you, there are a few household stain removers you may be able to use to do the job.
The 7 best household stain removers for blood stains
Stained sheets aren't the end of the world. In fact, a stain might not even be the end of your bed sheets.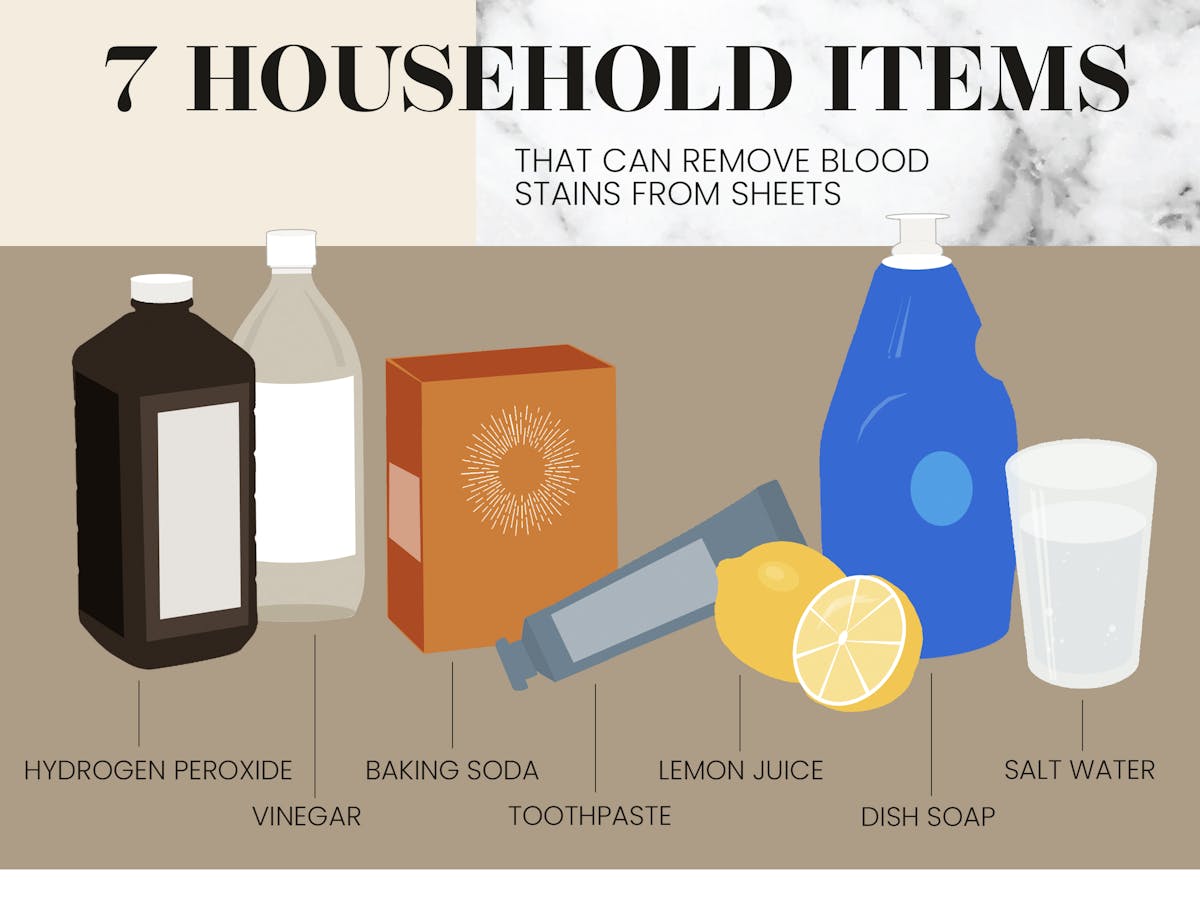 Indeed, blood stain removal is best done when the stain is fresh. But before you throw in the towel (or throw away your blood-stained sheets), you should know that the best stain removers might be hiding in your pantry. The following household items might be just what you need to remove blood stains from your favorite sheets.
1. Hydrogen peroxide
Hydrogen peroxide is one of the most effective (and most common) blood stain removers.
To use this heavy-duty stain remover, apply a small amount of hydrogen peroxide directly to the stain after soaking it in cold water.
If the first time doesn't remove the stain, reapply as needed. After the stain is gone, rinse the fabric with cold water and wash as usual.
2. Vinegar
Another common household stain remover that you likely have in your pantry is vinegar.
Pour some full-strength white vinegar directly onto the stain and let it soak for five to 10 minutes, then rinse and repeat if necessary. This works best on fresh stains.
You'll also want to throw your sheets directly into the washer immediately afterward.
3. Baking soda
Baking soda also works great to remove blood stains. It works particularly well on stubborn stains and cotton sheets.
Wet the stain in cold water and rub some baking soda paste into it. To make the paste, mix two parts baking soda with one part water (for example, ½ cup of baking soda to ¼ cup of water), but feel free to adjust the ratio.
After rubbing the paste in, let it sit for about an hour. The paste will draw the stain out of the fabric and trap it in the baking soda.
4. Toothpaste
If you don't have hydrogen peroxide, baking soda, or vinegar around the house, you'll definitely have some toothpaste!
This method is easy and works well if the stained area isn't too big. Simply apply a little bit of toothpaste onto the blood stain. Allow it to dry completely, then rinse the fabric with cold water. If the stain remains on the sheets, repeat the process on the affected area.
5. Lemon juice
Lemon juice also works well on tough stains. After rinsing your sheets in cold water, dab a small amount of lemon juice onto the stained area with a paper towel.
Afterward, wash the sheets in cold water and repeat the process until the stain is gone. Be careful when using this method on colored sheets. If you don't monitor carefully, it could change the color of the sheets.
6. Dawn
If you have some Dawn dish soap, you can also use that to help remove blood stains.
Dawn recommends applying a few drops of dish soap directly onto the fabric, covering the entire stain, and then rubbing it in with your fingers. Afterward, you'll want to machine wash your sheets with some liquid detergent and ensure the stain is clean before drying them.
7. Salt water
For delicate fabrics like silk, linen, and lace, salt water can gently remove blood stains without causing any other damage.
To use salt water, mix 1 tsp of salt into 1 cup of cold water. Dab your salt water mixture gently on the stain and rinse with cold water. Repeat as needed.
What if the blood also stained my mattress?
If you're not using a mattress protector, excess blood stains on your bed sheets can also stain your mattress. The best way to remove blood stains from your mattress is using Oxiclean or hydrogen peroxide, along with some cold water.
First, if the stain is still wet, blot it with a dry clean cloth until no more liquid can be absorbed. Don't rub or scrub. Then, lightly spray or dab your stain remover (either hydrogen peroxide or Oxiclean mixed with cold water) onto the stain and leave it on for 10-15 minutes. After that, press and blot the stain with a dry clean cloth or paper towels to absorb the liquid.
Once the stain is gone, dab the stain with a cloth dipped in cold water to rinse it and let the mattress air dry completely (ideally in the sun, but if not then in a well-ventilated room) before adding on clean bed sheets.
FAQs
What is the fastest way to get blood out of sheets?
If the blood stain is fresh, you can simply soak the sheets in cold water, which oftentimes, is enough to get rid of the stain completely. You can also use hydrogen peroxide on its own as it's one of the most effective (and most common) blood stain removers.
Does dried blood come out of sheets?
If the blood stain has dried, it can be harder to remove the stain off your sheets. However, you can try soaking the sheets in warm water for a little while. You can also use an enzyme cleaner such as one formulated for pet stains when soaking.
Wrap yourself in cozy comfort with these Saatva sheets
It's easy to see why our flagship organic cotton sheet is a bestseller. Its silky-soft, 300 thread count sateen weave is made with 100% certified organic cotton. It's better for the planet and feels indulgently luxurious on you.
Pamper yourself in deluxe comfort with our breathable percale sheets. They're made from the world's best long-staple cotton that gets softer and better with every wash.
Sleep in effortless style with our deluxe linen sheets made with responsibly-sourced, all-natural Belgian linen. Stays cool in the summer, warm in the winter, and gets softer with every wash.
It may be time for new bed sheets
Hopefully, a blood stain or two won't lead to the demise of your bed sheets. By using the methods described above and one of the items you already have in your pantry, you should be able to deal with the stain and breathe new life into your bed sheets.
If these methods don't work, though, it may be time for new sheets. At Saatva, we offer a wide variety of high-quality, comfortable bed sheets made from premium materials like cotton and linen. We also offer pillowcases to match our sheets and mattress protectors to help you avoid mattress stains that could damage your bed.
All of our bedding comes with a 45-day home trial so you can take them for a spin before deciding if our sheets are right for you.