Just like a good pair of jeans, the innerspring mattress will never go out of style. Of course, even classics have to adapt to changing times. Because of recent improvements—think high-tech materials, improved designs, and manufacturing methods that limit motion transfer and bounciness—today's innerspring mattress is better than ever.
If you're in the market for a new innerspring bed, take a look at our comprehensive mattress guide. Find out what's between the covers and which type of sleepers it suits best.
What is an innerspring mattress?
An innerspring mattress takes its name from the metal support coils that form the core of the bed. Most innerspring mattresses today also contain layers made with other materials, such as memory foam and latex, for added comfort, performance, and durability. That essential quality of "springiness," though, is the innerspring mattress's defining characteristic.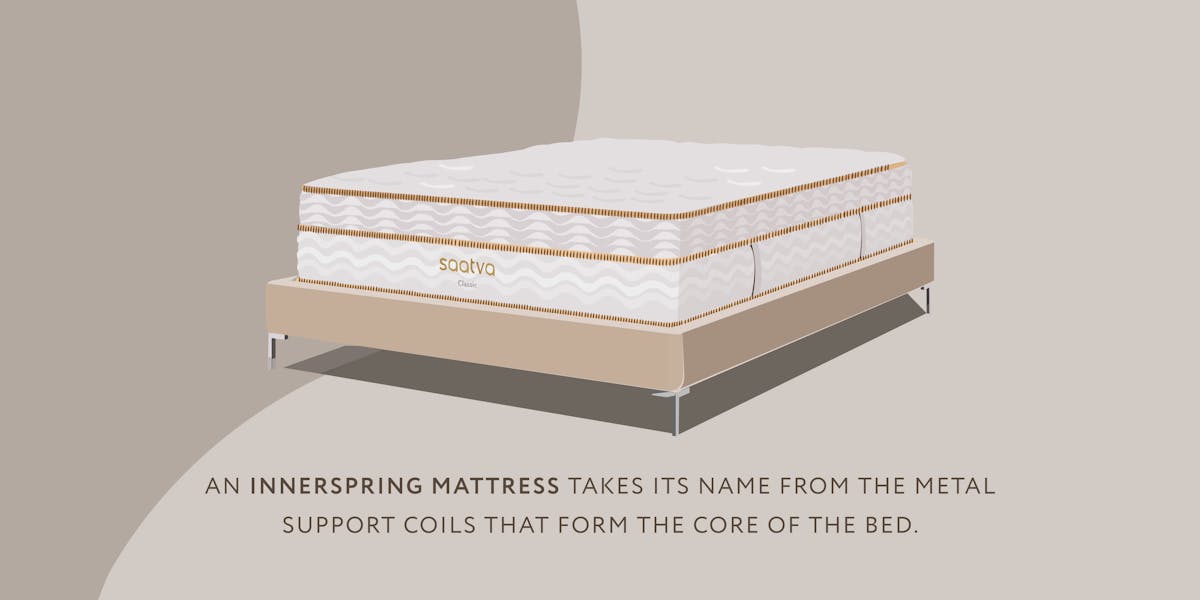 Innerspring mattresses are also generally ideal for hot sleepers because of their breathability and good airflow. In fact, they tend to sleep cooler than both polyfoam and memory foam mattresses.
While innerspring mattresses are a great choice for most sleepers, it's important to know exactly which one will be best for you and your sleeping habits.
Innerspring mattresses are also generally ideal for hot sleepers because of their breathability and good airflow. In fact, they tend to sleep cooler than both polyfoam and memory foam mattresses.
While innerspring mattresses are a great choice for most sleepers, it's important to know exactly which one will be best for you and your sleeping habits.
Types of innerspring mattresses
There are a handful of components common to most innerspring mattresses. When comparing products, it's best to consider the type of coil inside. Different coil systems create different comfort levels, firmness levels, and overall experiences with an innerspring mattress. Depending on your sleeping position, body type, and sleeping habits, one of these could be the best innerspring mattress for you.
The type and construction of coils have everything to do with how an innerspring mattress feels, how long it lasts, and how much it costs. There are four main categories of coils:
Bonnell coil mattresses
Also called "open" coils, these are the oldest and most basic type of mattress springs (remember those buggy seats?). Bonnell coils are shaped like an hourglass and often wired together to form a continuous unit. That makes them durable but not very good at controlling motion transfer. They're also not ideal for relieving pressure points.
Innerspring beds made with Bonnell coils are usually on the firmer side. Because a firm mattress is ideal for stomach sleepers, they may enjoy resting on this type of mattress.
Keep in mind that Bonnell coil mattresses are less durable than other types of innerspring mattresses, making them best suited for kids who will eventually outgrow their childhood bed. This mattress type is also ideal for guest bedrooms as its usage will be limited to a few times a year in most cases.
Offset coil mattresses
Innerspring beds made from offset coils often come with a soft to medium-firm rating. Side sleepers will enjoy offset coil mattresses because they evenly conform to the body's curves and relieve pressure points.
Like Bonnell coils, these are also hourglass in shape, but the bottom of the coil is offset when compressed to create a hinging effect. That hinging effect makes them better able to conform to the body's curves.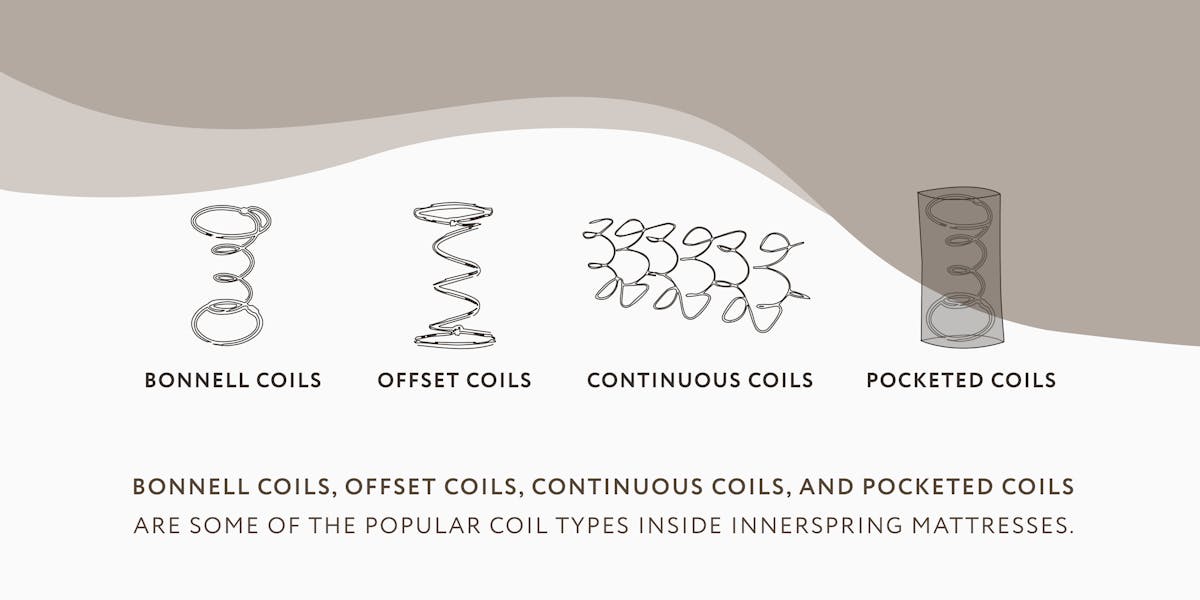 Continuous coil mattresses
Continuous wire coils are the most similar to offset coils, but they have several rows of singular wires molded into the shapes of a circle. While they have a long lifespan, these coils provide significantly less support than most other mattresses available.
Continuous coil mattresses tend to be some of the firmest on the market, which may make them a fit for a stomach sleeper. However, they don't provide as much support as most other innerspring mattresses types. Try pairing your continuous coil mattress with a thick traditional memory foam or gel memory foam mattress topper to fix this shortfall. This can help provide additional comfort and support temporarily.
Pocketed coil mattresses
Pocketed coils are individually encased in fabric, which means they can move independently and contour to the sleeper's body much better than open coils. Because the coils aren't physically attached to each other, they provide outstanding motion isolation.
That means your sleep partner won't feel any tossing and turning that may take place during the night. Pocketed coil mattresses are among the most durable types of innerspring mattresses.
Innerspring beds with pocketed coils come in a variety of comfort levels, making them a great choice for most sleep positions. Side sleepers should opt for a plush pocketed coil mattress, while back sleepers should select a medium-firm pocketed coil mattress.
Benefits of sleeping on an innerspring mattress
There are a lot of reasons why you'd want to choose an innerspring mattress over another type of bed. Here are some of the biggest benefits of sleeping on an innerspring mattress:
Drawbacks of sleeping on an innerspring mattress
There are pros and cons to every type of mattress. An innerspring mattress may not be right for you if:
Check out Saatva's selection of high-quality innerspring mattresses
What else to consider when looking for an innerspring mattress
There are a few things you should consider before buying an innerspring mattress. To determine which one is best for you, you'll want to take a look at the comfort layers, coil counts, coil gauges, lumbar support, and edge support of the mattresses on the market.
Comfort layers
There's a lot more to an innerspring mattress than just the springs. In fact, what goes on top of the coils—typically some combination of foam, padding, and sometimes even more coils—is just as important when it comes to how comfortably you'll sleep.
Depending on the number and type of layers, the mattress may be considered a "hybrid," which signals that it contains a coil support system along with another material, typically memory foam. When evaluating innerspring mattresses, these are the layers you're most likely to encounter: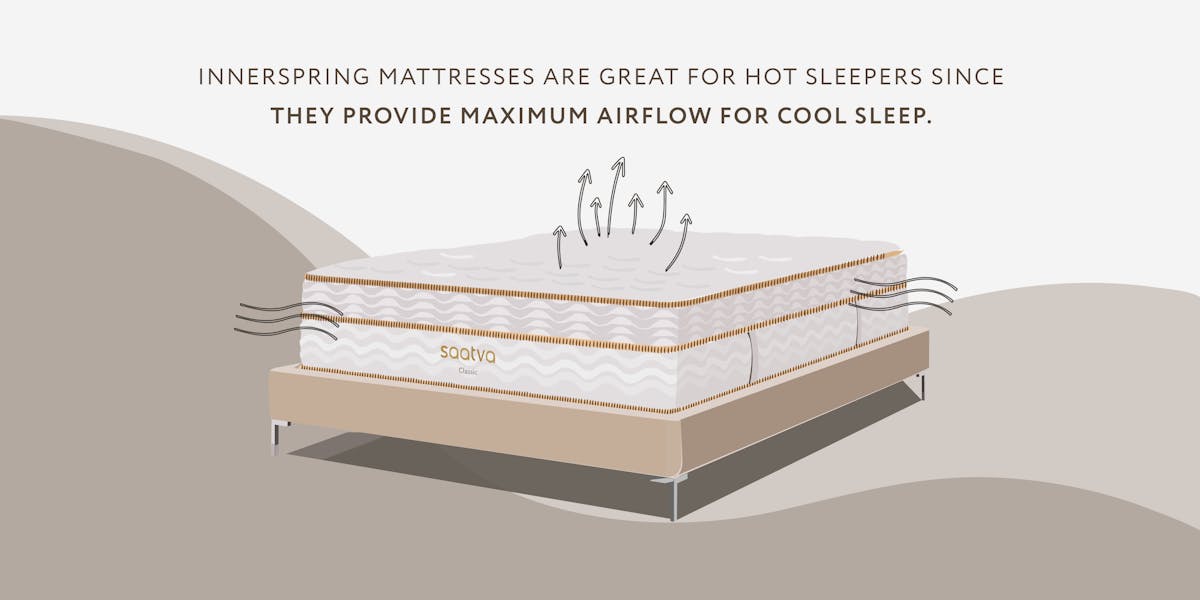 Coil count and coil gauges
Other less important coil factors to consider: coil count and coil gauge. A higher number of coils used to be associated with better quality mattresses, but that's not the case today. The materials used in the mattress and the type of coils are much more important indicators of innerspring mattress quality.
For example, an innerspring mattress could have a high coil count with springs made of low-quality steel. A general rule is to look for a minimum of 400 coils in a queen-size bed; the average is around 700. Anything too much higher than that likely won't make a significant difference in comfort or support.
Coil gauge refers to the thickness of a coil. The higher the gauge number, the thinner and more flexible the spring. A higher gauge is a better option if you want a softer mattress, but a lower gauge usually lasts longer. Thicker springs are also a better choice if you're on the heavier side since they provide stronger support. A coil gauge in the range of 12 to 15 should ensure an innerspring mattress can provide good comfort, support, and durability.
Lumbar support
The lumbar region of your back is located just above your hips. Lumbar support is crucial in order to preserve the natural curvature of the spine. Without it, your midsection (where most people carry their weight) will sink into the mattress and pull the spine out of alignment—a long-term recipe for back pain.
A mattress without lumbar support will also show signs of wear and tear more quickly. Look for an innerspring mattress with reinforcement in the center third section, such as denser foam or hidden steel wires, to support the added weight.
Edge support
Proper edge support makes it possible to comfortably and safely use every inch of the bed, whether sitting on the edge to put on your socks or sleeping next to the edge when your partner (or your dog) crowds the space. Edge support also prevents sagging and provides more durability. An innerspring mattress with edge support will have a layer of foam or heavier coils around the perimeter to bolster its structure.
Best sleeping positions for innerspring mattresses
It's safe to say that one of the reasons innerspring mattresses have maintained their popularity throughout the years is that they support a wide range of sleep styles. Within the innerspring mattress category, look for these features depending on your preferred sleep position:
The best base for innerspring mattresses
Speaking of support, your mattress needs it too. An innerspring mattress is usually paired with a foundation (a.k.a. box spring) or base. The most important thing is that it has a sturdy surface underneath, to keep the mattress from sagging and prolong its life. (In fact, some mattress warranties require the use of a specific type of foundation, and anything else will void the warranty.)
In addition to the standard combination of box spring and metal bed frame, innerspring mattresses are compatible with platform bases, slatted bases, and adjustable bases—though not every innerspring works with an adjustable base, so check before you make a purchase.
FAQs
Which is better: a coil or an innerspring mattress?
While an innerspring mattress with open coils provides general support, it's not good at controlling motion transfer and relieving pressure points and it's not very durable. A pocketed-coil mattress, however, contours to the body much better than open coils, provides good motion isolation, is very durable, and comes in a variety of comfort levels.
Where to find the best innerspring mattresses
Searching for a new mattress can be overwhelming. There are so many different mattress brands, sizes, and types on the market. Saatva offers a high-quality selection of products, including a wide variety of innerspring mattresses, accessories, and bedding. All of our mattresses come with a generous 180-night home trial as well as an industry-leading warranty.
You can find our top picks for Saatva's best innerspring mattresses and take our mattress quiz today to determine which one is right for you.