Feeling cramped in your bed alongside a partner, kids, and pets? Moving to a bigger bedroom? It might be time to upgrade to a king-size bed.
A king-size bed has plenty of positives going for it: It'll provide more-than-generous space to you and a partner. It's ideal for restless and light sleepers since there's not as much of a chance of disturbing or being disturbed by a partner. And it certainly adds presence to a large bedroom, acting as an anchor amid the rest of the decor.
But how big exactly is a king-size mattress, and will it work in your bedroom?
King-size bed dimensions
A king-size bed is the largest type of mattress on the market today. A standard king-size bed measures 76 inches wide by 80 inches long.
In addition to the standard king size, there are also two common specialty king sizes. A split king mattress has the same dimensions as a standard king but is formed from two 38 x 80-inch twin XL beds placed side by side, and a California king mattress is slightly narrower and longer than a standard king, measuring 72 x 84 inches.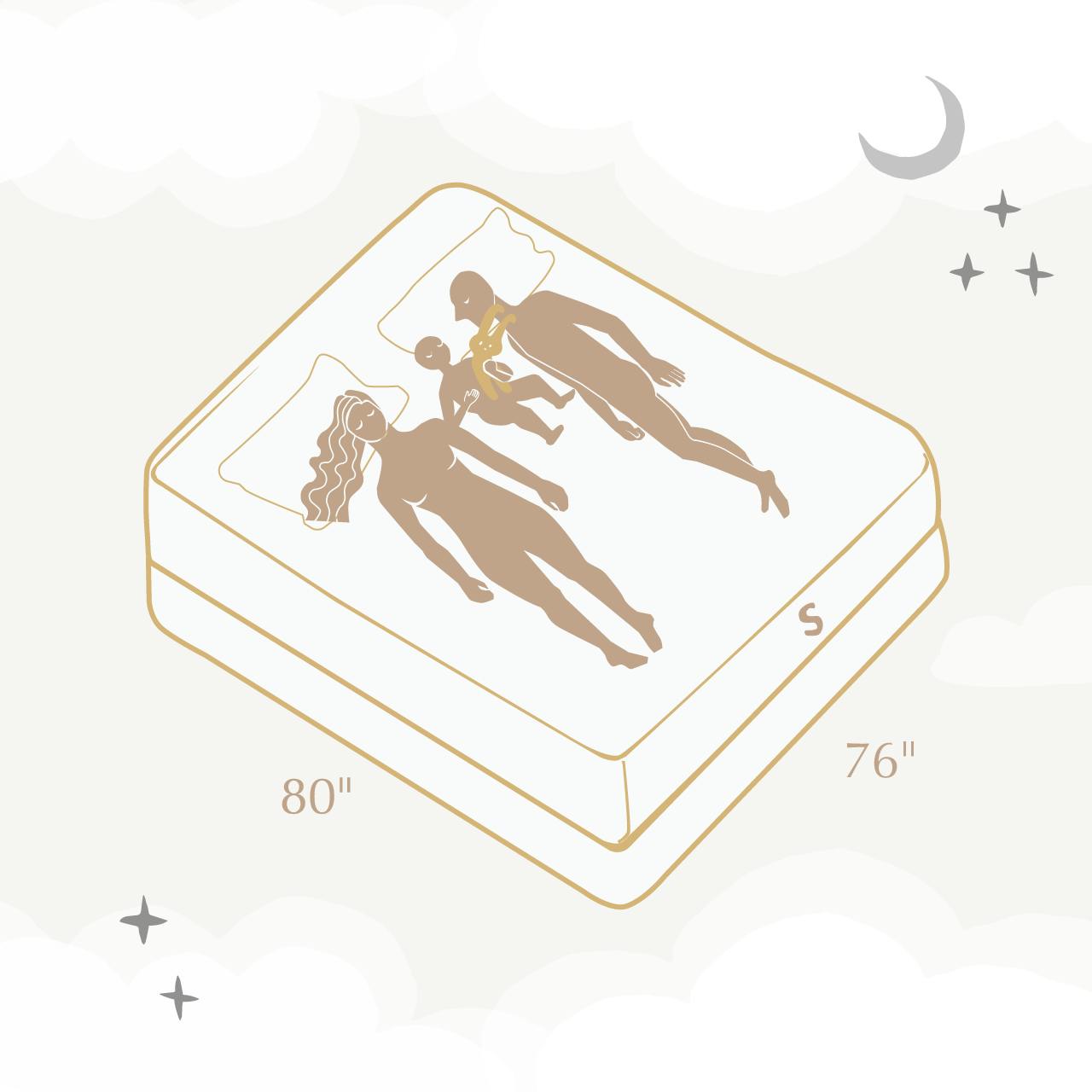 Then there are less widely available king sizes that include the Texas king, the Alaskan king, and the Wyoming king. Each of these king-size mattresses has different benefits. Choosing one that fits your lifestyle best is important.
Comparing king-size mattresses
There are quite a few different types of king-size mattresses available to choose from. In the table below, you can see a breakdown of the standard mattress sizes the industry has to offer. From the average, standard queen-size mattress to the California king-size mattress, see which one is best for your lifestyle.
Mattress Type
Mattress Dimensions
Surface Area
Best For
Recommended Room Size
Standard Queen
60 in x 80 in
4,800 in²
– Single sleepers
– Small spaces
– Small to mid-sized primary bedroom
Standard King
76 in x 80 in
6,080 in²
– Couples that want a little extra room
– Mid-sized to large primary bedroom
California King
72 in x 84 in
6,048 in²
– Tall people that need longer mattresses
– Large primary bedroom
Texas King
80 in x 98 in
7,840 in²
– Couples with pets
– People that need extra space in bed
– Extra large primary bedroom
Alaskan King
108 in x 108 in
11,664 in²
– Couples with young children and pets
– People with large bedroom spaces
– Extra large primary bedroom
Wyoming King
84 in x 84 in
7,056 in²
– Couples with young children
– Extra large primary bedroom
Split King
76 in x 80 in
6,080 in²
– Couples with different mattress preferences
– Couples that need an easy way to move the bed
– Small to large primary bedroom
Deciding if a king-size mattress is right for you
In order to determine if a king-size mattress is the right mattress for you, consider the following:
Who is sleeping in the bed?
Desired comfort level
Bedroom size
Body size
Budget
Temperature
Motion isolation
Who will sleep in the bed?
A king-size bed provides more room for couples. Each sleeper gets about 38 inches of space to themselves. It's an especially good option if one of you is a restless or active sleeper because you can comfortably move around without bothering your partner.
Desired comfort level
Since king-size beds are usually shared by two people, you'll need to take both of your comfort preferences into account when looking for a new mattress. For those who can't agree on a firmness level, consider a medium-firm mattress as a middle ground. You may also want to consider a split king—that way, both of you can choose your personal preference when it comes to your mattress.
In general, a softer mattress is ideal for side sleepers while a medium-firm mattress is good for back sleepers. A firmer mattress is best for stomach sleepers.
Your room size
A king-size bed is an excellent option for primary bedrooms—ideally, you'll want your bedroom to be on the larger side. At a minimum, a bedroom should be 10 x 12 feet for a king-size bed; however, the larger, the better is a good rule of thumb when it comes to king-size beds. Preferably, your bedroom will measure somewhere around 14 x 19 feet. If you have limited space in your bedroom, it might be best to consider a split king or queen-size mattress.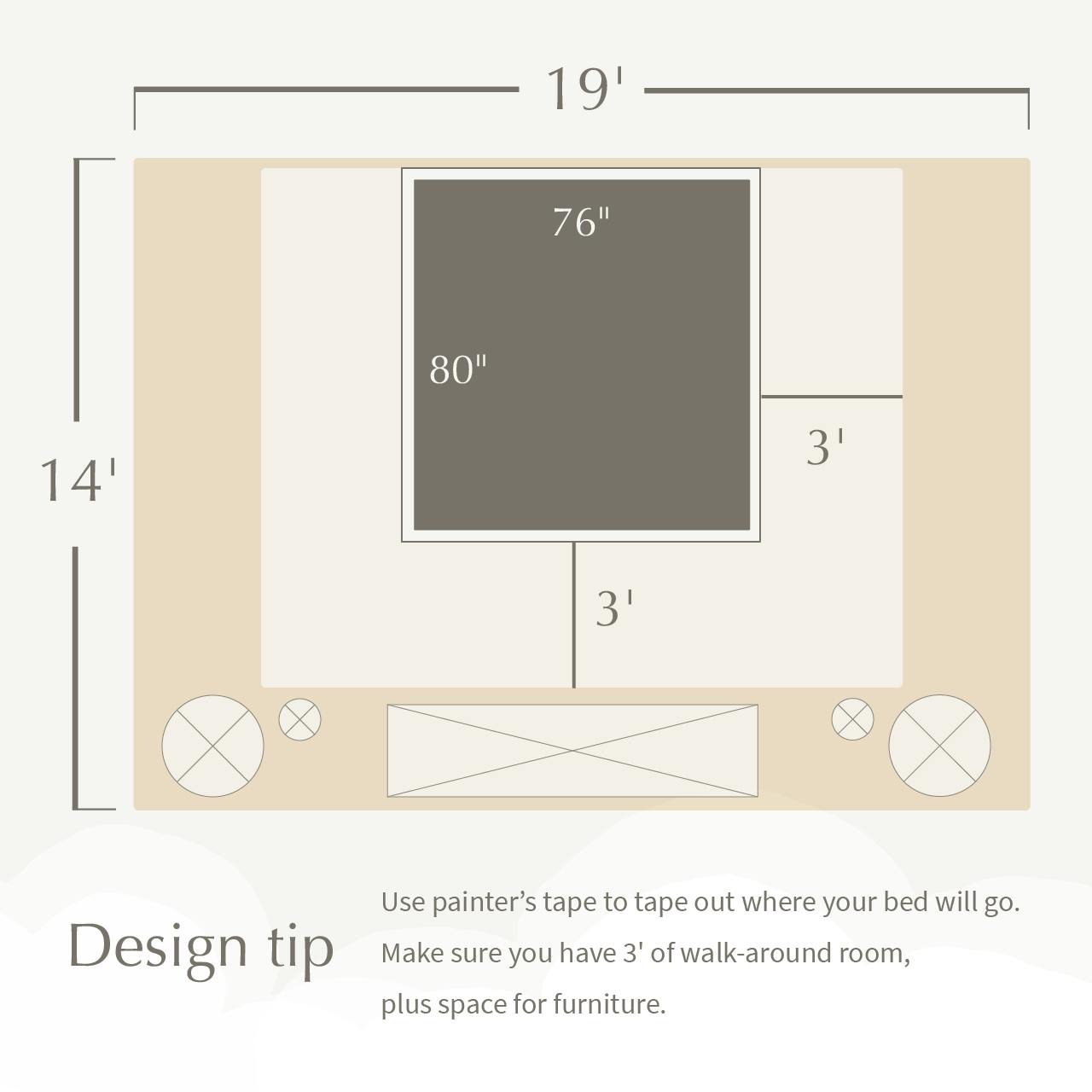 Your body size
King mattresses provide plenty of space for heavier individuals and heavier couples. (Learn about the best mattress for heavy people.) Additionally, taller individuals may want to consider choosing a Texas, Alaskan, or Wyoming king-size mattress. The extra legroom can add an extra level of comfort for tall people.
Your budget
King-size mattresses are more expensive than other mattress sizes. They typically cost about 25% more than queen-size beds of the same style and brand. A larger-sized king mattress like a California king or Alaskan king will come with an increased price tag as well. A standard king-size innerspring mattress will be the most affordable mattress type since it tends to run less expensive than other mattress types.
Temperature
If you tend to sleep hot, you may want to skip memory foam since it can trap heat. Innerspring and latex mattresses sleep the coolest.
Motion isolation
A memory foam mattress is the best at reducing motion isolation. On an innerspring mattress, you may feel your partner moving around, which can disturb sleep. If you like the feel of an innerspring mattress but sleep with a partner, consider a hybrid mattress (such as a latex hybrid mattress) for reduced motion transfer.
King-size mattress vs. other mattress sizes
A king-size mattress differs from other mattress sizes in many ways. Before buying a mattress, it's important to determine which one will fit your lifestyle best.
King vs. twin-size bed
A twin-size bed is one of the smallest mattresses available for purchase, measuring 38 inches wide by 75 inches long. Twin-size mattresses are the most popular mattress size for young kids and can commonly be found in college dorm rooms. The standard twin-size bed will not suit the average young adult. King-size beds are double the size of the average twin-size mattress.
King vs. full-size bed
While a king measures 76 inches wide by 80 inches long, a full mattress comes in at 54 inches wide by 75 inches long, making it much less wide than a king. A king will provide ample room for couples, but a full mattress could be a tight squeeze if you're sharing it with a partner. A full mattress is generally a better pick for solo sleepers.
King vs. queen bed
What's the difference between a king vs queen bed? A queen is the second-largest mattress size on the market. Queen mattresses measure 60 x 80 inches, making them 16 inches smaller in width than the king mattress. A queen mattress will fit better in a smaller-sized bedroom, a place where a king might not be able to fit. A queen will also provide room for storage furniture while a king might not permit such pieces if the space is diminutive.
King vs. split king
The only main difference between a king and a split king is that a split king is made up of two mattresses that come in at king-size dimensions. This is an ideal pick for couples who each have their own mattress preference. For example, one person might want a firm mattress while the other desires a soft mattress. The other bonus is that you won't feel your partner while you sleep.
When it comes to pairing king and split king mattresses with an adjustable base, there's a slight difference in how the two work. With a standard king-size bed, the head and feet of the mattress move together on an adjustable base. With a split king, the head and feet move separately on an adjustable base. This pairing offers more customization for couples.
Find your perfect king-size mattress at Saatva
Our flagship luxury mattress is expertly engineered with coil-on-coil construction for durability, a layer of memory foam for enhanced back support, and a cushiony Euro pillow top for extra comfort.
Premium memory foam, handcrafted in the U.S. with eco-friendly materials. Breathable organic cotton, cooling spinal gel, and layers of high-density support foam assure a cool, comfortable night's sleep.
Natural latex responds to every curve for pressure-free support and responsive comfort. Natural latex is supple, resilient, and durable, for the ultimate in elevated sleep. (It's naturally hypoallergenic too.)
King-size mattress FAQs
Mattress shopping can feel daunting, which is likely resulting in plenty of questions around king-size bed dimensions. These answers will help you during the process.
Is there a bed bigger than a king?
Some non-standard king sizes are bigger than a standard king. They include the Texas king (80 x 98 inches), the Alaskan king (108 x 108 inches), and the Wyoming king (84 x 84 inches).
What's the difference between a king-size and an Alaskan king-size bed?
A standard king mattress measures 76 inches wide by 80 inches long. An Alaskan king is much larger. It measures 108 x 108 inches. That means it's 36 inches wider and 28 inches longer than a traditional king.
What's the difference between a California king versus a king?
A California king measures 72 inches wide by 84 inches long, while a standard king measures 76 inches wide by 80 inches long. A California king is 4 inches narrower and 4 inches longer than the standard king. (Learn more about the differences between a king vs. California king.)
Do two twins make a king?
Two twin XL mattresses make a king—a single twin XL is 38 by 80 inches. When you pair two together, you get a split king, which measures 76 x 80 inches.
What's the ideal amount of room space for a king-size mattress?
The preferred bedroom size for a king-size mattress is 14 x 19 feet. This size room will allow you to comfortably fit other furniture, like two nightstands on either side of the table, a dresser, a TV stand, etc.
How big is a king-size bed frame?
A standard king-size bed frame measures 76 inches wide by 80 inches long.
Is a bigger bed really better?
A more sizable bed is better for couples, larger bedrooms, and families where kids and pets like to pile up in bed. A larger mattress will allow each of you plenty of space to snooze comfortably.
Buying a high-quality king-size mattress
After you've determined if a king-size bed is right for your lifestyle, it's important to buy a high-quality mattress. If you're in the market for a new bed, Saatva carries a large selection of high-quality mattresses that can easily fit into any lifestyle.
Whether you're looking for the perfect mattress for your guest room or a California king for some extra sleeping space, we're a one-stop shop for all of your bed and mattress needs. Try a new king-size Saatva mattress for 180 nights to see if it's right for you.
Explore other mattress sizes
Decided a king-size mattress isn't right for you? Learn more about other common mattress sizes on the market to find your perfect fit.