When you go mattress shopping, it's not just the mattress you have to consider—you also have to think about where you'll place your new bed. And it turns out you have quite a few options when it comes to supporting your mattress, from standard foundations and metal bed frames to sleek, contemporary platform beds. But how do you figure out which support system is right for you and your mattress?
Here's everything you need to know about foundations and frames so you can determine your ideal mattress setup.
What is a mattress foundation?
A foundation is the base that supports your mattress and raises it to a comfortable height. It's a rectangular "box" that can have a fabric-covered or exposed wood frame, with a solid top or one made of wood slats.
Although foundation is the term most in favor these days, sometimes you'll still see a foundation referred to as a box spring. Box springs used to have a set of coils inside to add extra flexibility and cushioning to thinner mattresses that went on top. That said, due to advances in technology, foundations haven't actually contained springs for about 20 years.
What is a bed frame?
The frame is the part of the setup that holds the foundation. Frames can be made of metal or wood and be "open"—that is, with a rim around the inside to hold the foundation—or with a slatted or solid top surface. Depending on the size and type of mattress, a frame will have additional center support as well as legs on each corner.
Related: The right kind of base for any mattress
How do you choose a mattress foundation and bed frame?
Not all foundations and frames are the same. The one that's best for you will depend on a variety of factors, including the type of mattress you have, your bedroom decor, whether you're interested in any special features (like the ability to raise your head and/or feet), and how much you're willing to spend.
Watch this video for more advice on how to choose a foundation:
Popular foundation and frame options
Metal bed frame and foundation: This is one of the most popular mattress support systems, and it's also usually the least expensive option. In this case, the mattress rests on top of a standard wood foundation, which sits inside the metal frame.
Decorative bed frame and foundation: Decorative bed frames, such as sleigh beds and canopy beds, can be made of wood, metal, or upholstered in a variety of fabrics, such as linen or velvet. Depending on the style, they can include a headboard, footboard, and/or side rails. Like metal frames, upholstered frames are meant to be used with a standard foundation.
Platform bed: Platform beds are designed to be used without a foundation. In this setup, the mattress rests directly on top of the platform, which can be either a solid surface or one made with slats. Platform beds vary in height, but they usually sit closer to the floor than a standard mattress and foundation setup. There are a lot of different types of platform beds: wood, metal, upholstered, and even ones with built-in storage drawers. The main reason people choose a platform bed is that it has a clean, contemporary appearance.; there is no difference in comfort or performance.
Adjustable base: This type of base has a motor and bends and flexes so you can customize the position of your mattress. Most adjustable bases give you the option to raise the head and feet of your bed. Many higher-end models also come with a lot of special features, including preset positions, under-bed lighting systems, and massage settings. Adjustable bases are designed to be used without a foundation.
Mattress foundation and bed frame heights
A standard foundation and metal frame setup will raise your bed to about 25 inches from the ground. See the diagram below for a handy visual reference: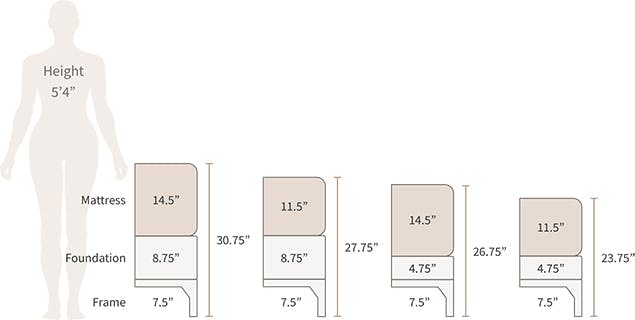 A lower foundation is ideal for people who like to "slip" into bed, while a taller foundation is a better option for those who like to "climb" into bed.
Mattress foundation and bed frame costs
A standard wood foundation and metal bed frame is the most affordable option. A metal frame usually costs around $100, while a foundation will set you back in the $200-$300 range. Upholstered bed frames run the gamut, price-wise—while inexpensive options do exist, a furniture-quality bed can cost anywhere from $1,200 to over $4,000. The same goes for platform beds. Adjustable bases usually range from $1,000 to $3,500.
Take our quiz to find out which Saatva mattress is right for you.
Is a mattress foundation necessary?
You don't need a foundation—as we noted above, instead of a foundation you can always opt for a platform bed or adjustable base. You can even put your mattress directly on the floor, although that can create other issues with allergens, dust, and mold.
There are certain situations when a foundation is necessary, though. You do need a foundation if:
You're using a standard metal bed frame. Without a foundation, your mattress won't have adequate support.
Your bed frame is set at a height that assumes a foundation. In that case, you'll need a foundation that raises your mattress to the optimal height of about 25 inches off the floor. Low-profile foundations—which measure anywhere from 4 to 6 inches—work with especially thick mattresses or higher-than-standard bed frames.
Your mattress warranty requires a specific type of foundation. Some latex mattresses, for example, specify the allowable spacing of slats in an open-slat foundation.
How long does a mattress foundation last?
Most good foundations will last you about to eight to 10 years—the same as a typical mattress. It's time to get a new foundation if your current one squeaks, sags, or has broken slats.
Mattress foundation and bed frame fine print
There are a few other factors to think about when considering your mattress setup. While most foundations and frames will suit most mattresses, there are always a few caveats, so you should check your mattress's fine print before purchasing. Some warranties can be voided if you use an improper foundation.
Here are some fine-print scenarios to keep in mind:
For queen, king, and California king mattresses, a metal bed frame must have a leg down the center for additional support.
Some mattress warranties require a particular kind of surface or slats that are a specified distance apart. In that case, you may need to cover the slats with plywood before you can place a mattress on top of it. Oftentimes, latex mattresses and extra-thick hybrid mattresses require solid support.
Most mattresses are compatible with adjustable bases, but if you're buying a mattress and base from different sources, it's best to check with the mattress manufacturer to make sure. A mattress must be able to "flex" in order to work on an adjustable base. Virtually all foam mattresses can be paired with an adjustable base, and so can most innerspring mattresses. Some thick mattresses are incompatible with adjustable bases because they don't flex.
Check out Saatva's selection of high-quality foundations and bed frames
With weightless, Zero Gravity support, the Saatva Adjustable Base Plus allows you to set your ideal position for sleeping—and living—with one touch of the remote.
A platform bed, with a lower profile, sleek lines, and graceful legs. Featuring plush padded edges that lend a rich look and a fully upholstered back. Available in taupe and graphite vintage velvet.
Engineered to provide optimal support for your mattress. Handcrafted from North American spruce, our foundation is more durable than a traditional box spring. Shown here with metal frame.
FAQs
Do you need a foundation under a mattress?
You don't need a foundation under your mattress. Instead, you can always opt for a platform bed or adjustable base. You can even put your mattress directly on the floor (although that can create other issues with allergens, dust, and mold). Nevertheless, there are certain situations where a foundation is necessary, such as when using a standard metal bed frame, your bed frame is set at a height that assumes a foundation, or your mattress warranty requires a specific type of foundation.
Do you need a box spring with a bed frame?
If you're using a standard metal bed frame—or any bed that provides only a rim around the perimeter to hold the mattress, perhaps with a few cross pieces of wood—that won't provide adequate support for your mattress on its own. To ensure your mattress has the necessary support, as well as to raise it higher, you have to use either a box spring or a foundation.
Read our guide to mattress fine-print policies to learn more.