First, it was soda, then fries—now even mattresses have been super-sized.
So how tall is a mattress? The standard mattress height, or average mattress height, is 8- to 12-inches; however, these days it's common to find 14-, 16-, and even 18-inch mattresses. When it comes to mattress height or "mattress thickness", how do you choose? Here are some guidelines.
Deciding on mattress height: when you should get a thick or tall mattress
Personal and aesthetic preferences, along with your budget, are among the many factors to consider when choosing the ideal mattress thickness. As a rule, mattress thickness alone is not an indicator of quality; that's more a function of mattress material and construction. A thicker mattress might be best for you if:
You have a larger body. A mattress that's 10 inches or thicker is probably the way to go if you've found that thinner mattresses tend to sink too low when you lie on them. "In this case, the extra layers of material can offer more support, better pressure relief, and a lower risk of 'bottoming out,'" says Michael Magnuson, founder of Goodbed. (Here are more expert tips for finding the best mattress for bigger bodies.)
You want to get on and off your bed with ease. If you're doing a deep squat to sit down on your bed or hoisting yourself off the edge to get up, a thicker mattress will require less exertion. (This, of course, depends on the total height of your bed setup—more about that later.)
Your bed or headboard demands it. The style of your bed often dictates what you need in a mattress, aesthetically speaking. A thicker mattress is ideal for a low platform bed, one with a high headboard, or a four-poster or otherwise "royal" style bed that cries out for a substantial mattress. On the flip side, if the headboard or footboard is low, a too-thick mattress will mean that not enough of either will show, so it's important to measure everything beforehand.
Deciding on mattress height: when you should get a shorter mattress
Sometimes a thicker mattress may not be the best choice. You may want to stick with a thinner mattress if:
You're on a tight budget. Because they have more material and frequently contain more layers and components than thinner models, thicker mattresses tend to cost more. Keep in mind that you'll also have to purchase deep pocket or extra-deep pocket sheets if you buy an especially thick mattress.
You don't want to deal with a heavy mattress. Thicker mattresses weigh more than thinner ones and can be unwieldy—hence carrying them and setting them up can be difficult. That said, many companies (including Saatva) offer white glove delivery and setup, so you don't have to worry about lugging a heavy mattress into your bedroom.
You don't want to "climb" into bed. You may like the feeling of hopping up into bed, but if you are short of stature or have mobility issues, a too-high mattress can be a challenge. Always measure the distance from the floor to the top of the surface on which you will place the mattress so you know what you're getting into. (See the diagram below for a handy visual reference.)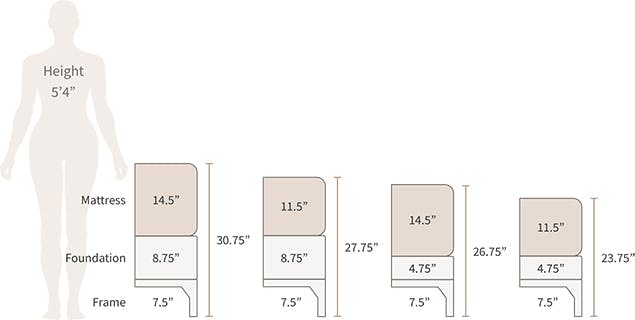 Here are tips for measuring bed height to help you determine what setup is right for you.
What foundation can you pair with a thick mattress?
Thicker mattresses don't have more complicated foundation needs than their thinner counterparts. You can use a conventional box spring or a platform bed. Adjustable bases are an option as well for some thicker mattresses, but seek the manufacturer's advice on whether the combination will work. Some thick mattresses are not compatible with adjustable bases, as they aren't able to flex.
The critical thing is to consider the total height of your bed setup. Pairing a thick mattress with a high foundation may make it difficult to get in and out of bed. The average height of a mattress plus foundation and frame is around 25 inches, though it can be more or less depending on your height and personal preference. Mattress foundations are available in standard height (around 9 inches) or "low profile" (around 5 inches). You can mix and match the thickness of the mattress and foundation to get the setup you like best.
Here's an easy way to tell if your bed height is right for you: When you sit at the edge of your bed, your feet should touch the floor comfortably and your knees should be level with your hips.
Is a thick mattress more durable?
A mattress's thickness has nothing to do with how durable or high-quality it is. As with all mattresses, thick varieties are composed of layers, which can be made of assorted materials. Thicker mattresses are most likely to be hybrids, which combine innersprings with comfort layers made from memory foam and/or latex.
The bottom line: "You can't say a bed is better just because it's taller," says Keith Cushner, co-founder of sleep website Tuck. "As with any mattress, it's all about the structure, construction, and quality of the layers."
Find your ideal mattress height with these Saatva mattresses
Our flagship luxury mattress is expertly engineered with coil-on-coil construction for durability, a layer of memory foam for enhanced back support, and a cushiony Euro pillow top for extra comfort.
Premium memory foam, handcrafted in the U.S. with eco-friendly materials. Breathable organic cotton, cooling spinal gel, and layers of high-density support foam assure a cool, comfortable night's sleep.
Natural latex responds to every curve for pressure-free support and responsive comfort. Natural latex is supple, resilient, and durable, for the ultimate in elevated sleep. (It's naturally hypoallergenic too.)
FAQs
What is the height of a standard mattress?
The standard mattress height, or average mattress height, is 8 to 12 inches; however, these days it's common to find 14-, 16-, and even 18-inch mattresses.
How thick is an average mattress?
Most mattresses clock in between 8 and 12 inches thick. Thicker mattresses do exist, with some mattresses ranging from 14 to 18 inches.
For more advice on choosing the right mattress, check out our ultimate mattress-buying guide.