When it comes to mattresses, what one person considers luxurious comfort may be another person's bed of nails.
That said, at Saatva we find that people tend to prefer certain mattresses based on their own criteria—such as their sleep position, body type, or health conditions.
For example, we know that side sleepers typically like a softer sleep surface. On the other hand, back and stomach sleepers say they like a medium to firm mattress.
In this article, we're sharing which of our mattresses is ideal for different sleep positions and other scenarios. (You can also take our mattress quiz for even more advice on choosing the most comfortable Saatva mattress for you!)
Most comfortable mattress for back sleepers
Unless you have sleep apnea or snore, back sleeping is widely considered the healthiest position for your body. It keeps your spine in alignment and your neck in a healthy, neutral position—as long as you avoid using too many super-thick pillows under your head.
Back sleepers have more flexibility when deciding on the kind of mattress to buy. As a general rule, a slightly firmer bed helps keep the spine and hips in proper alignment, with enough cushioning on top to conform to the natural arch in the lumbar region.

Our favorite mattress for back sleepers is our Saatva Classic innerspring mattress in Luxury Firm. It's a good choice for back sleepers because the mattress has optimal spinal support in the form of Lumbar Zone® Technology. The medium firm comfort level is a 5-7 on our scale of 1-10, resulting in the perfect balance of comfort and uplifting support for back sleepers.
Most comfortable mattress for side sleepers
Most people are side sleepers. Typically, those of us who sleep on our side prefer a slightly softer bed made from foam or latex or a cushiony pillow top mattress with an innerspring base.
Why so particular? When you sleep on your side, your hip bone and shoulder need to be able to sink a bit into the mattress. The weight put on the bottom hip can hinder blood flow and become uncomfortable. A softer mattress will also help maintain the natural curvature of your spine throughout the night.

For side sleepers, we suggest our Saatva Classic innerspring mattress in Plush Soft. The mattress is a soft comfort level—a 3 on our scale of 1-10. It has added padding in the pillow top for a deep, body-hugging feel. This one is the perfect fit for side sleepers who like extra contouring under their shoulders and hips.
Most comfortable mattress for stomach sleepers
For the smallish number of you who are most comfortable sleeping on your stomach, the choice is more about what you don't want. In this case, it's a good idea to avoid anything too soft. Sinking into the mattress puts a lot of stress on your spine.
Opt for a medium firm to firm surface as opposed to anything that's very firm. You still need a little give to accommodate your body's contours and reduce pressure on your ribs and hip bones.

We find that stomach sleepers tend to be very happy sleeping on our Saatva Classic innerspring mattress in Firm. It's an 8 on our comfort level scale of 1-10—designed to feel like you're lying on top of the mattress—not like you're sinking in. This mattress provides proper spinal alignment for stomach sleepers, and the cover is made from breathable organic cotton to prevent you from overheating while sleeping face-down.
Most comfortable mattress for combination sleepers
Constantly changing your sleep position from back to side to stomach? A medium-firm mattress will be most comfortable across a range of positions.

For combo sleepers, we recommend our Saatva latex hybrid mattress. It's a medium firm mattress that's easy to move around on, thanks to the responsive, resilient latex comfort layer.
Most comfortable mattress for couples
When you share a bed, you have to think about motion transfer, which is what happens when your partner (or pet) tosses and turns or gets in and out of bed during the night.
An innerspring mattress with individually-wrapped coils is one good option for couples. In this setup, the coils aren't connected, which can lower motion transfer. Foam and latex mattresses are two other good options for couples since they have stability that isolates movement when one person changes position. Adjustable mattresses, with individual air chambers on each side, meanwhile, are particularly nice for couples because they allow each of you to choose the firmness you like best. (Learn about the biggest bed sizes for couples.)

Our most comfortable mattress for couples is the Solaire adjustable mattress. It features individual air chambers that allow each person to choose their preferred firmness level from the mattress's 50 different firmness options. Comfort layers of memory foam and latex cut down on motion transfer, making the Solaire ideal for couples.
Most comfortable mattress for back pain
The best mattress for back pain is one that supports your spine's natural alignment. Whether it's lower back pain or upper back pain, think about your favored sleep position to guide you.
One medical journal study found that when subjects switched to mattresses that dovetailed with their preferred sleeping positions, they enjoyed improvements in pain and stiffness—and further improvements—across the rest of the study's 12 weeks.

For those with back pain, we suggest our Loom & Leaf memory foam mattress in Relaxed Firm. Its high-density memory foam contours to the body and relieves pressure points while providing stable support—all good things for soothing aches and pains.
Most comfortable mattress for older individuals
A National Sleep Foundation poll found older adults are more likely than younger and middle-aged adults to wake up throughout the night. Insomnia is prevalent in older adults, and the Journal of Clinical Sleep Medicine reported the most common complaints are difficulty falling asleep or maintaining sleep.

Fortunately, there are some easy steps you can take to improve your sleep—and it all starts with finding the right mattress. For seniors, we recommend our Zenhaven latex mattress in Gentle Firm. Its 5-zone latex offers relief for aches and pains. The mattress sleeps cool, and the resiliency of the latex makes it very easy to move around on and get in and out of bed.
(Get an answer to the question, how long does a latex mattress last, in our guide to latex mattress lifespan.)
Most comfortable mattress for people who snore
If you're one of the estimated 90 million Americans who sometimes snore—or the 37 million who snore regularly—look for a mattress that adequately supports your head and neck. Memory foam, latex, and high-quality air mattresses all offer great head and neck support.
Elevating your head and upper body will reduce the effects of gravity on the soft tissues of the throat and open the airway so you can breathe more freely. An adjustable base is a great way to elevate the upper body. You can also use a wedge pillow to elevate your torso (and not just your head and neck).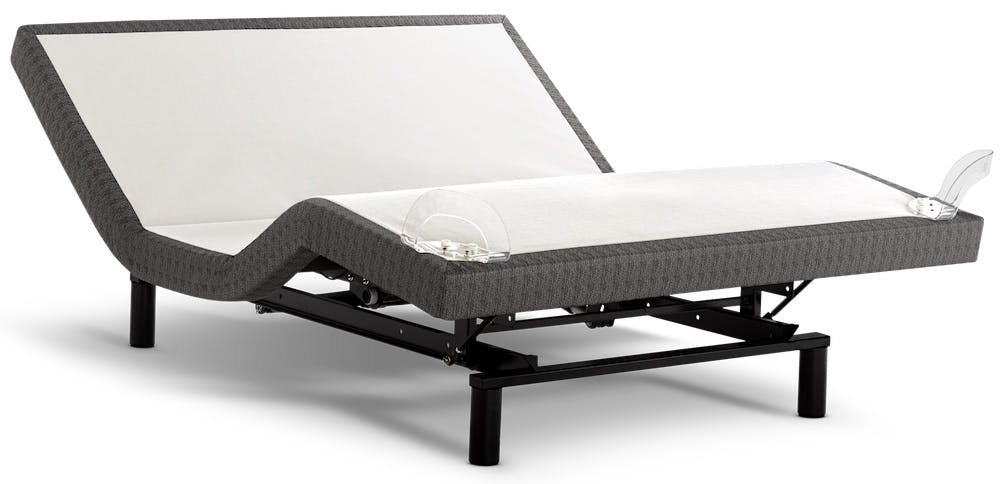 Saatva's memory foam, latex, and adjustable mattresses all offer great head and neck support for snorers—particularly when they are paired with our adjustable base plus.
Most comfortable mattress for pregnancy
For relief from the back pain, nausea, and frequent bathroom trips of the first trimester to the cramps, heartburn, shortness of breath, and baby's kicks in the second and third trimester, the pregnant body needs a supportive mattress. Memory foam is ideal when you're expecting because it can help alleviate pressure points and will conform to your changing body.
Some memory foam can sleep hot, though, so make sure to look for a mattress infused with cooling materials, like gel or graphite. Latex is also a good choice, especially for pregnant women who toss and turn or need to get out of bed multiple times during the night. That's because, like memory foam, latex mattresses tend to have good motion isolation, meaning that the movement of one person is less likely to disrupt sleep for the other party.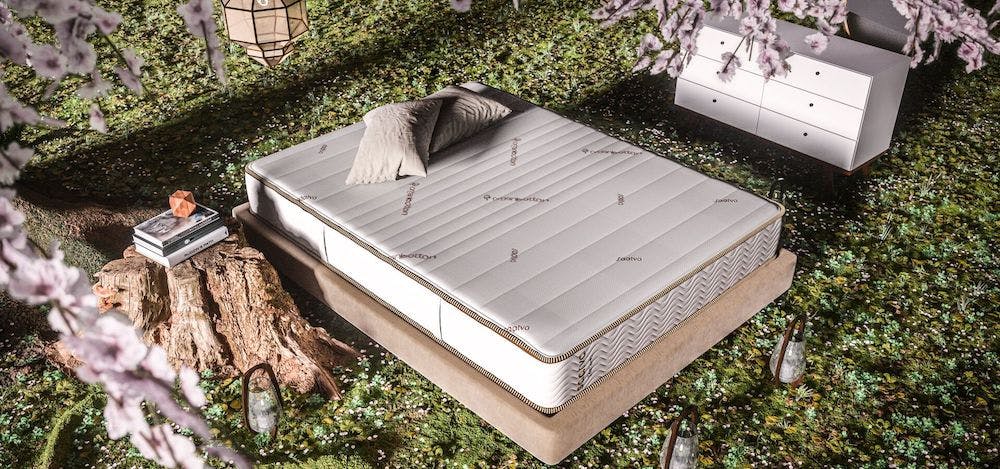 For pregnant people, we like the Zenhaven latex mattress in Luxury Plush. The mattress offers a zero gravity feel and relieves pressure points. It's good for all sleep positions and easy to move around on.
Alternatively, for people who don't want to buy a new mattress during pregnancy, our latex mattress topper is a comfortable temporary solution.
Most comfortable mattress for heavier people
Heavier people often don't get the performance they want from a mattress because most conventional mattresses aren't made with the needs of high-weight sleepers in mind. Support, durability, and sleeping cool are key considerations, along with plush comfort for cushioning and pressure relief.
People who weigh over 230 pounds or so will generally sleep better on a firmer mattress than a softer one. A medium firm to firm mattress will help keep a heavier person's spine aligned without sagging. A thicker mattress—at least 12 inches thick for proper support—is often a better option for heavy people.

Our Saatva HD hybrid innerspring mattress is our best mattress for heavy people. This mattress is designed specifically with the needs of bigger bodies in mind, supporting people weighing up to 500 pounds. Coils in the base are 25% stronger than the industry standard, and memory foam and latex comfort layers sleep cool and add extra cushioning for your joints.
Most comfortable mattress for children
When buying a mattress for youngsters, "go simple" is a good rule of thumb. Don't worry about their sleep position because chances are they don't have a preferred one. Plus, the vast majority of children at this stage are so lightweight, slender, and non-curvy that there is no concern about choosing the right mattress firmness for a child with regards to spinal alignment in any particular sleep position. A firm or medium firm mattress is ideal for kids.
Medium firmness also works for most teenagers, but check with your teens first because their sleep styles begin to solidify at this age. You'll want a mattress that's right for their sleep position and comfort preferences. It could help them get the eight to 10 hours a night that the National Sleep Foundation recommends—and that only 15% of teens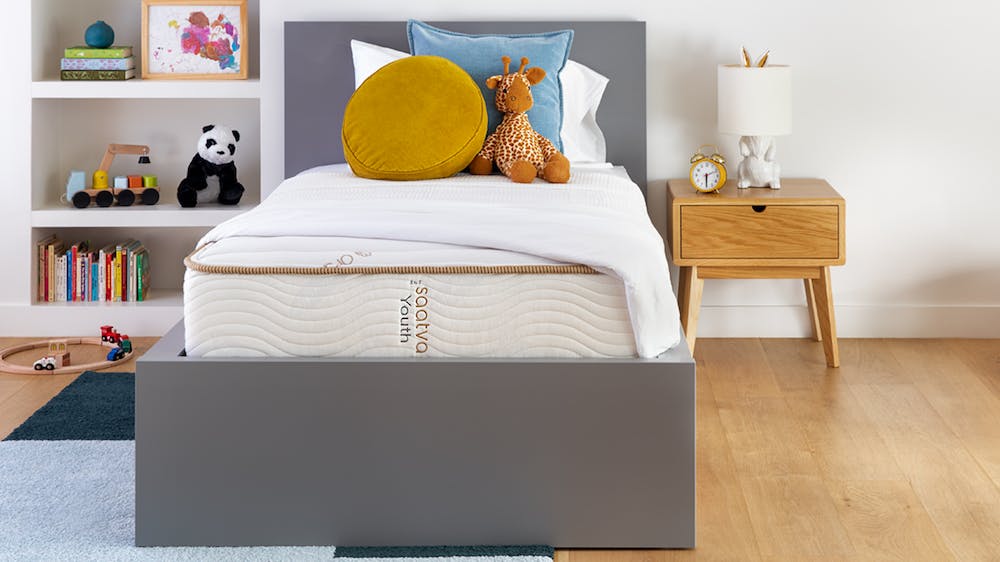 Our best mattress for kids is our Saatva Youth. The mattress is dual-sided—one side is for younger kids (3-7), and the other side is for older kids (8-12). It offers proper support for growing children, and the waterproof cover makes cleaning accidents easy.
FAQs
What is the most popular sleep position?
The most popular sleep position is side sleeping. The National Sleep Survey previously reported that 74% of us sleep on our sides.
What is the unhealthiest sleeping position?
The unhealthiest sleeping position is stomach sleeping. It places strain on your neck and back, and your spine isn't aligned with your head when you sleep in this position.
Improve your sleep with these Saatva mattresses
Now that you've chosen the mattress type that's best for your needs, it's time to choose a mattress size. Check out our guide to mattress dimensions to find the right mattress size for you.