When it comes to design, it can be daunting to make over an entire home. That's why the One Room Challenge is so brilliant.
For the past 20 years, twice a year, the One Room Challenge invites 20 designers, bloggers, and interior design aficionados to make over just one room instead of a whole house in six weeks. (Recently, they've been allowing eight on account of the pandemic.) The designers track their progress through their blogs, sharing photos and sources along the way.
For this past Fall 2021 season, Saatva had the opportunity to be the exclusive mattress sponsor of the One Room Challenge, resulting in bedrooms that are both beautifully designed and feature our luxury mattresses.
One Room Challenge bedroom reveals
"I truly enjoyed the whole process, says Joy Williams, one of the featured designers, about her experience working with Saatva during the One Room Challenge. "The products are high-quality and luxurious. I was very pleasantly surprised by the quality of the linens as well—so comfortable and sustainable. Saatva delivered for us in a big way because the bed was a star in the room."
We're here to take you on a behind-the-scenes glimpse into how all these bedrooms came together, contributing to yet another successful season of the One Room Challenge.
Saudah Saleem Interiors
As a mom of five who's known for weaving together patterns, texture, and cultural touches into her spaces, Saudah Saleem designed a bedroom that artfully brings together style and function.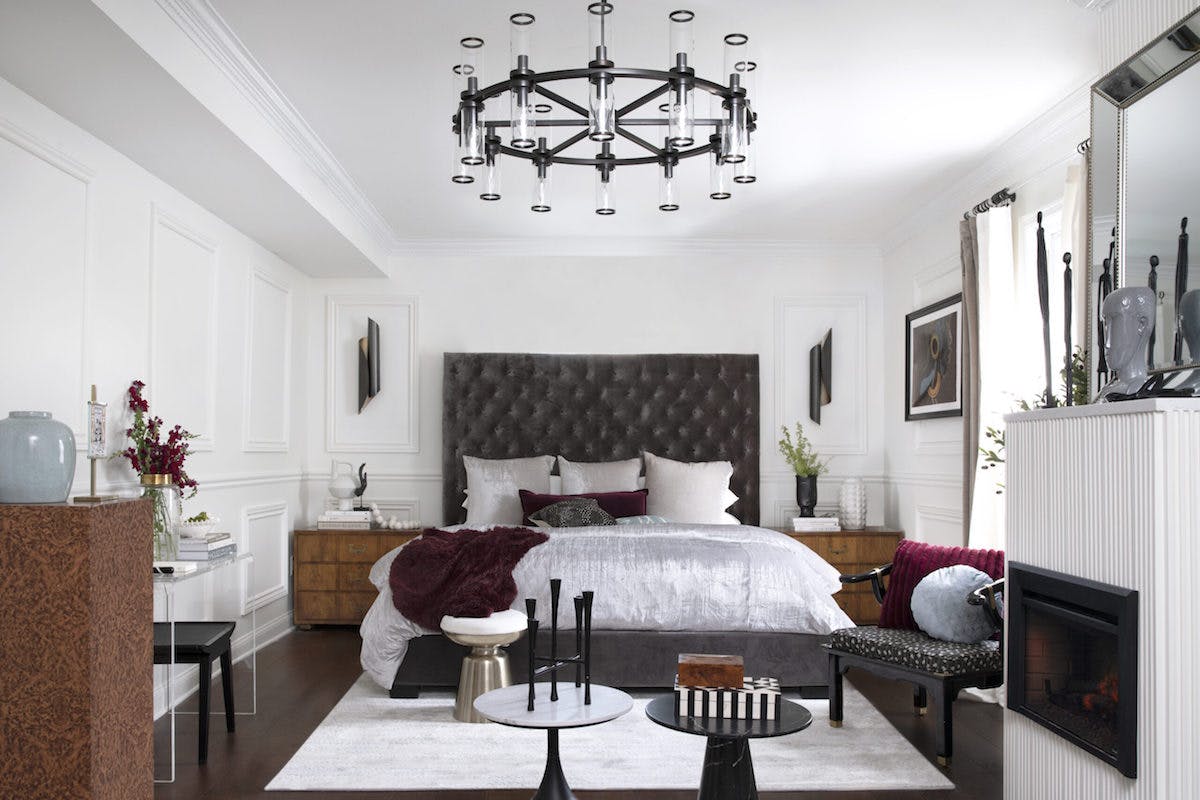 "The One Room Challenge is a fast-paced design challenge that requires participants to completely renovate a space in eight weeks. Saatva provided the focal point of the room renovation—the stunning tufted velvet high back
Marbella
Marbella
A statement-making bed frame, with a timeless feel
bed. I enjoyed my experience working with Saatva.
"I'm known for incorporating vintage and modern pieces when designing a space to create a curated arrangement. In this bedroom design, the clean lines of the tufted headboard team with the eclectic chandelier, pops of rich saturated color, and luxurious velvets to create rich juxtaposition.
"Through the thoughtful use of color, unique accents, layered texture, and details, the room design is livable luxe: inspiring, sophisticated, and soulful." – Saudah Saleem, founder and principal designer of Saudah Saleem Interiors
G. Lebron Interiors
Specializing in residential and commercial spaces, Gloribell Lebron is all about luxury while keeping in mind minimalist aesthetics. Her roots in Puerto Rico strongly influence her design approach.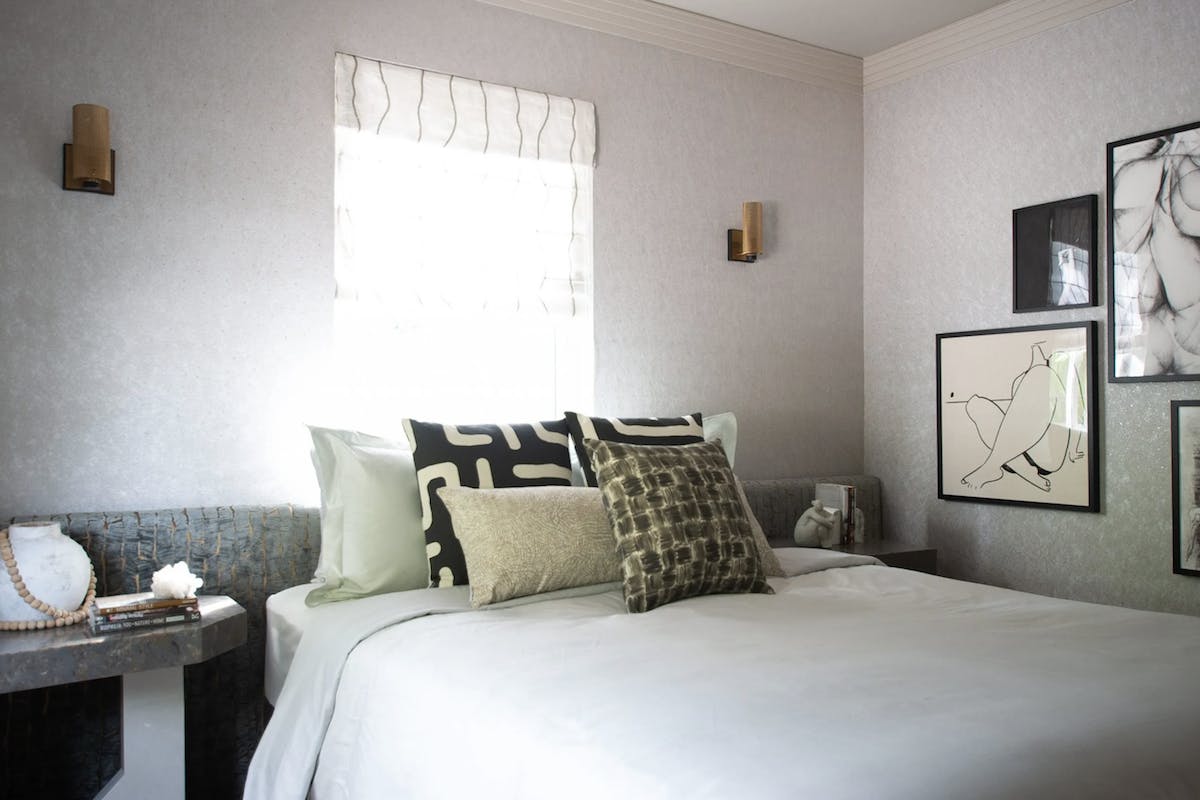 "This was my first time as a featured designer in the One Room Challenge. Running both hats simultaneously (as the designer and client) was an exciting journey and one that I truly enjoyed from start to finish.
"I knew from the start that the approach that I wanted to achieve for this room was a luxurious mix of neutrals and sumptuous textures. For this master room, I wanted to recreate a high-end hotel look but with a more relaxed and welcoming feeling." – Gloribell Lebron, principal designer and owner of G. Lebron Interiors
Beth Diana Smith Interior Design
Describing her approach as "collected-meets-refined style," Beth Diana Smith focuses on luxe finishes and artistic accents throughout her designs and is a founding member of the Black Artists + Designers Guild and an associate of the American Society of Interior Designers.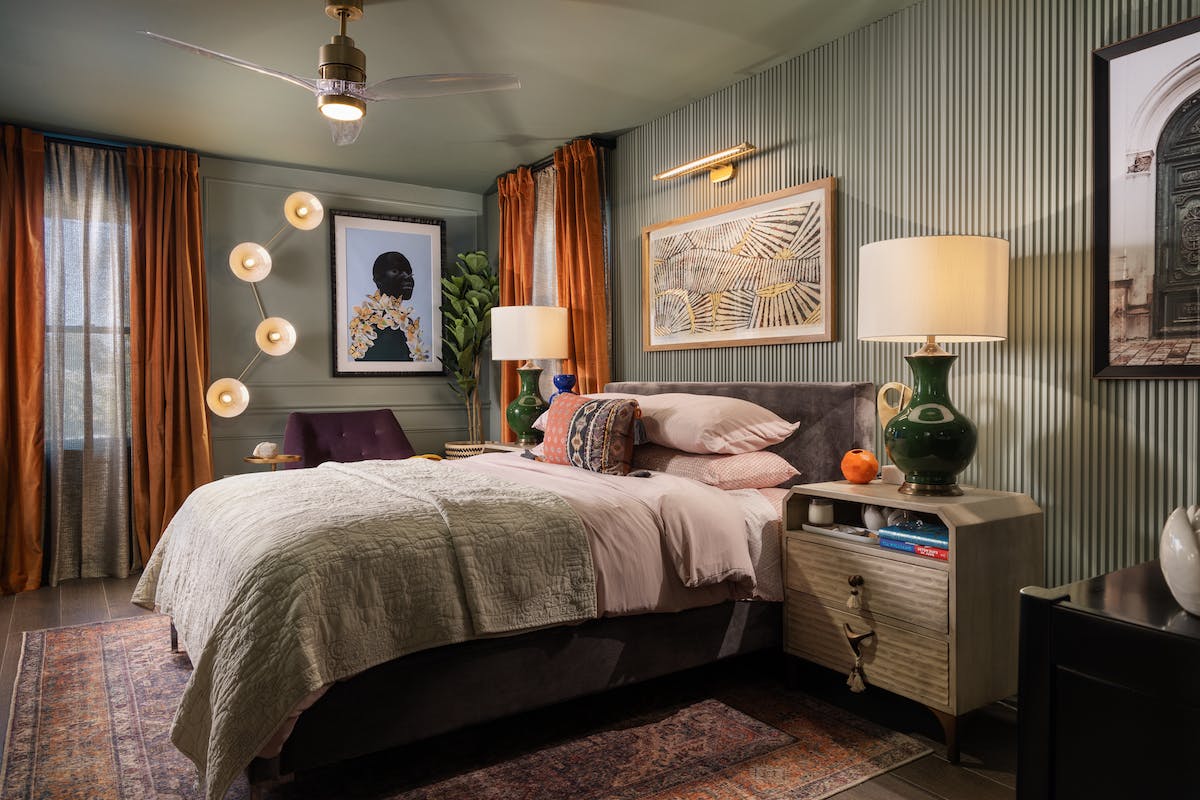 "The experience was fun and challenging. I struggled with what to do in my bedroom versus what to do in my office. I wanted to ensure that the spaces were quite different but both very special and memorable.
"The room has calm, maximalist vibes. It's very peaceful and calming but still embodies my maximalist aesthetic." – Beth Diana Smith, CEO and principal designer of Beth Diana Smith Interior Design
Joyful Designs Studio
Infusing her designs with healthy doses of culture and color, Joy Williams always sets out to craft designs that are not only beautiful to behold but are functional as well.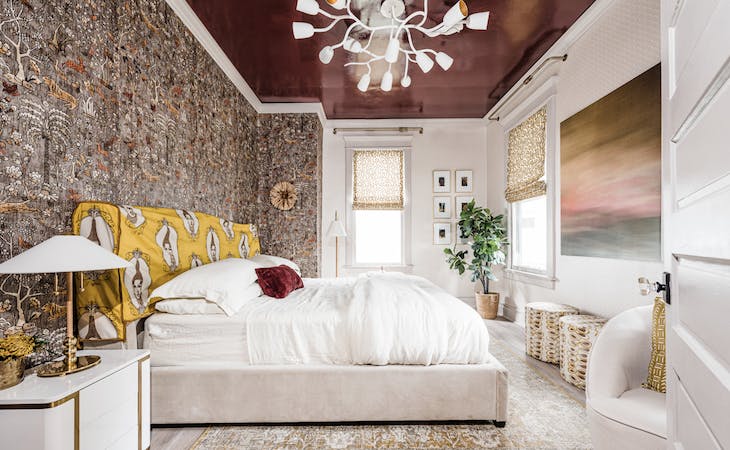 "I really wanted the room to speak for itself. Our design aesthetic is artfully eclectic. We used color as a mood enhancer for both day and night experiences. For example, the yellow with a hint of chartreuse in the window treatments and the headboard cover are sunny reminders of summer days.
"The Farrow and Ball 'Brinjal' in high gloss coats the room in warm tones come evening and makes it a place you really want to retire to. We worked hard over the eight weeks to create a home experience and 'wow' moments big and small in the room.
"The Saatva
Minori
Minori
A classic designer bed frame with subtle refinement
bed, mattress, and bedding added a luxurious element to the space and grounded the room." –
Joy Williams, principal designer with Joyful Designs®️ Studio
Impeccable Nest
Mother-daughter duo Emma Carole Paradise and Kimberley Carole creatively bring together "Southern California cool and New England tradition," as they say, to the spaces they design.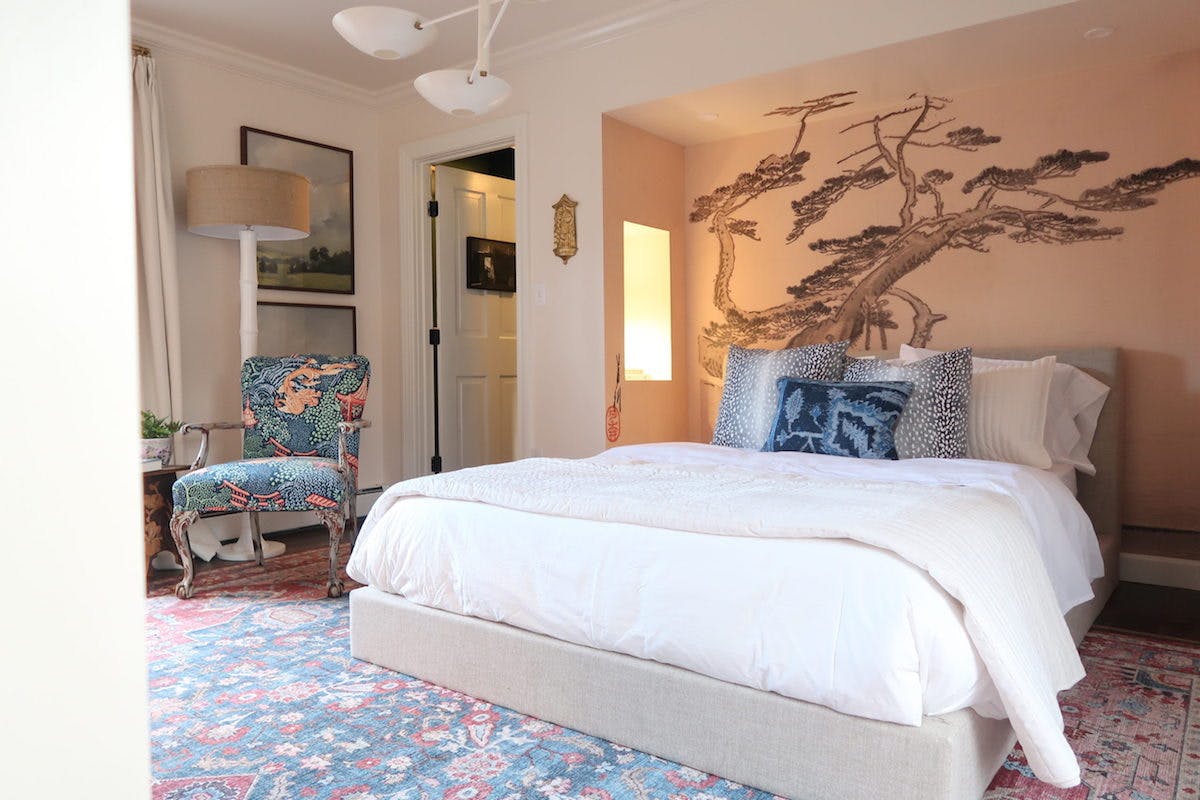 "The One Room Challenge is no joke! It's always fun to renovate a space, however, there is a strict timeline to stick to finish the space, so it's stressful, and yet, so rewarding.
"The stress really came toward the end. As with all construction projects, there's a lot of waiting until the last minute when it's finally complete. It's such a great relief once everything is done, and totally beautiful, which makes enjoying the space so much more relaxing.
"Our bedroom design is a monochromatic, Zen, maximalist-inspired space. We are known for mixing and matching patterns and colors in our designs; however, this was a tricky space and there were many obstacles we needed to overcome to complete it.
"But the real inspiration came when we created a nook for the bed
(Santorini by Saatva)
Santorini
A sleek, sophisticated platform bed frame
to be recessed in, and that made for a perfect spot to install a mural. The mural design really dictated the direction of the room and lends to clean lines and minimal furnishings. All in all, it feels like a high-end, boutique hotel room."-
Emma Carole Paradis and Kimberly Carole, owners and designers of Impeccable Nest
Joy Street Design
Kelly Finley once worked as a lawyer, and now, she exercises her creative talents through her design firm. In addition to the colorful designs she creates, Finley started a nonprofit called Joy Street Initiative that brightens the spaces of shelters for women and children.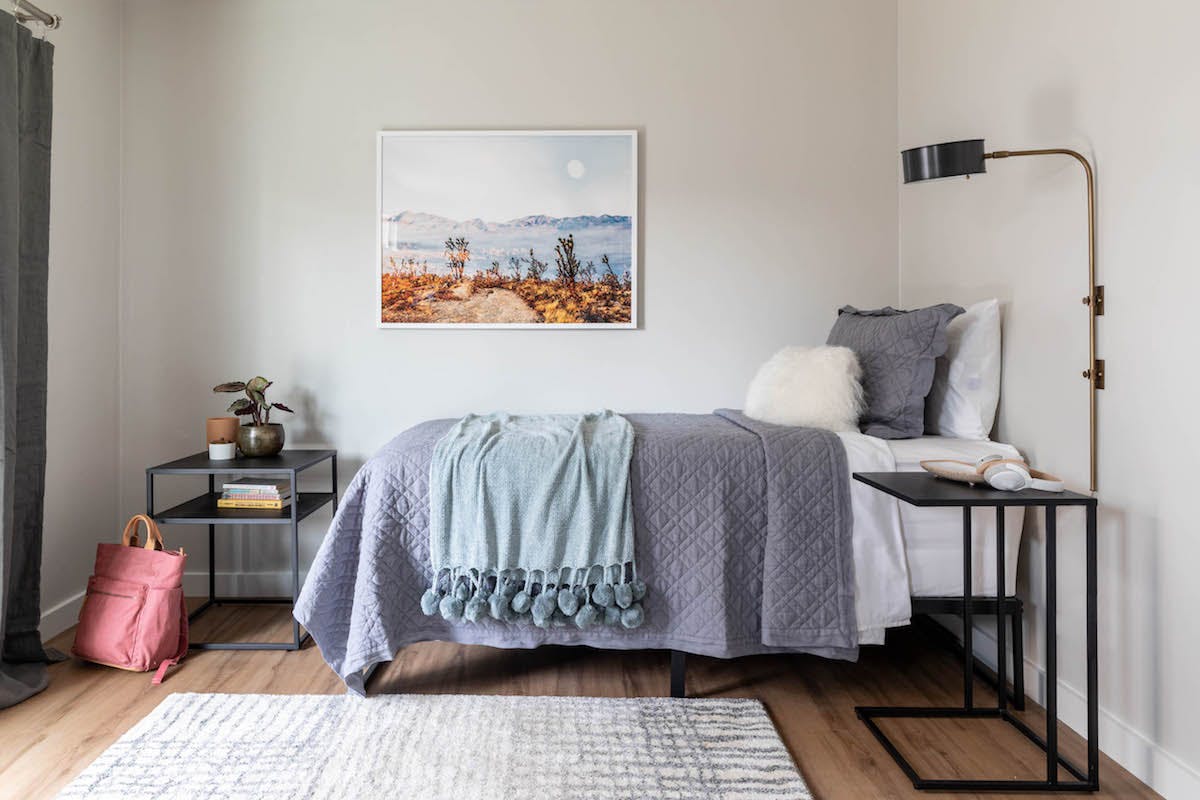 "When we were asked to participate in the One Room Challenge this year, it was such a great offer and perfect timing. We knew that we wanted to complete this project in conjunction with our nonprofit Joy Street Initiative (JSI) to give back to people who truly need the help.
"We expanded the scope of work beyond one bedroom and completed a whole home for Ruby's Place, an innovative nonprofit committed to ending domestic violence, human trafficking, and violent crime, through hope, advocacy, and connection.
"Our design aesthetic for the home was to create a welcoming, colorful, fun, and enveloping space for teens. We infused the room with color on the walls and accessories while keeping the entire space comfortable with amazing beds and upholstered goods." – Kelly Finley, CEO and creative director of Joy Street Design
The Home in Vogue
When she's not spending time with her husband and son, Neha Paroha, a self-taught do-it-yourselfer and interior decorator, gorgeously brings together modern boho style with eclectic details.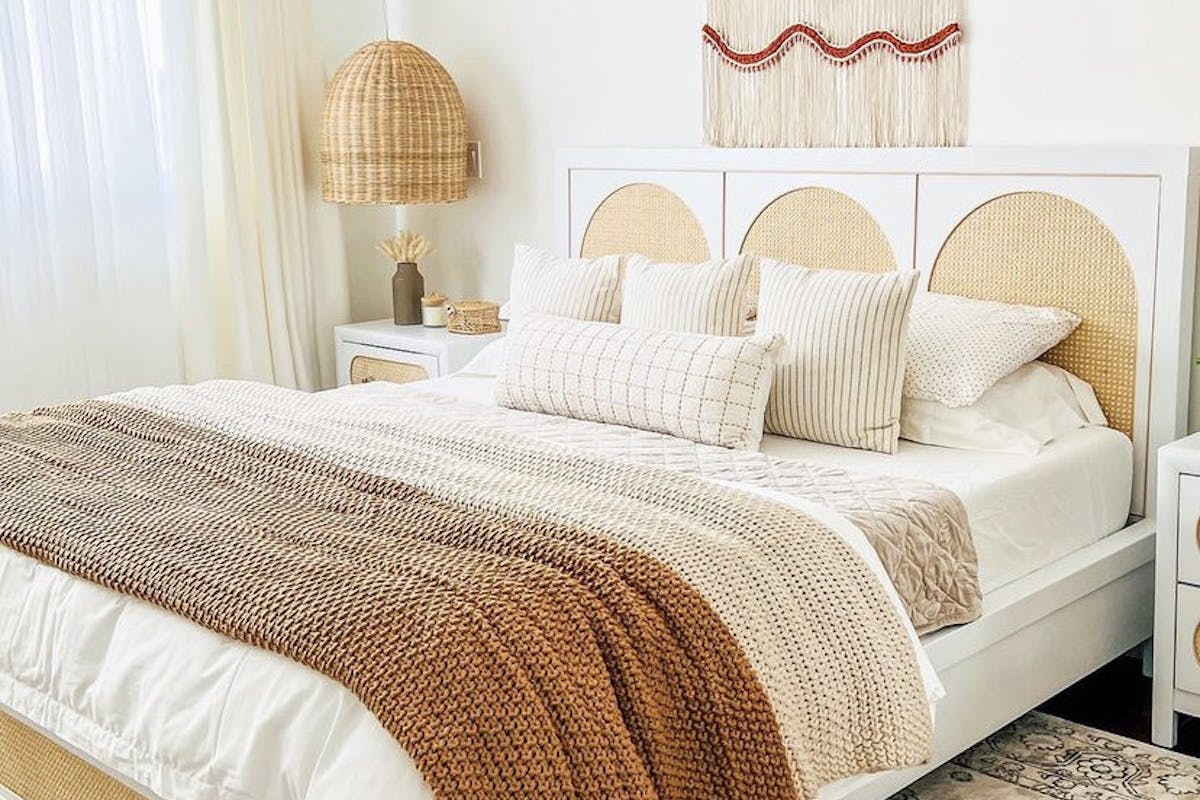 "This was my first One Room Challenge, and the experience was great! I always wanted to design a room from scratch, and ORC gave me a chance to do just that. For this ORC, I worked on our master bedroom makeover with my husband, and we are incredibly happy with the way this room turned out. Thanks to ORC, I overcame my fear of power tools and learned how to work with various types of materials like pine, plywood, cane, and reed.
"We wanted a cozy, modern boho retreat to relax and rejuvenate. We started by painting all our old, dark bedroom furniture white. We then added arched woven cane panels along the headboard and nightstands, and all-over cane panels at the footboard to give our bedroom a light and airy, modern boho look.
"The wood bead chandelier, rattan dome pendants, handmade macrame wall hanging, armchair, and the large rattan wall mirror add texture and casual flair. We completed the room with layers of cozy, neutral bedding." – Neha Paroha of The Home in Vogue
Want to give your own bedroom a makeover? Check out our guide to interior design trends for inspiration.