There's a wide variety of bed frames available on the market today. If you're looking to buy a new bed, you should definitely explore the various options available to get the ideal type of bed for your situation.
Two of the most common bed frame types are platform beds and panel beds. The key difference between them is that panel beds require a box spring and platform beds do not.
Beyond that, either can be a great option—but it's worth keeping in mind the subtle differences between them and their potential to affect your sleeping environment. Read on to find out which of these two will work best for your bedroom.
What is a panel bed?
Panel beds are bed frames that support your mattress with the help of a box spring that's placed on wooden slats (or sometimes metal slats) at the bottom of the bed. Usually, panel beds are also equipped with metal or wooden side rails.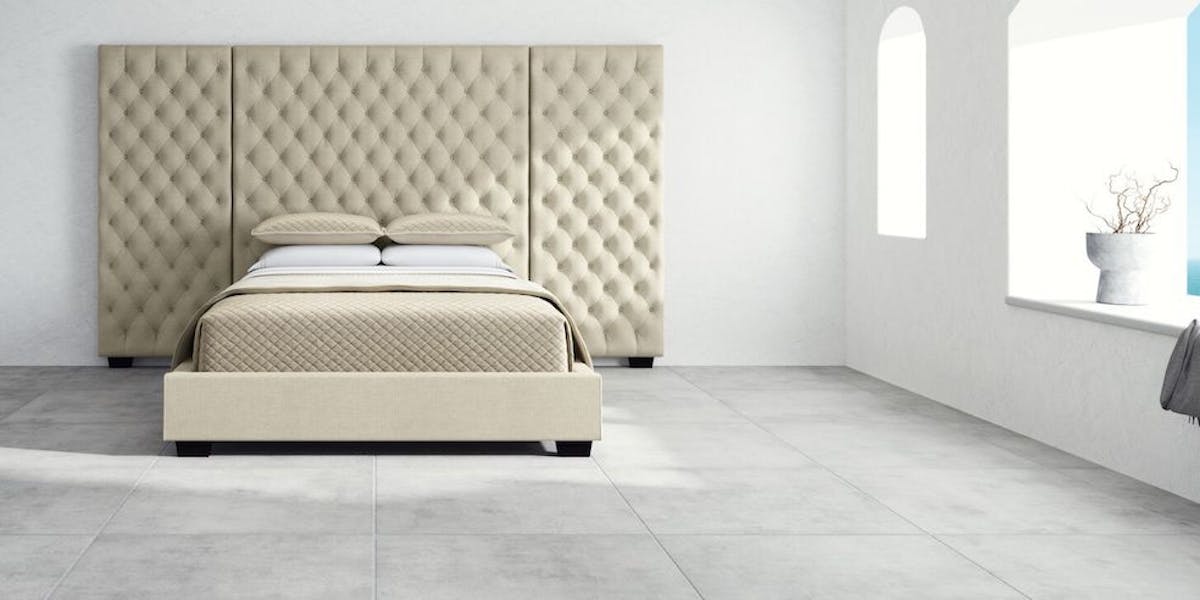 They also tend to have a panel headboard and/or footboard made of solid wood or metal, which adds an extra design element to the bed. This allows you to customize it to your bedroom decor.
Note that a box spring is always required with panel beds, as the wood slats at the bottom of the bed aren't enough to support your mattress.
Panel beds come in a variety of materials and sizes. You can frequently find twin, queen, and king panel beds.
What is a platform bed?
A
no box spring
is required with platform beds, you can use one if you want to increase the height of your mattress.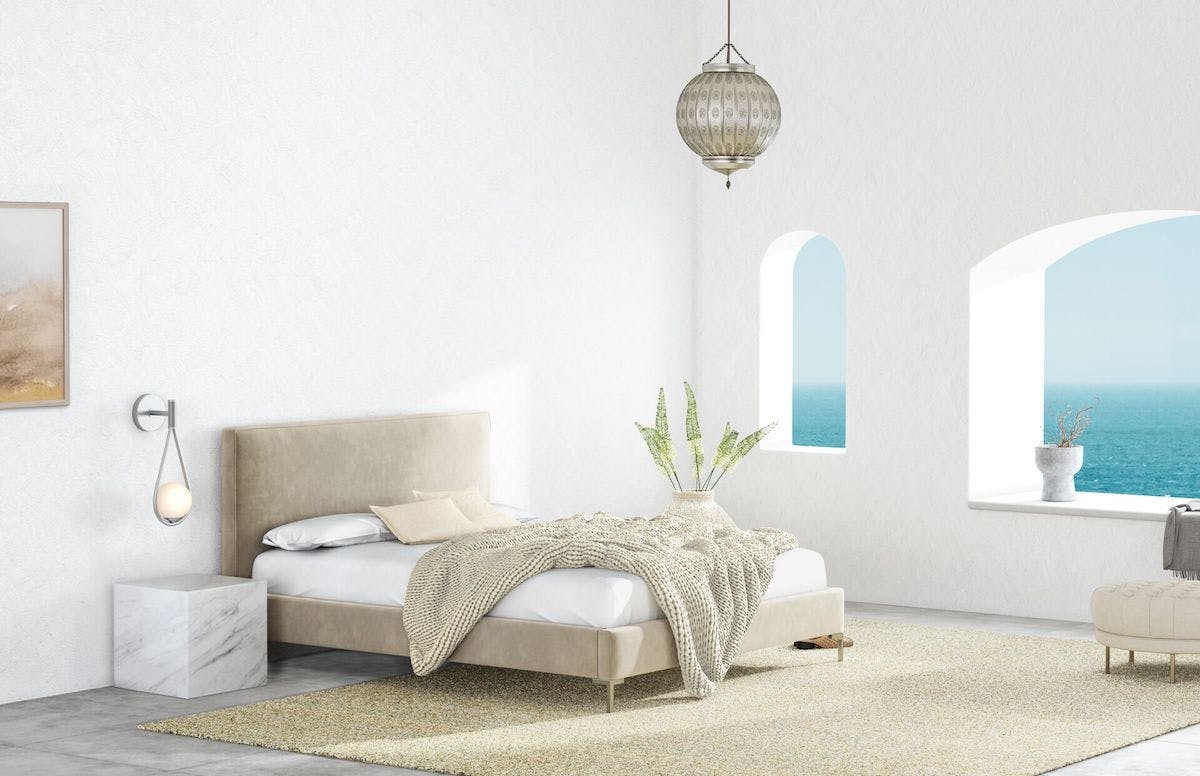 Second, platform beds usually have a more low-profile design and don't come with additional decorative elements such as headboards or footboards. However, you can still find some platform bed frames with tufted or other decorative accessories.
Although platform beds come in a variety of materials, wood platform beds are the most common. Additionally, some platform beds come with built-in storage, so if you're looking for a bed with storage this might be a great option for you.
Top considerations to make when buying a panel bed vs. platform bed
Both platform beds and panel beds are excellent bed frame options. That said, as with all bedroom furniture, there are a few key considerations to take into account before buying a new bed.
Price
Panel beds and platform beds tend to differ in price. While you can find affordable models for both panel and platform beds, panel beds tend to be more expensive, as they typically include more intricate design elements, like tufted upholstery, nailhead trim, and wingback headboards.
Platform beds tend to be simple wood platforms, sometimes with storage underneath. Because of their minimalist design, they're usually less expensive than panel beds. Of course, some platform beds do come with headboards—and those will be pricier than ones without.
Room size
Room size should also be a consideration when choosing the type of bed frame that would look good in your bedroom.
Panel beds, because they require a box spring, tend to look bulkier than platform beds. This might be an advantage if you have a large room you need to fill or a drawback if you have a tiny bedroom in a small apartment.
If you have a small bedroom where storage is an issue, a platform bed with storage underneath—either in the form of drawers or as an open-bottom platform bed—might be a great option.
In terms of mattress sizes, you can find both these types of bed frames in any size, ranging from a twin to California king size. The important thing to remember is that queen platform beds will always look less bulky and more minimalistic than queen-size panel beds.
Design
Panel beds come with more decorative features, while platform beds usually have a solid minimalist look. One of them may suit the decor of your room more than the other.
In addition, you can find panel beds with specialty designs, like poster beds, sleigh beds, or canopy beds.
Other questions to ask yourself are whether you want a metal bed or a wood frame (both panel beds and platform beds can be made from both materials), and what's your preferred color (again, you can find both types of bed frames in a variety of colors, like solid black, tan, light gray, or espresso wood stains.)
Mattress type
Your current mattress type should also play into the type of bed frame you end up choosing. Some mattress types, specifically
Other mattress types, for example,
One important thing to note: Some mattress warranties require a particular kind of surface or slats that are a specified distance apart. If that's the case with your mattress type, then you may need to cover the slats of your platform bed with plywood before you can place your mattress on top of it.
Frequently asked questions
Which type of bed frame offers more support?
The amount of support your bed frame offers is primarily determined by the type of mattress you have, although your bed frame can help your mattress do its job well.
Innersprings and some hybrids may be able to provide better support if they're used with a panel bed and box spring combination. Foam mattresses (made of memory foam or latex), on the other hand, may be able to provide better support if they're used with a platform bed.
Can you use any mattress on a platform bed?
The only type of mattress that's not the best choice for a platform bed is an innerspring mattress because it requires a box spring for optimal support. All other types of mattresses are perfectly compatible with any kind of platform bed.
Just note some warranties do require a certain kind of surface or slats to be placed a specified distance apart. Always check with your mattress manufacturer first before placing your mattress on a platform bed.
You may need to cover the slats with plywood before putting your mattress on top of a mattress foundation such as a platform bed.
Do I need a box spring for platform and panel beds?
You don't need a box spring or mattress foundation on a platform bed, but you do need to use them on a panel bed.
Find the perfect bed frame for your sleeping style with Saatva
To summarize, platform beds and panel beds are two very different bed frame options that could benefit a variety of different types of sleepers and room decors.
At Saatva, we offer a wide range of bed frames and bedroom furniture. All of our bedroom furniture comes with an industry-leading warranty so you can be sure our products are high-quality and long-lasting.
Find your ideal mattress type by taking our mattress quiz, then go ahead and choose the best bed frame for it.