'Tis the season for spring cleaning—the time of year to recover from holiday stress (and mess) by deep cleaning your home for a fresh, new feel.
Spring is the perfect time to tackle all the nooks and crannies you forget about during the rest of the year and get back into the habit of a regular cleaning routine. This is especially important for your bedroom as it's your space for rest and rejuvenation—and studies show mess and clutter can make it harder to get a good night's sleep.
Here, we're sharing our best tips for spring cleaning your bedroom, including when to begin, what you'll need, how to do it, and a handy checklist to consult.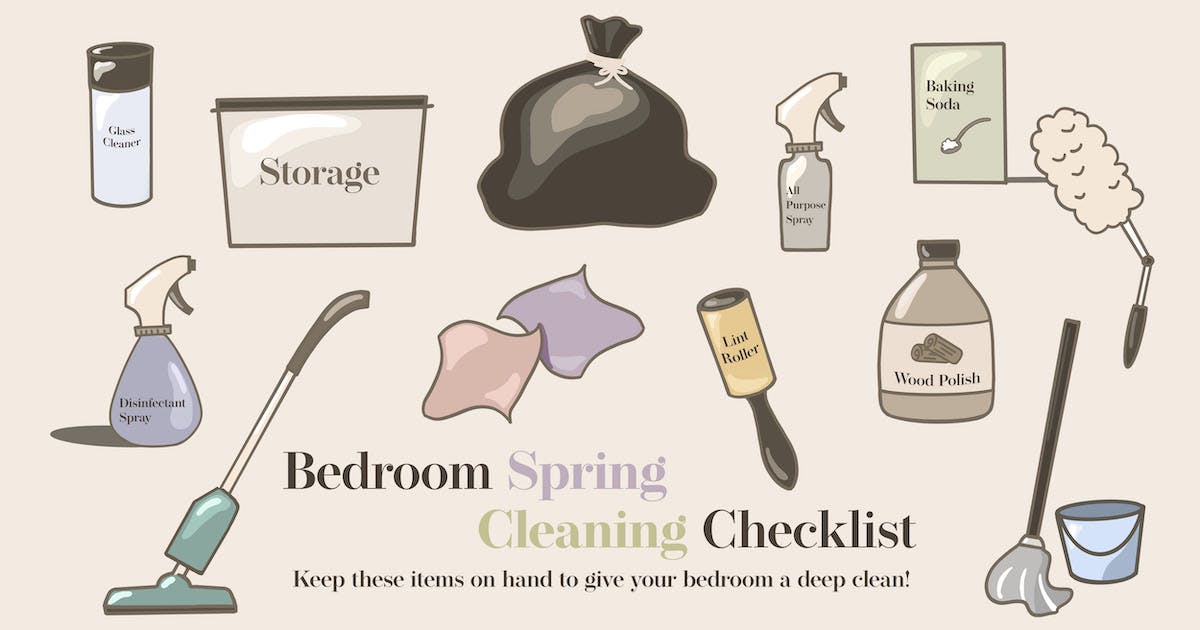 Here, we gathered a list of items you should have on hand when prepping for a deep clean this spring:
Disinfectant spray
All-purpose spray
Wood polish
Microfiber cloths
Baking soda
Vacuum cleaner
Extendable duster
Garbage bags
Cardboard boxes or plastic bins
Glass cleaner
Lint Brush
Mop
Floor cleaner (for hard floors)
How to spring clean your bedroom
If you've never spring cleaned and you don't know where to begin, we've got seven tips to get you started. Follow this advice to learn about what items in the bedroom to clean, how to clean them, and the order in which you should clean them for a spotless room in no time!
Choose what to keep or toss
Go through everything in your bedroom and decide what you want to keep and what you want to toss. (Here's a primer on the KonMari method to help you get started on this process.)
Then, grab a box or a bin and collect what doesn't belong in your bedroom and put it aside. Grab a second box (or a few) and gather decor, clothing, and other items you'd like to donate.
Make sure you label your containers so you don't confuse them. Lastly, take a garbage bag and collect all the trash in your bedroom, including miscellaneous items you no longer want and are too used to donate. Throw it all out!
Tidy up clutter
Every bedroom item should have a home. After removing what you no longer want, decide where the remaining items should go and put them in their rightful spot.
This way, you start off your spring cleaning with a fresh slate, making it a less overwhelming project to tackle.
Collect linens to wash
Linens like curtains and drapes collect lots of dust, and bedding can hold tons of bacteria. Both of these can aggravate allergies.
So it's important to wash, clean, or change out these bedroom items more often than you think. For example, you should wash your sheets every one to two weeks. (Check out our guide to cleaning every type of bedding to learn more.)
Dust, dust, and dust again!
Dust inside your bedroom can cause allergy symptoms to flare up—and allergies can disrupt sleep. Starting from the top of your bedroom to the bottom (to minimize the spread of dust over areas already cleaned) you should:
Use a duster to clean the ceiling baseboards and top corners to remove cobwebs.
Dust the ceiling fan.
Use glass cleaner and cloths to wipe down light fixtures (and use the lint brush to wipe inside and out of lampshades).
Dust high sills, window moldings, and blinds.
Use glass cleaner to wipe window glass and other glass surfaces (such as picture frames and mirrors).
Dust or wipe other wall decors (unhang what you can, wipe those down, then hang up again).
Once you've dusted these areas, you can then remove your mattress cover and put it into the wash with the rest of your bedding.
Disinfect and wipe down surfaces
Using your disinfectant spray, wipe down your nightstand, desk, light switch, drawer handles, doorknobs, and remote control to prevent the spread of germs.
If you find stains or hard-to-remove buildup, bring out the all-purpose cleaner to get rid of them. For wood surfaces, make sure you use wood polish to preserve them.
Freshen up your mattress
If your mattress is relatively new and in good shape, simply vacuum the crevices to remove crumbs and small dirt particles. If your mattress has some age to it and a few stains, before vacuuming it, generously sprinkle baking soda all over to deodorize it.
You can also use simple products such as rubbing alcohol, hydrogen peroxide, vinegar, laundry detergent, citrus-based household cleaners, and dish soap as mattress stain removers.
Clean your floor
If you have carpet (or rugs) in your bedroom, sprinkle baking soda all over the ground to deodorize it. Once you've let the baking soda sit for some time, vacuum the carpet to remove it and any crumbs, dust, or dirt particles within it. Don't forget to vacuum under your bed too!
If you have hardwood or tile floors, you can still use the vacuum to remove crumbs, dust, and dirt. Right after, however, you'll want to use a mop and a floor cleaner to wipe away any dirt the vacuum wasn't able to clean up. Once again, don't forget to sweep under your bed!
Time for a new mattress? See what Saatva offers
Our flagship luxury mattress is expertly engineered with coil-on-coil construction for durability, a layer of memory foam for enhanced back support, and a cushiony Euro pillow top for extra comfort.
Premium memory foam, handcrafted in the U.S. with eco-friendly materials. Breathable organic cotton, cooling spinal gel, and layers of high-density support foam assure a cool, comfortable night's sleep.
Natural latex responds to every curve for pressure-free support and responsive comfort. Natural latex is supple, resilient, and durable, for the ultimate in elevated sleep. (It's naturally hypoallergenic too.)
When spring cleaning your bedroom isn't enough
Deep cleaning your bedroom can do a world of good and get your sleep space into sparkling new condition. This can lead to better sleep and help you feel refreshed.
However, sometimes spring cleaning isn't enough. Certain bedroom items will reach the end of their lifespan, and you'll need to replace them to get quality sleep.
For example, the average mattress lifespan is seven to 10 years, while pillows may only last two or three years before needing to be replaced. If it's been a while since you've swapped out some of these items—and you're not getting restful sleep like you used to—it may be time to consider getting new ones. 
If you've decided it's time to toss your old mattress, sheets, pillows, or other bedding products, check out Saatva's wide range of high-quality mattresses, bedding, and more. If you're interested in buying a new mattress, take our mattress quiz to find the bed that best fits your sleep needs.
We offer a 365-night home trial so you can try a mattress out in the comfort of your home before deciding if it's right for you. 
For more ways to clean your bedroom—especially during COVID-19—check out our article on keeping germs out of the bedroom.