With the new year upon us, it's the ideal time to refresh your bedroom. One of the most dramatic (and cost-effective!) ways you can update your sleeping space is through wall colors for a bedroom.
"The new year is a time for setting goals and having a personal reset, so it only makes sense that a bedroom refresh is in order," says Carolyn Ames Noble, founder of Ames Design Collective and past chair for the American Society of Interior Designers (ASID) Board of Directors.
She adds that the onset of winter further enhances this need. "As daylight decreases, changing out linens, fresh paint colors, greenery, or other decor items can help brighten up your room and create a comfortable haven in which to decompress at the end of the day," says Ames.
Increasingly, paint color trends are moving toward comfort, security, and deep connections to nature, elements that are showing up in home design as a whole, explains Ames.
Read on to learn about the top bedroom paint color ideas for 2023 and how to bring them to life in your bedroom.
Best bedroom paint colors for 2023
Calming blues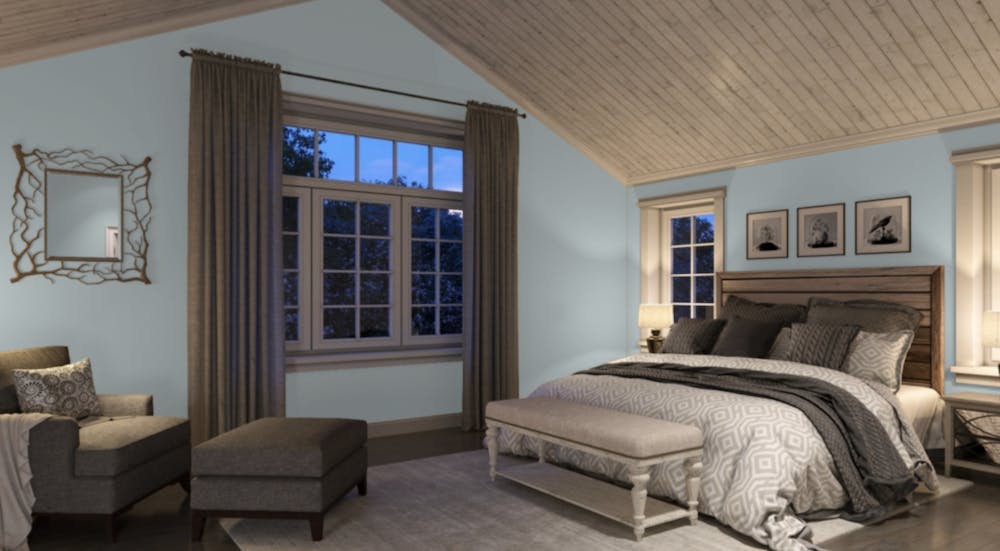 When it comes to paint colors for bedrooms, people are seeking out soothing hues more and more. Ames notes that the ASID 2022 Trends Report states that "72 percent of adults across 116 countries would rather live a calm life than an exciting life."
"Renewing the bedroom is important so that it can continue to have a calming effect," Ames says. Sherwin-Williams "Niebla Azul," a soft blue that's reminiscent of the ocean on a cloudy day, is one of her top choices for 2023.
Ames suggests homeowners only use one singular color on all the bedroom walls "so the eye can rest." While this shade of blue might look pretty as an accent wall, floor-to-ceiling blues will create a more tranquil feeling in your sleeping space.
Nature-inspired greens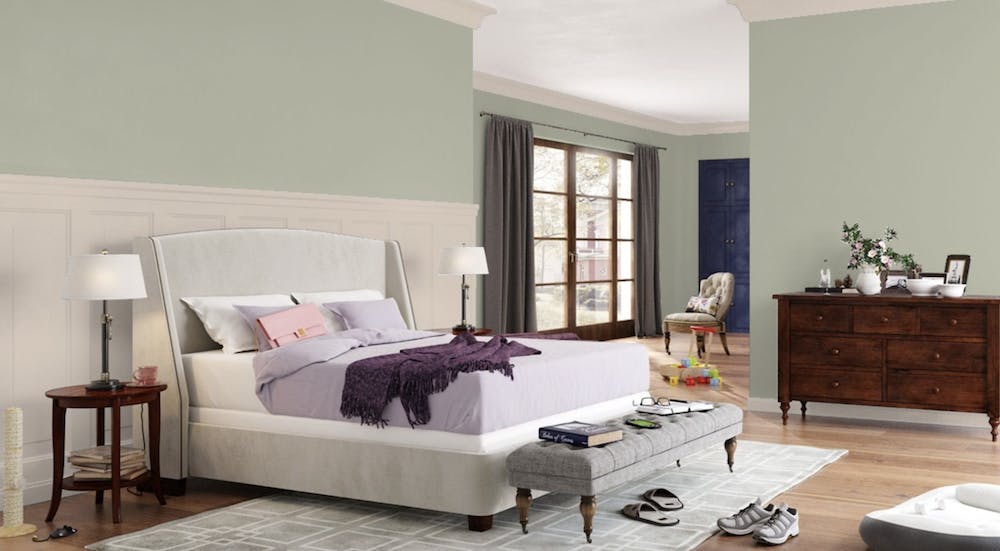 Design trends continue to center around connections to nature, something that arose during the pandemic as people sought tranquility in their homes. To bring the outdoors into your bedroom, opt for a shade of green that feels gentle and looks like a hue you'd find in a garden. Benjamin Moore "October Mist" is Ames' pick in this category.
With this shade of green in a bedroom, you can weave in additional nods to nature through your decor choices, such as a natural wood headboard, a vase of flowers, and seashells and rocks you've collected on vacations, displayed in a bowl.
Calling these shades "lighter, earthy tones," Ames says these colors can decrease stress and anxiety, something that's key in a bedroom.
Easy neutrals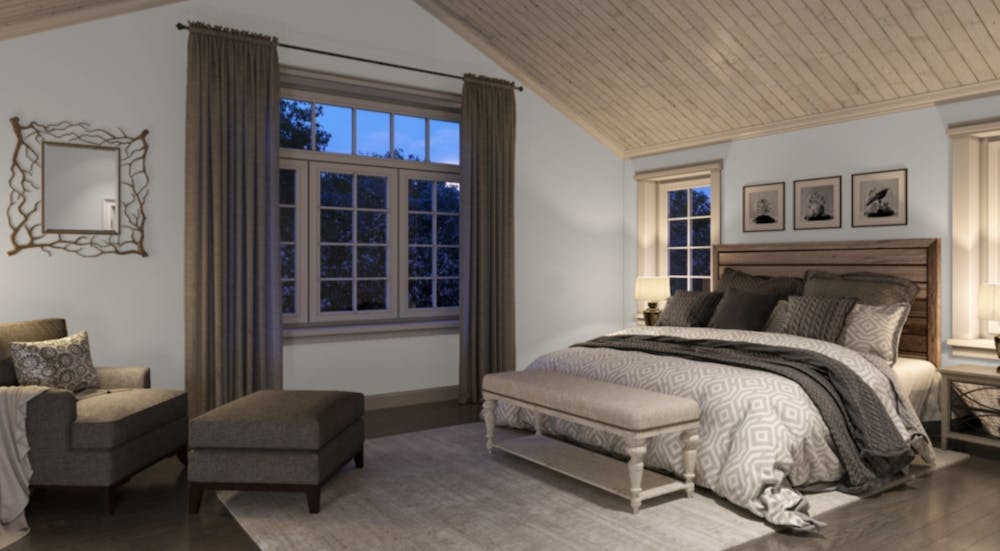 If you're looking for straightforward, headache-free decorating in your bedroom, a timeless, neutral hue, like Sherwin-Williams "Alpaca," is a great option, says Ames.
Tending toward "greige," or a mixture of gray and beige, you can blend it with other neutrals in your bedroom for a calming effect or integrate small hints of color, like blue or green, for visual interest.
Moody lavenders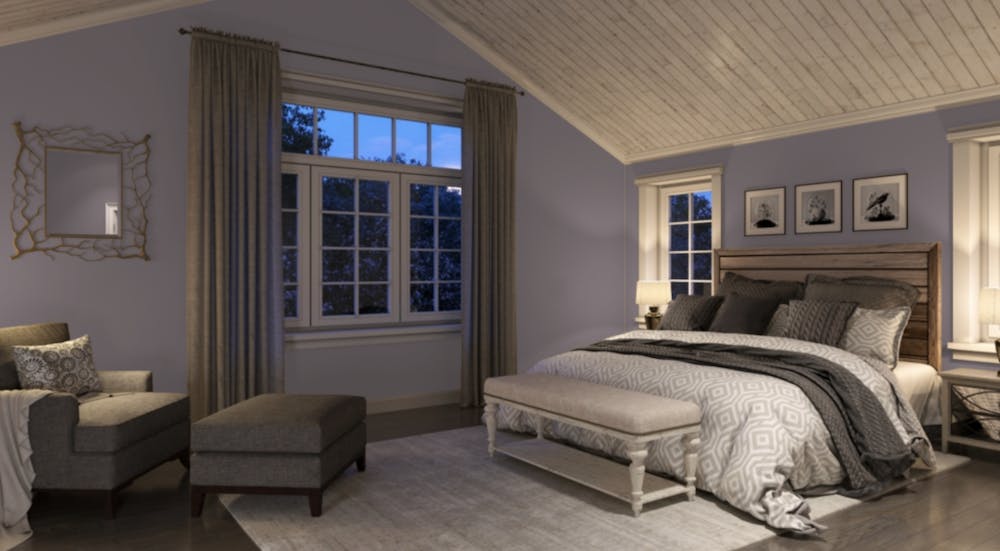 While Ames lists several colors that can fall under the "calm" category, she believes the most peaceful color in a bedroom is lavender. One such paint hue is Sherwin-Williams "Soulmate."
Ames describes lavender as "a nuanced, desaturated violet, representative of the natural lavender plant." This Sherwin-Williams shade is a touch darker than that for a slightly moody vibe.
"Lavender tones in the bedroom help to relax when you need to close your eyes for a nap or meditate," Ames adds. Since it's a saturated—and even slightly bold—color, pair your lavender bedroom walls with neutral decor, from your bedding to your furniture. (Here's how to use the Pantone Color of the Year in the bedroom.)
Classic whites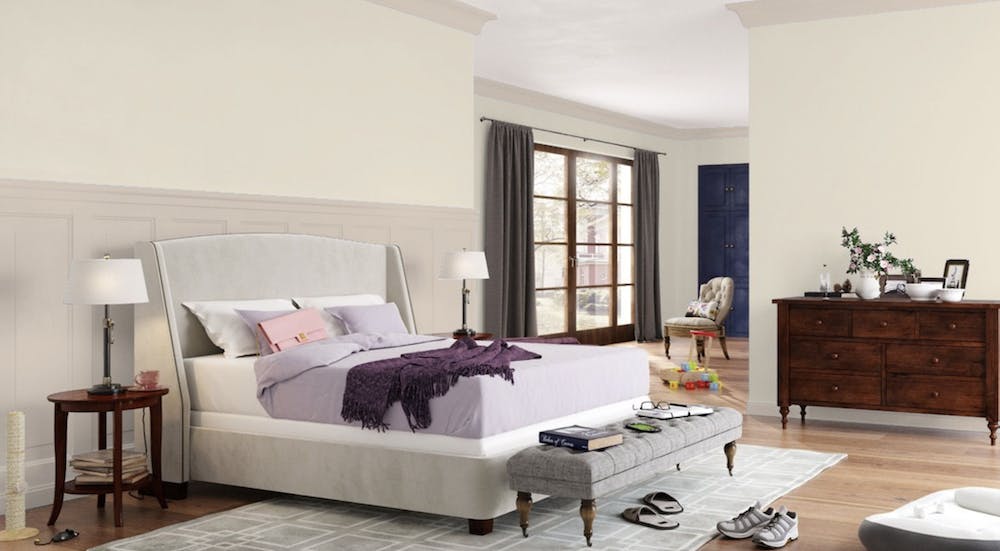 You can't ever go wrong with white for a bedroom, especially when it has a subtle, creamy look like Benjamin Moore "Maritime White." This is a hue that's ideal for easy decorating since white can serve as an idyllic backdrop for many decor styles.
"I liken the right bedroom color to a canvas, ready for layering of materials like flooring in a plush area rug, crisp
linen bedding
Linen Sheet Set
Airy and elegant linen sheets with a relaxed look
, and soft, woolen throws," Ames says.
FAQs
What color should I paint my bedroom?
Though it's really up to your personal taste, designers generally agree that soft colors and classic neutrals are best in a bedroom since they can have a sleep-promoting, calming effect.
What colors should I avoid when painting my bedroom?
"Bright colors like red, orange, and yellow should be avoided when painting a bedroom," says Ames. "These colors may be eye-catching but can also be overstimulating." Darker moody colors, like brown and gray, have the opposite effect—but while they're great paint colors for other residential spaces like kitchens, they can create a gloomy and distant aura in the bedroom, says Ames. "While that could help you fall asleep, these colors make it even harder for you to get up in the morning," she explains.
Should bedrooms be painted light or dark?
What's better: Light or dark hues when it applies to the best paint colors for the bedroom? "Light colors are best for bedrooms, specifically earthy colors," says Ames. "Color plays such a crucial, yet often unexpected, role in emotions, so interior designers are now emphasizing color and centering spaces around how they can impact mental health." Ames explains that darker colors can contribute to feelings of listlessness, so sticking with lighter colors is important to maintain productivity.
What's the most peaceful color for a bedroom?
As a color expert, Ames recognizes the psychological effects of using desaturated violet, or lavender, in interior design. "It is a gentle color known to evoke a sense of calm and serenity, which is desperately needed as we look to create spaces of solace within the home, especially in the bedroom," she says.