Once you decide it's time for a new mattress, there are a few questions you'll need to answer for yourself to be sure you buy the mattress that best suits your needs. Perhaps most importantly, you'll have to decide on a mattress type.
This article will offer details about the most common mattress types, explain their key features, and answer commonly asked questions—all to help you find your perfect mattress.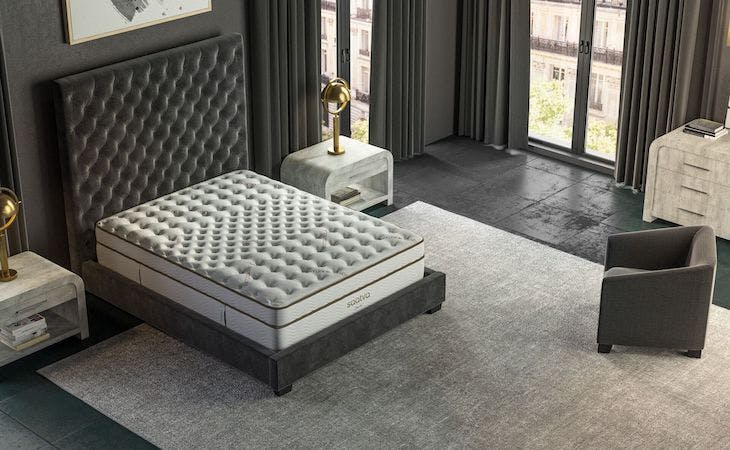 Saatva Classic innerspring mattress
Innerspring mattresses
An
When comparing innerspring mattresses, it's best to consider the type of coil inside because different coil constructions determine how the mattress feels, how long it lasts, and how much it costs.
Today's innerspring mattresses also usually contain layers made with other materials, such as memory foam and latex. These add comfort, performance, and durability.
Innerspring mattresses are generally ideal for hot sleepers because of their breathability and good airflow. They also tend to sleep cooler than polyfoam and memory foam mattresses.
Although innerspring mattresses are a great choice for most sleepers, you need to know which one will be best for you and your sleeping habits. Read our guide to innerspring mattresses for help determining which innerspring bed is right for you.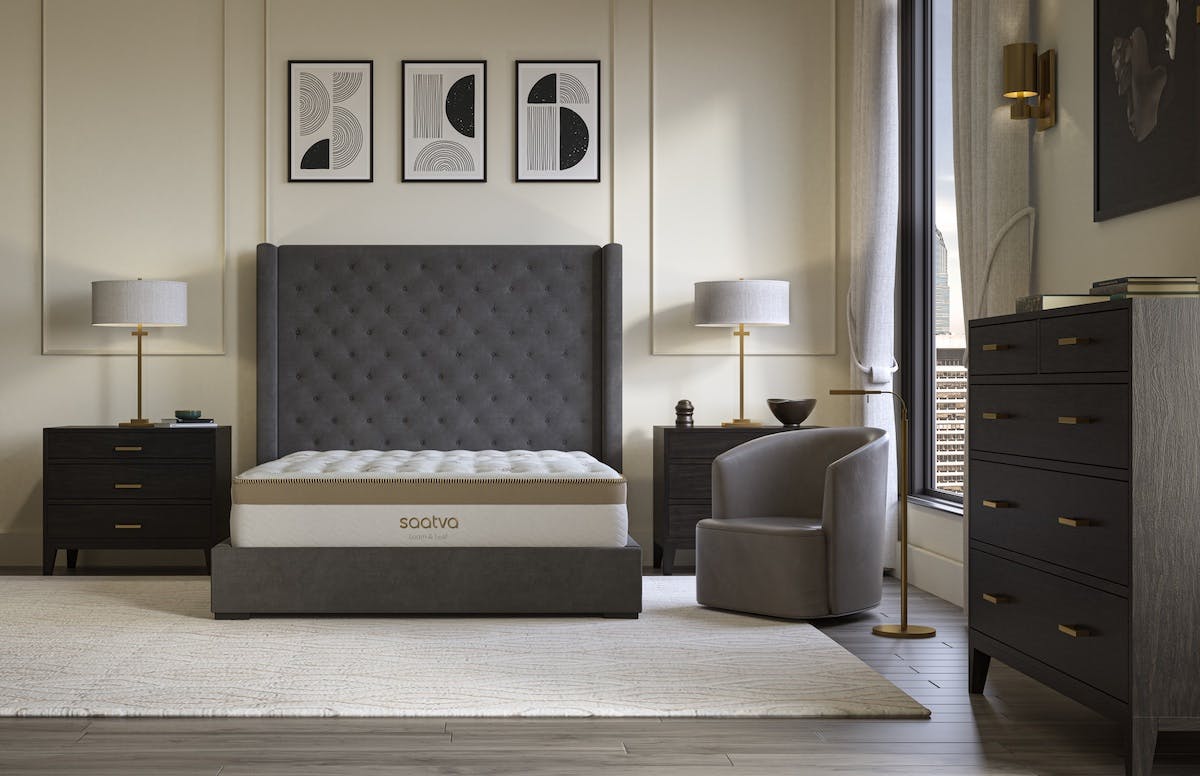 Loom & Leaf memory foam mattress
Memory foam mattresses
A
What distinguishes memory foam is that it softens in response to heat and pressure. This is what gives it the body-hugging feel many sleepers love.
Most memory foam mattresses include other components that are needed to prevent you from sinking too deeply into the bed. These are the support core (bottom layer), transition foam (middle layer), and comfort layer (top layer).
A general rule of thumb is that the higher the foam density, the higher the quality and durability—and the heavier the mattress.
One reason why memory foam mattresses are popular is that they support a wide range of sleep styles, particularly side sleepers and back sleepers. Stomach sleepers may not like the way the memory foam molds to the shape of their body while on their stomach.
They're especially comfortable for people who have joint pain or who want additional spinal support or reduced allergy symptoms. Plus, they have limited motion transfer, which is useful for those who share a bed.
Read our guide to memory foam mattresses for help determining which memory foam bed is right for you.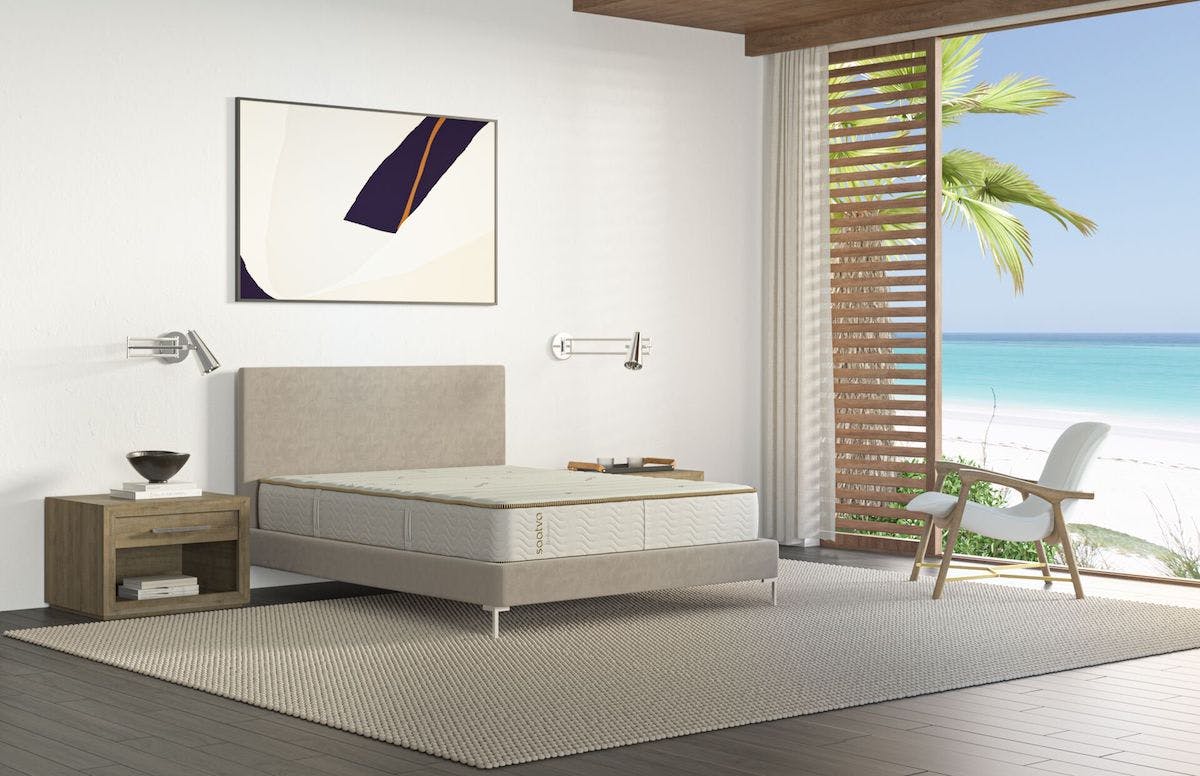 Zenhaven latex mattress
Latex mattresses
A true
Synthetic latex mattresses—usually made from petroleum-based polyurethane—cost less than natural latex mattresses but they aren't as durable. And while natural latex is free of potential chemical irritants, synthetic latex may give off toxic chemicals into the air (called "off-gassing") and irritate allergies.
Latex mattresses suit a wide range of sleep styles, but they're especially a good pick for side sleepers. This is because the latex tends to conform to your body and cushion the pressure points associated with sleeping on your side as opposed to your back or stomach.
Read our guide to latex mattresses for help determining which latex bed is right for you.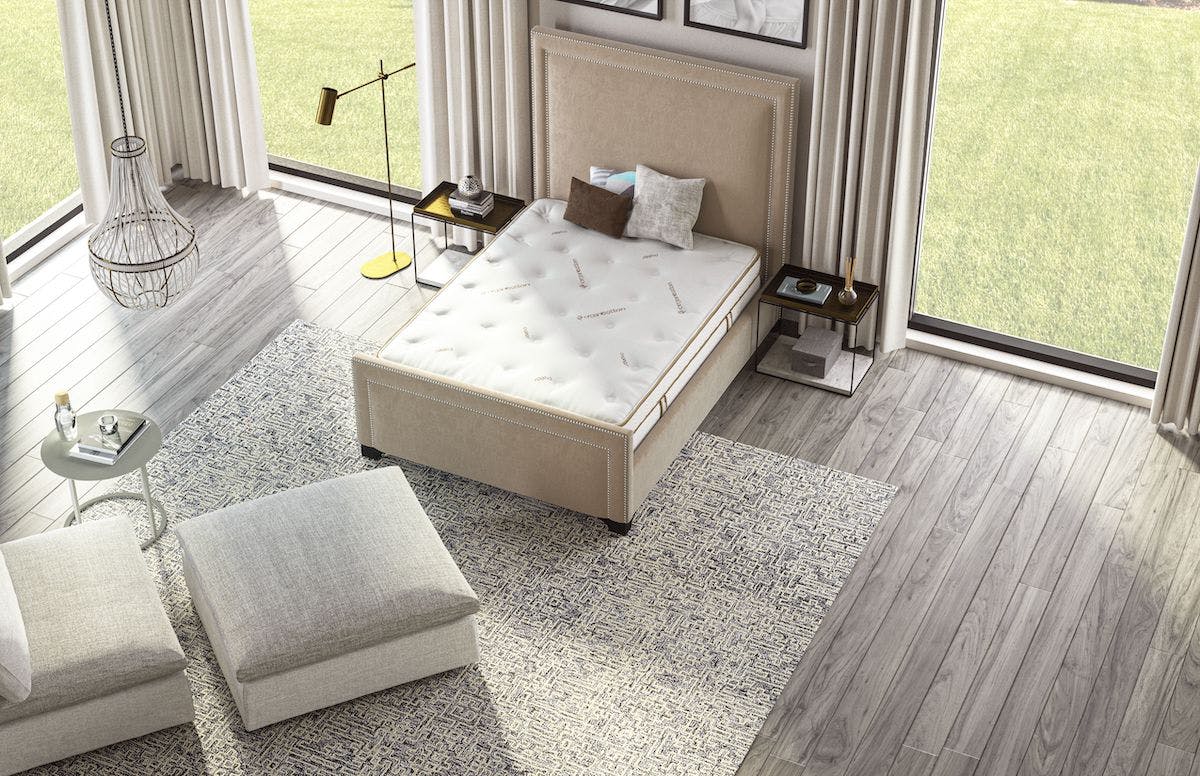 Saatva latex hybrid mattress
Hybrid mattresses
A
This combination of traditional coil support with the contouring comfort of memory foam or latex is what gives a hybrid bed its appeal.
Whether or not you'll love a hybrid mattress depends on your body size, shape, sleep preferences, and comfort preferences. But in general, people who sleep on their sides or their backs tend to like hybrid beds.
For side sleepers, two major pressure points—your shoulders and your hips—are vulnerable as they support you on top of the sleep surface. Hybrid mattresses offer the pressure relief of foam and the support of an innerspring mattress.
Unlike traditional innerspring mattresses, hybrid mattresses also are great for minimizing the amount of movement you'll feel from your sleep partner, while still offering the responsiveness of a coil support system.
Read our guide to hybrid mattresses for help determining which hybrid bed is right for you.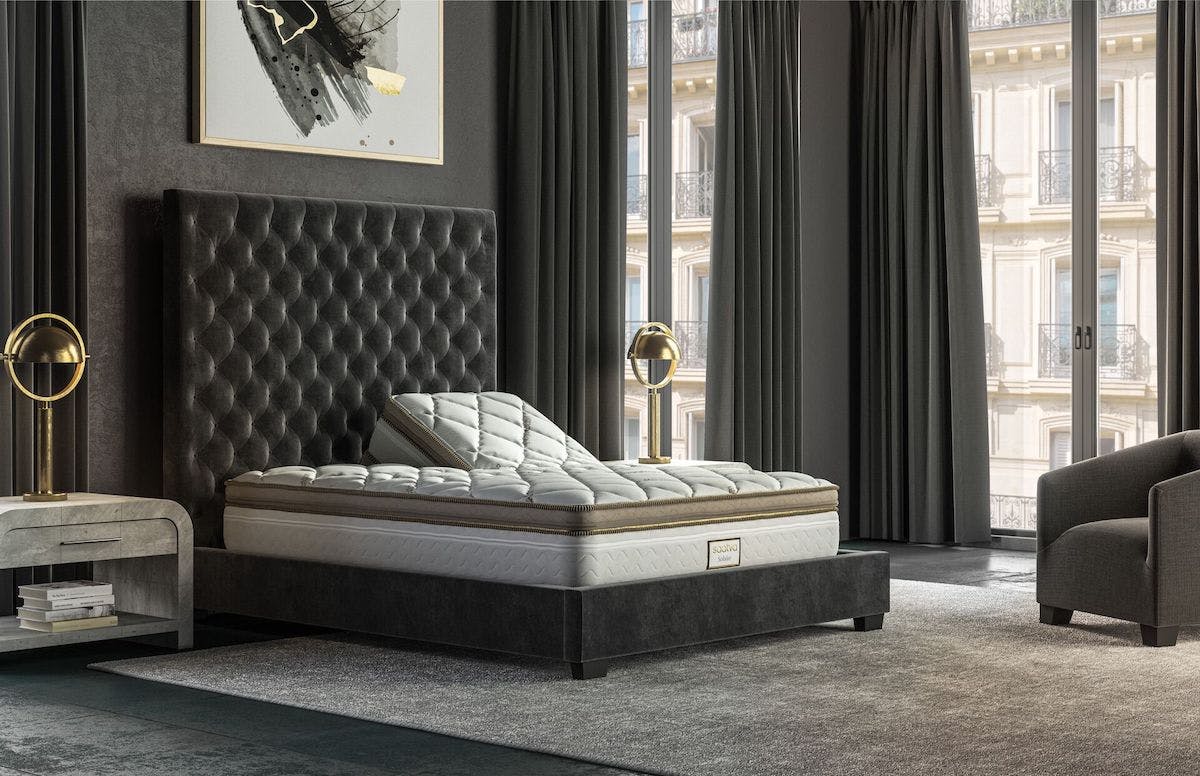 Solaire adjustable firmness mattress
Adjustable firmness mattresses
Adjustable firmness mattresses—not to be confused with the roll-up inflatable air mattresses many of us have for overnight guests—come wrapped in the same kinds of layers of comfort foam, pillow tops, and fancy covers as traditional mattresses.
Their adjustable internal chambers let you customize the degree of firmness you want on any given night. The number of chambers varies from two to 10 or more, with anywhere from 20 to 100 possible settings.
Firmness can be easily adjusted with a remote control or via an app; typically the higher the setting, the firmer the mattress.
Being able to adjust firmness makes air beds suitable for any sleeping position: side, back, stomach, or some combination. They generally don't sleep hot. They also absorb motion transfer and allow bed partners to have different firmness levels on their side.
Read our guide to adjustable firmness mattresses for help determining which adjustable firmness bed is right for you.
How much do different types of mattresses cost?
Mattress costs vary widely by type. Innerspring mattresses tend to be on the lower end, while latex mattresses tend to be on the higher end of the price range.
Because innerspring mattresses have fewer layers than most other types of mattresses, they're cheaper to produce—meaning a lower retail price for shoppers, typically in the $600-$1,100 range for a queen-size mattress.
Memory foam beds are more expensive (with a queen ranging from $900-$1,300), which may put off people from buying one. But they're highly durable, meaning they'll last a long time and provide many nights of comfortable sleep.
Latex mattresses also are on the higher end of the price range (typically $1,600-$2,000 for a queen) because of the higher production cost of the natural materials they're made of. Synthetic latex mattresses cost less, but they also don't last as long.
Also at the higher price level ($1,300-$2,000 for a queen), hybrid mattresses can be expensive because of the materials used in them, especially if they contain latex rather than memory foam. The foam and coils combination is more expensive to manufacture, so more expensive for the shopper too.
Adjustable firmness mattresses are about the most expensive ($2,000-$2,400 for a queen) and also may come with maintenance costs for their electrical parts.
What's the best type of mattress?
No one mattress type is inherently better than another. It really comes down to your personal preference. That said, certain sleep styles may be better suited to specific mattress types:
Consider an innerspring mattress if you're a stomach or back sleeper, have lower back pain, or are a heavier individual.
Memory foam mattresses are often the best choice for side sleepers and those with joint pain.
A hybrid mattress may be just right for couples with different firmness preferences or those who want the springiness of an innerspring without the feeling of sinking in you could have with a memory foam mattress.
Latex mattresses also offer the pressure relief of foam but without the sensation of sinking.
Adjustable firmness mattresses provide the most flexible range of firmness and comfort, and their separate air chambers allow for different firmness levels for bed partners with different preferences.
FAQs
What are the main types of mattresses?
There are five main types of mattresses:
Innerspring mattresses, the most traditional type, are made up of a layer of metal coils encased in layers of comfort material such as latex, natural fibers, or foam.
Memory foam mattresses offer softness for side sleepers or those with joint pain and absorb the motion of bed partners shifting or getting up during the night.
Latex mattresses, at least those made of natural latex, are hypoallergenic, long-lasting, and offer a lot of comfort by contouring to your body.
Hybrid mattresses are good options for those who want the spring of an innerspring mattress along with the comfort of a memory foam mattress.
Adjustable firmness mattresses offer the greatest variety of firmness and comfort settings since, as their name implies, they're adjustable.
What type of mattress is firm?
Innerspring mattresses offer the most firmness, ranging from medium to firm.
Which category of mattress is best?
No one else can say what's best for you. You decide for yourself what's best based on your own sleeping position, preference for softness or firmness, and how much money you want to spend on your new mattress.
Find your perfect mattress type with Saatva
The key thing to remember is that the mattress type that's best for you will come down to your sleep style and personal preferences.
Saatva offers a wide range of mattress types to suit all preferences: innerspring, memory foam, latex, hybrid, and adjustable firmness.
Take our mattress quiz for help finding the right mattress type for you.