Many of us—myself included—have had trouble sleeping during the pandemic. As you're likely already well aware, it's not always that easy to get your sleep back on track.
If you've hit peak insomnia but have exhausted all of the relaxing YouTube ASMR videos, podcasts, and sleep-ready music you can find, then it may be time to explore some new options. 
Enter the Wave sleep app, which launched in early 2021 to help get you into the habit of a regular nighttime routine. I recently put the app to the test to see if it could make it easier for me to fall—and stay—asleep. Keep reading for my experience.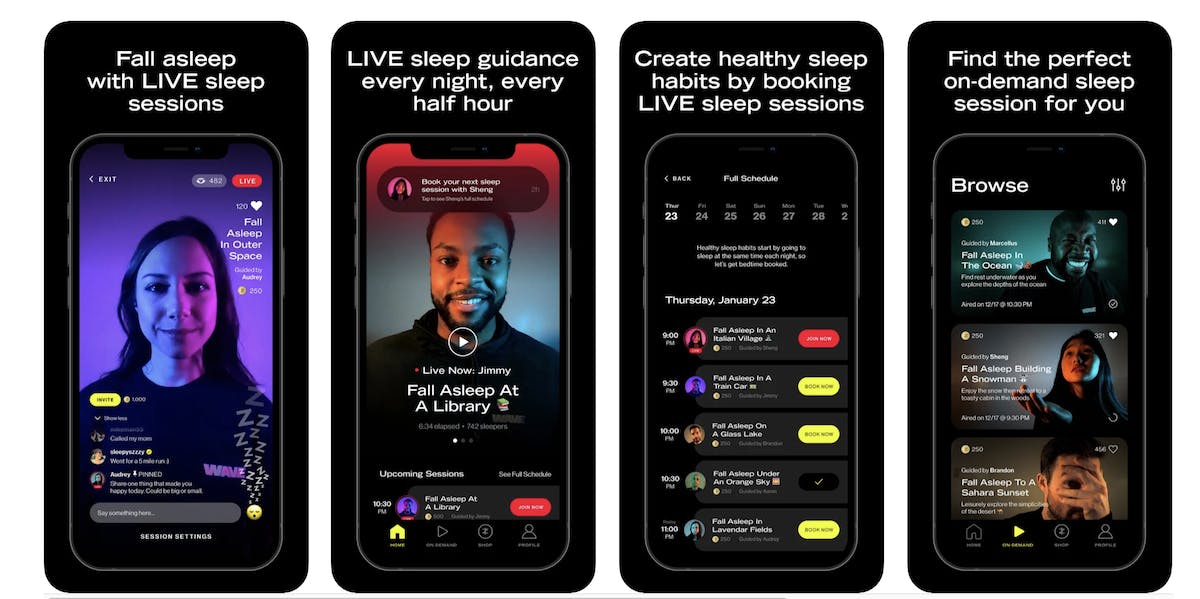 Wave sleep app review
Wave sleep app allows you to book your bedtime and be reminded to show up nightly to a live guided sleep session. The live sleep sessions start at 9 p.m. and go every 30 minutes until midnight—you can even opt in to get notifications about classes from your favorite instructors. The app also offers relaxing on-demand stories from incredible narrators.
The goal of the app is to hold yourself accountable to creating an evening routine that will improve the quality of your Z's over time. You get five free sleep sessions when you download the app, and then it costs $1.99 per month or $14.99 per year to access all of the sleep-promoting content.
Below, find my review of three key features of the app:
The narrators
From Marcellus, who has a deep, bass-filled voice that could put almost anyone at ease, to Mae, who speaks almost in a whisper and brings on visions of ASMR YouTube videos, I love that there's a narrator to suit every mood. In fact, each narrator has a unique voice and storytelling style.
After watching a few videos, you'll start to get a sense of which narrators resonate with you the most. For example, Christina, whose voice is soft and slightly deep, focuses a lot on breathing exercises.
Christina's videos are reminiscent of a yoga class, and she likes to ask listeners to visualize positive scenarios. In case you couldn't already tell, she's one of my favorites—and she, like many of the narrators—also hosts live sleep sessions.
The on-demand videos
One of the perks of the app is that there's such a wide range of on-demand videos you can listen to as you unwind before bed.
Regardless of which video you choose, you'll start with a moment of gratitude and then be guided via narrator through some simple relaxation techniques. Then you'll do a first-person visualization where you're the main character in a sleep story until you drift into slumber.
One of my favorites from the on-demand library is the location series. Choose to fall asleep in a relaxing space like a park, beach, or grass field or in an actual location, like the Seychelles or Hawaii.
You can also doze off as a narrator describes a certain activity, like making ube, the classic Filipino dessert treat, or walking through a grocery store in Paris.
Another fun option you have is to fall asleep as an animal. Yep, you read that right. In this category, you can choose from a variety of animals, from hummingbirds to humpback whales.
You get to visualize yourself as one off these creatures as a narrator eases you into sleep. I found the animal series to be particularly helpful in escaping any thoughts that could lead back to the day's stressors.
What I liked most about the on-demand videos is that you can save your favorites and re-listen whenever you want. Bonus: All of the videos have soothing background music engineered to slow your brave waves down and sleep-friendly lighting so you don't have to worry about blue light keeping you awake at night.
The live classes
The live classes have the same narrators as the on-demand videos and a similar structure—but they focus on in-the-moment topics, like specific horoscopes or moon cycles. If there's been an interesting science fact in the news, they sometimes describe that in a live class too.
You can opt in to live classes as soon as the schedule is released. If you do that, the app will save the class to your phone's calendar as well as the calendar in the app.
From there, you can opt in for push notifications so you don't forget. If you're not feeling up to a live session one day, you can also have push notifications fire off around your goal bedtime so you still get into the habit of a nightly routine.
I'll be honest: The notifications weren't as annoying as I thought they'd be. They're more like gentle reminders, sometimes accompanied by a sleep fact. This made me more cognizant of the fact that sleep is important.
The bottom line: I found the app really useful as it forced me to hold myself accountable and stick to a bedtime routine. Overall, I think the Wave sleep app is a great place to start if you're trying to create a healthy nighttime routine or adjust to a new schedule.
Our writers have tried everything from sleep apps to supplements to improve their sleep. See what worked for them in the following articles: