If you're in the market for new sheets, then chances are you've heard the term percale at some point. But what, exactly, does percale mean, and how are
percale sheets
Percale Sheet Set
Crisp and cool percale cotton sheets with a luxe matte finish
different from other types of sheets?
Read on to learn everything about percale sheets to help you make an informed decision.
What is percale?
Percale is a type of weave often used to make sheets. The word percale is said to come from the Persian word pargalah meaning "a rag." Percale cotton fabric was first imported from India in the 17th and 18th centuries and then began to be manufactured in France.
Here's how percale differs from other weaves: On a loom, there are "warp" threads and "weft" threads. Warp threads are those that run lengthwise, while weft threads run perpendicular to warp threads and are woven into them.
In the percale weave, each weft thread passes over one warp thread and then under the next warp thread (a one-yarn-over, one-yarn-under pattern). The result is a finely woven highly breathable fabric with a matte finish.
Types of percale sheets
Various types of cotton can be used to make percale sheets, including organic cotton, long-staple cotton, and cotton blend.
Long-staple cotton
Staple refers to the length of the cotton fiber. Egyptian and Supima/Pima cotton are two kinds of long-staple cotton. Longer fibers tend to make a smoother, stronger, and more breathable fabric that is less prone to fraying and wrinkles.
Percale sheets made of long-staple cotton will be more durable but also more expensive than sheets made of short-staple cotton.
Organic cotton
Organic cotton must be certified by the Global Organic Textile Standard (GOTS) or OEKO-TEX®, confirming it's produced according to strict environmental guidelines and guaranteed to be free of harmful chemicals.
Organic cotton tends to naturally produce plants that yield longer staple fibers. In addition to having all of the benefits of being long-staple, organic cotton percale sheets are naturally hypoallergenic and antimicrobial too.
Blended cotton
Percale sheets made from blended cotton include other materials in addition to cotton—for example, silk, polyester, or rayon from bamboo.
These may offer some additional benefits, such as wrinkle resistance, but they also take away from the breathability of the material. Blended cotton percale sheets are typically the least expensive type of percale.
Our best percale sheets
Pamper yourself in deluxe comfort with our breathable percale sheets. They're made from the world's best long-staple cotton that gets softer and better with every wash.
Indulge in five-star hotel luxury right in your own bedroom with our banded percale sheets. They're made from breathable long-staple cotton that gets softer and better with every wash.
Qualities and features of percale sheets
Percale sheets are made from cotton (either 100% cotton or a blend). They have a matte finish with a crisp and soft feel that stands up well to everyday use. Think: your favorite crisp white dress shirt.
Percale also tends to be lighter and cooler than other weaves, as this weave allows for better airflow between the threads. This makes percale suitable for hot summer months and people who tend to sleep hot.
High-quality percale sheets will have a thread count in the 200-400 range. Thread count refers to the number of horizontal and vertical threads a sheet has per square inch. Keep in mind that while some manufacturers may try to convince you otherwise, more is not always better.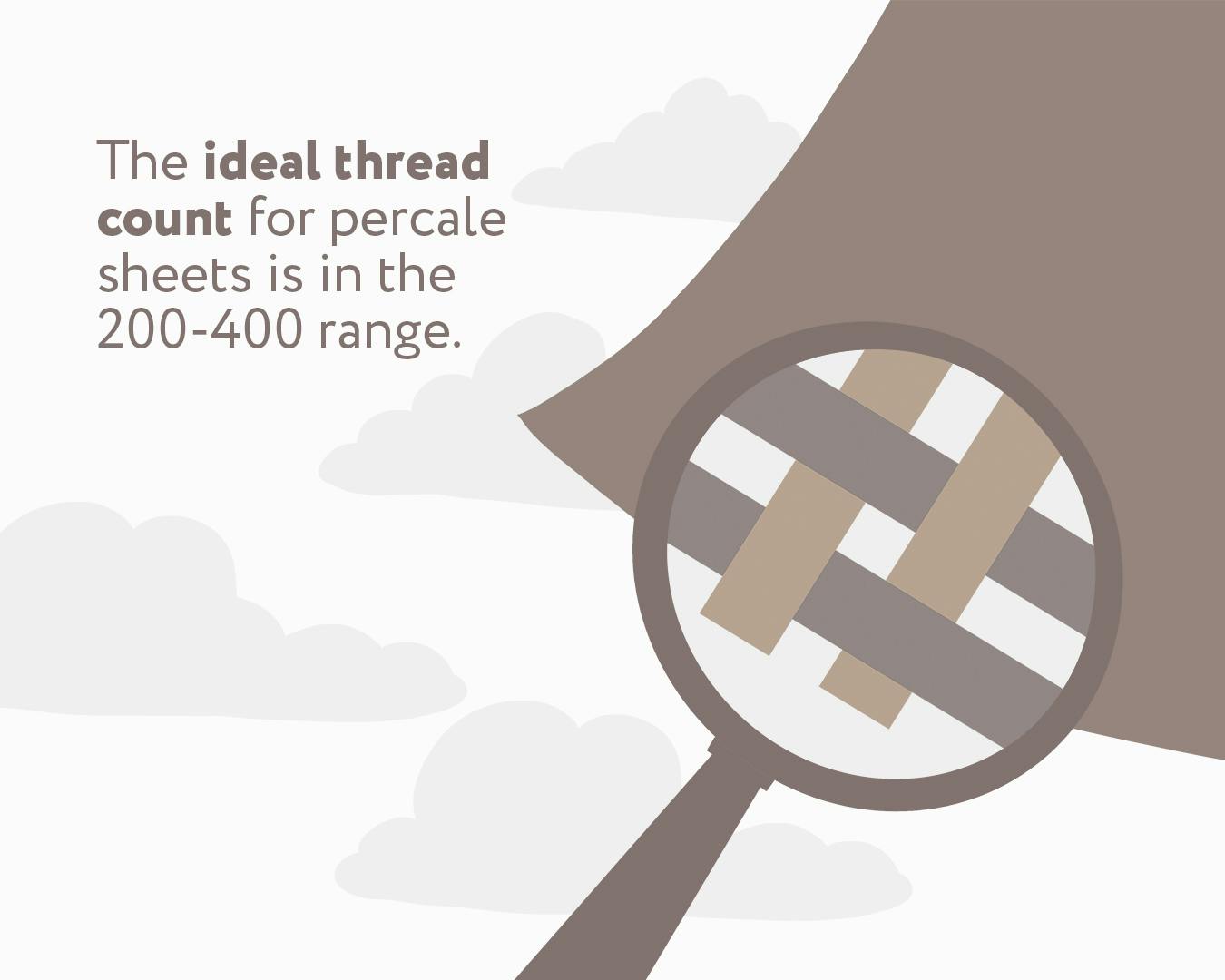 The National Sleep Foundation recommends choosing sheets with a thread count between 200 and 400 for optimal comfort and coolness. Anything higher than that means the fabric won't breathe as well and will result in a hotter sleep.
Percale sheets can either be made with single-ply or multi-ply threads. Ply refers to how many yarns are twisted together to make a thread. Percale sheets made from single-ply threads are lightweight, soft, and durable, whereas ones made from multi-ply threads won't last as long or feel as soft.
Pros and cons of percale sheets
As with any type of sheet, percale comes with its pros and cons. Check out the table below to learn about the biggest benefits and drawbacks of percale sheets.
Other types of weaves for bed sheets
Sateen is another popular type of weave to make cotton sheets. Unlike percale, sateen follows a one-yarn-over, three-yarn-under pattern: Each weft thread passes over three warp threads and then under one warp thread, producing a sheet with different qualities than percale.
Learn more about the differences between percale vs. sateen in the chart below:
What to consider when buying percale sheets
Here are the main things to consider when buying percale sheets:
Material. Pay attention to the type of cotton: Is it short- or long-staple? Long-staple cotton is the highest quality material choice for percale sheets.
Thread count. Stay away from percale sheets whose thread count is too high (these will feel too hot) or too low (these will have a rough texture). Anywhere in the 200-400 range should strike the right balance of softness and breathability.
Color and pattern. If you choose percale sheets because you're after a cooler sleep, pay attention to the color as well: Lighter colors tend to be the most breathable. They're also more suitable for sensitive skin since they're treated with the least amount of dyes.
Cost. Percale sheet prices run the gamut, but a high-quality queen sheet set will likely cost you in the $100-$200 range.
Warranties and returns. Look for a brand that offers a home trial so you can try them out to see if you like them. Also check if there are return fees and if your sheets are covered for defects for any period.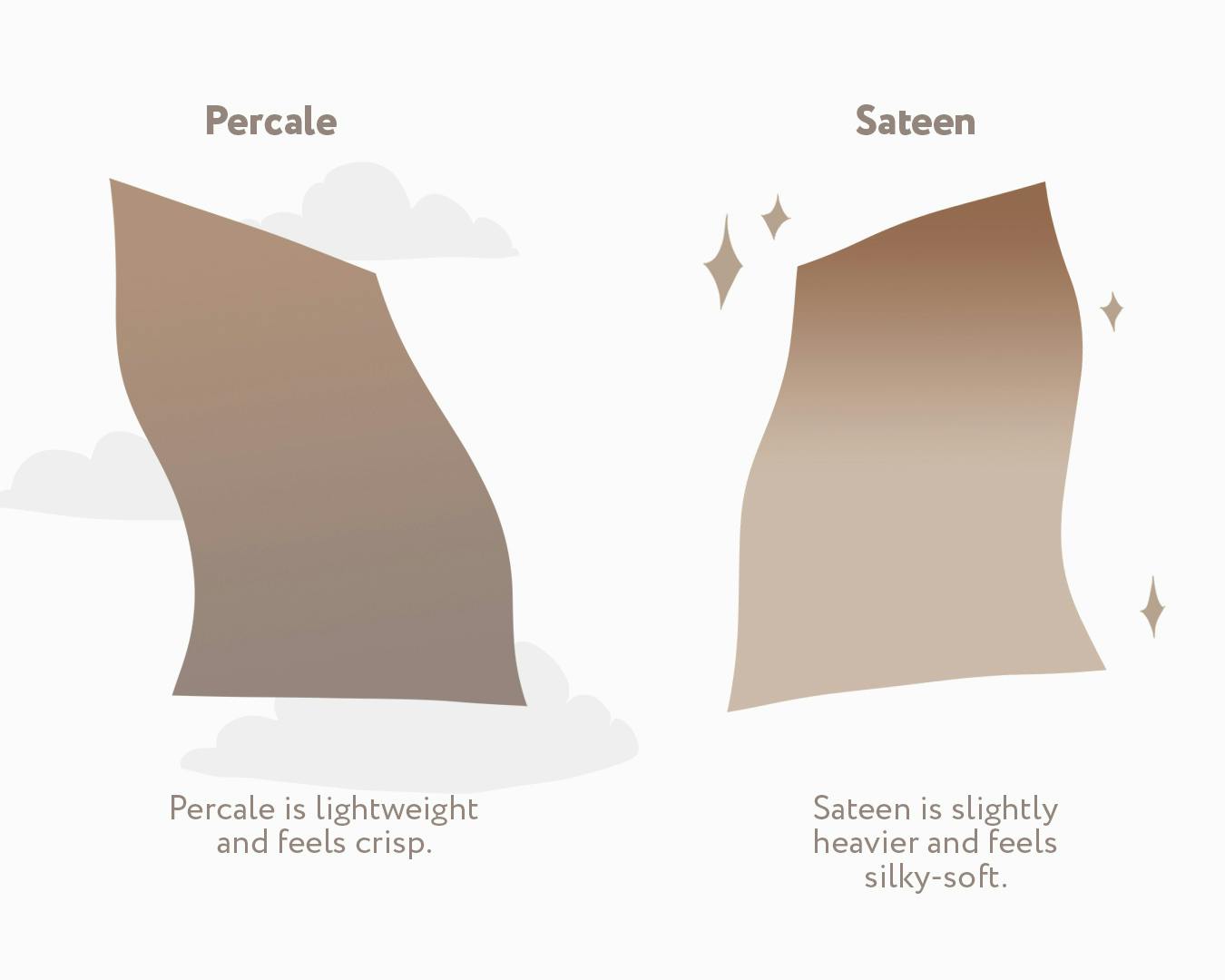 Common questions about percale and sateen sheets
To help make sheet shopping easier for you, we're answering your most frequently asked questions about percale, sateen, and more sheet-related terms.
What is the difference between percale and cotton sheets?
Percale sheets are a type of cotton sheet. Percale refers to the type of weave (the way that vertical and horizontal threads of fabric are interwoven).
Are percale sheets the best?
Ultimately, it's a matter of personal preference. Percale sheets will appeal to those who like cool, crisp, lightweight, and breathable sheets.
What is the difference between percale and linen sheets?
Percale is a type of cotton weave.
Linen sheets
Linen Sheet Set
Airy and elegant linen sheets with a relaxed look
aren't made of cotton. They're made from the fiber of the flax plant. Linen has a more textured finish than percale cotton sheets.
Are percale sheets crisp?
Percale sheets are very crisp. Think: your favorite crisp white dress shirt.
What's the difference between sateen and percale sheets?
Sateen is a one-yarn-over, three-yarn-under weave pattern, while percale is a one-yarn-over, one-yarn-under weave. Sateen has a silky-soft feel, while percale feels crisp and clean.
Should I get percale or sateen sheets?
Do you like your sheets to feel crisp and cool? Go for percale sheets. Are you after a smooth and shiny finish? Choose
sateen sheets.
Organic Sateen Sheet Set
Organic cotton sheets with a timeless elegance
How do you keep percale sheets from wrinkling?
Putting your percale sheets in the dryer should help get rid of post-wash wrinkles (but do always check the care instructions first).
What is long-staple cotton?
Staple refers to the length of cotton fibers. Egyptian and Supima/Pima cotton are two kinds of long-staple cotton.
What's the difference between short-, long-, and extra-long-staple cotton?
Longer fibers allow for better airflow and are less prone to breaking and pilling. The longer the staple (or fiber), the more durable and breathable the fabric. Long-staple cotton has individual fibers of 1 1/4″, while extra-long cotton has fibers that are 2 in length.
For more advice on choosing the right bedding, check out our definitive guide to buying sheets.