If you're in the market for a new bed, you may be wondering when is the best time to buy a mattress. When it comes to buying a mattress in a store, popular deals come at various times of the year, mainly around holiday weekends. When there's any sort of national holiday, you can expect to see mattress sales.
That doesn't mean that you should only purchase a new mattress on specific holiday weekends, though. You can still get a great deal on a mattress any time of the year. Here are our best tips and tricks for when and how to get the best mattress deals.
The absolute best time to buy a new mattress
The great thing about buying a mattress is the fantastic deals you can find during major holidays throughout the year. Salespeople know that these holidays are when customers are looking for great deals and are all too eager to please.
Why?
One primary reason is inventory. Mattress retailers need to make room for new products, so the older models must go. And this means huge sales and great deals for you.
So, are you looking for your next mattress? Consider waiting for the next holiday sale. Holidays are the perfect time to take advantage of huge sales at your local retailer.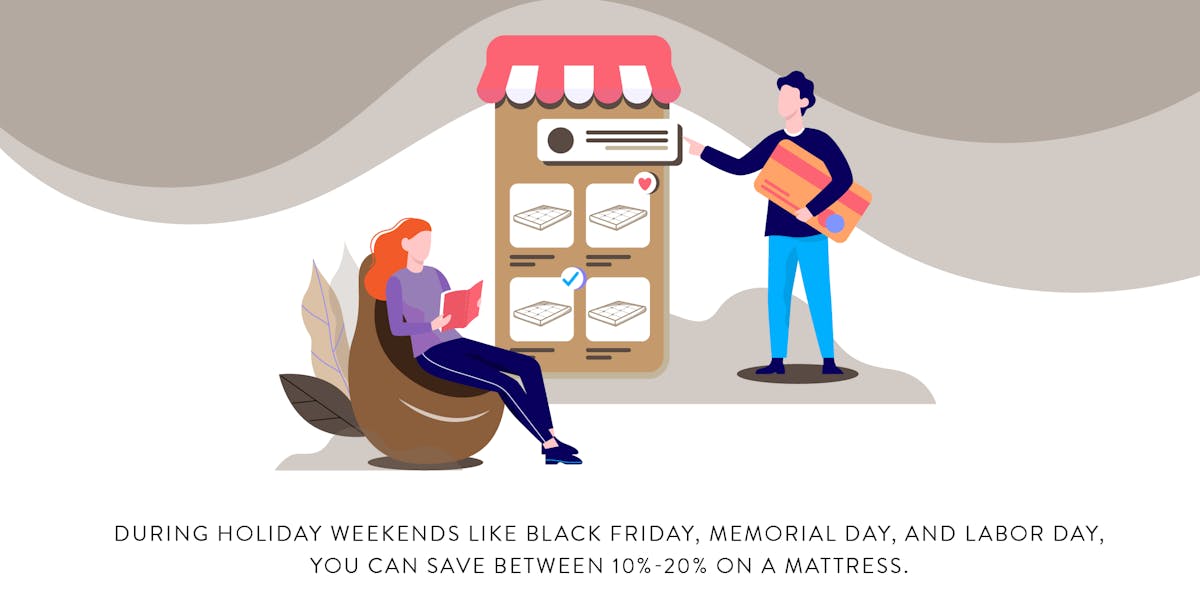 Speaking of holidays, here's a list of major holidays when retailers typically announce huge discounts:
Veteran's Day: November
Black Friday and Cyber Monday: November/December
Labor Day: September
Fourth of July: July
Memorial Day: May
Presidents' Day: February
Spring
Spring is one of the best times of the year for mattress shopping. Spring mattress shopping means you should keep a sharp eye out for Memorial Day sales in the month of May.
Remember, mattress companies must hang those sale signs so they can get rid of older models to make room for the new stuff in early spring.
Summer
Ah, summertime! For many, grilling and frolicking at the beach is the thing to do. But don't forget about mattress shopping. Yes, that's right. The hot summer months are a perfect time for discovering some spectacular summer mattress sales. The best summertime savings are usually found around the Fourth of July.
Also, don't be surprised if you see some great leftover sales from Memorial Day while you're out looking for that great mattress.
Fall
Grab yourself a pumpkin spice latte and make a beeline to your nearest mattress retailer for a few great deals. The fall season offers some fantastic opportunities to take advantage of generous mattress shopping discounts.
Keep your eyes peeled, especially during Labor Day in early September and Veteran's Day in early November.
Winter
You know all too well how incredibly hectic the holiday season can become. Wouldn't it be great to snuggle up on your new comfy mattress this winter? Remember that the best time during winter to get great deals on mattresses is around Presidents' Day because of the different discounts offered by mattress companies.
But of course, the holiday shopping season, i.e., Black Friday, Christmas, and New Year's, are also terrific opportunities to take advantage of some great deals as well.
Get a great deal every day with these Saatva mattresses
Our flagship luxury mattress is expertly engineered with coil-on-coil construction for durability, a layer of memory foam for enhanced back support, and a cushiony Euro pillow top for extra comfort.
Premium memory foam, handcrafted in the U.S. with eco-friendly materials. Breathable organic cotton, cooling spinal gel, and layers of high-density support foam assure a cool, comfortable night's sleep.
Natural latex responds to every curve for pressure-free support and responsive comfort. Natural latex is supple, resilient, and durable, for the ultimate in elevated sleep. (It's naturally hypoallergenic too.)
Buying online vs. buying in-store
Over the last few decades, a little invention called the world wide web changed the way people shop.
Today, the thrill of shopping is more convenient than at any time in history. A few clicks of your mouse will get you just about anything you desire—including that brand-new mattress. In fact, many mattress companies have started to move online in recent years.
But despite the popularity of the internet, many people continue to purchase from brick-and-mortar mattress retailers. The truth is, both methods have their particular benefits and drawbacks that you should be mindful of when making a final purchasing decision.
What are those pros and cons, you ask? Let's explore.
Brick-and-mortar mattress retailers
One advantage of physical shopping is using your senses to enhance the retail experience. The merchandise is literally at your fingertips. You can see, touch, and even lie down on the mattress.
Another benefit of shopping at a physical mattress retailer is all of the holiday mattress deals. The best times of the year to catch great mattress sales at brick-and-mortar locations are major holidays, like Memorial Day weekend in the month of May.
However, one major con to keep in mind is that shopping in a store can be stressful because you may feel pressured to buy something right away. Another downside? Sometimes mattress models are sold under different names in different stores, which can make comparison shopping tricky.
Online mattress retailers
Since online shopping has grown in popularity so much in recent years, many mattress companies have moved online. The move to digital means that you, the customer, get extra buying perks.
For one thing, buying mattresses through an online retailer means you automatically pay below retail prices.
Unlike brick and mortar locations, online mattress retailers don't have overhead like rent, salaries, and other expenses that physical stores must deal with. These savings are passed on to you, and prices are generally lower throughout the year.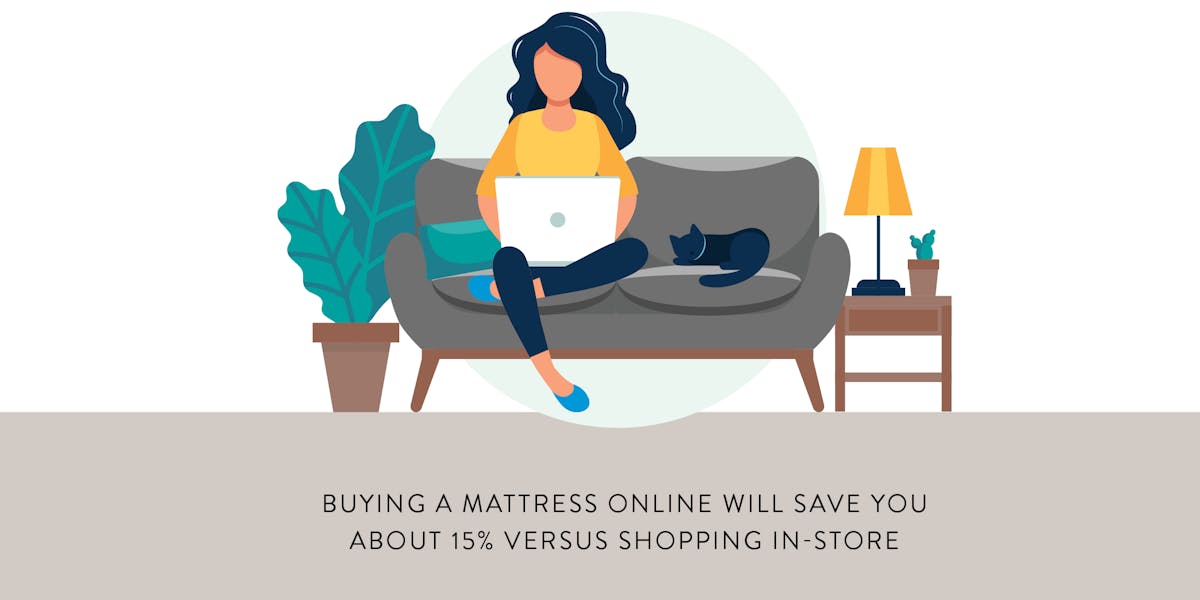 Online retailers also promote sales during regular sales events such as the ones previously mentioned. But there are also a few sales dates that are specific to the online retail space. The two most notable are Amazon Prime Day in June and Cyber Monday, the Monday following Thanksgiving.
One downside to shopping online is that you can't lie on the mattress first. That said, most online mattress companies offer an in-home trial so you can sleep on the mattress at home for a few months to decide if it's right for you.
Top mattress buying tips
When deciding to buy your next mattress, use these simple tips for a successful shopping experience.
Just remember: Many mattress companies consistently release new merchandise. There are plenty of different mattress types, materials, and models to research and consider before making an informed decision.
Stand your ground with mattress salespeople
If you've found the best mattress for you, whether it's during one of these blockbuster sales or on a quieter weekend, tell the salesperson that you're interested but you still need to shop around.
Many times, in-person mattress retailers will add perks to your purchase, like bed accessories, an extended warranty, or even a sleep trial to sweeten the deal. So if you're shopping during what's often presumed to be the best time to buy a mattress, fight the urge to succumb to the pressure of a quick sale in order to get the best price available.
Do some comparison shopping
Once you've walked out, do some comparison shopping, in stores or online. This can be tricky since the exact same mattress might be sold under a different name in another store. The best way to compare when buying a mattress is by double-checking specs, such as materials, dimensions, and coil systems. Once you've found the match, you're ready to head back to your original showroom with the better offer in hand.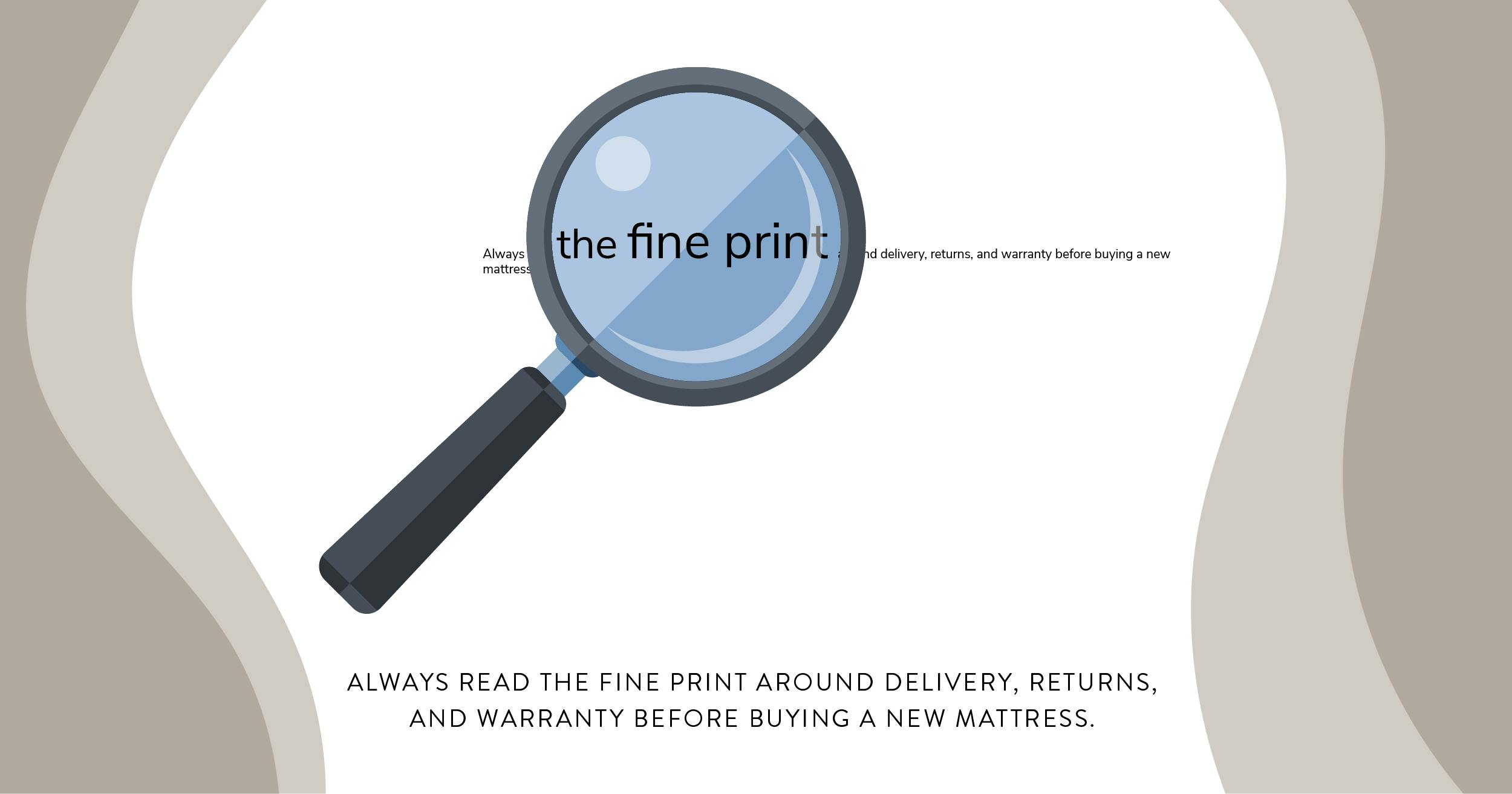 Online retailers often don't allow you to negotiate prices, which means what you see is usually what you get when it comes to pricing. However, since online mattress sellers already offer a discounted price on their products, it's important to pay attention to the fine print. You'll want to make sure there are no hidden fees, see what shipping or delivery costs are, and learn about their return policy.
Look out for store closings and overstock sales
If you're looking for deep discounts on your new mattress, consider shopping at a mattress store that's going out of business or having an overstock sale. Unfortunately, sometimes mattress companies are faced with the grim reality of permanently closing their doors. At this time, they'll then offer existing merchandise at rock-bottom low prices.
Find out what type of mattress works best for you
Before buying a mattress, you may want to do a bit of research to find the type that suits you best. Everyone has a preferred sleep position—and selecting a mattress with this in mind is crucial.
Are you a side sleeper? Then you're in good company with most adults, as side sleeping is a common position, according to a 2017 study. A good pick for this common sleeping position would be an innerspring mattress or a hybrid mattress, both of which provide plenty of comfort and support for pressure points such as the hips, shoulders, and knees.
A memory foam mattress, meanwhile, is a great choice for back sleepers, as it contours to your body and hugs the natural curves of your spine. Stomach sleepers, on the other hand, may benefit from a firm latex mattress, which will help keep your spine in neutral alignment and keep you cool while you sleep face-down.
How to score a good mattress deal every day
While it's certainly possible to get a good deal on a quality mattress at a retail showroom, there is another way: skipping the in-store buying experience altogether. The best time to buy a mattress could actually be every day of the year if you buy online.
It still pays to do your research, of course. Take the time to look at mattress reviews, which type of mattress you're interested in, and really make sure you buy a mattress that will help you get better sleep.
But without the pressure of a holiday weekend countdown clock, you can take the time to compare products and find the mattress that's right for you. To address consumers' concerns about buying a mattress without trying it first, most online sellers offer generous in-home trial periods.
FAQs
When should you buy a new mattress?
You should buy a new mattress when your old mattress is no longer giving you the support you need to get a comfortable night's sleep. Purchasing a new mattress during the holidays when there are huge sales and deals can be a great time to do this. However, you can find good deals on mattresses year-round by shopping from an online retailer, making the best time to buy a mattress any time of the year.
What month is best to buy a mattress?
Every season has major holidays that bring incredible mattress sales and discounts. You have Presidents' Day in February, Memorial Day in May, and Black Friday in November, to name a few. If you purchase a mattress from an online retailer, you can expect to get a good deal year-round, though, so you don't have to wait for a specific month to shop.
Get the best deals on high-quality mattresses
Let's face it: At some point, it'll be time to get rid of your old mattress. But shopping for a new mattress can be extremely stressful. There are so many different mattress models, types, and sizes that the industry can be overwhelming to navigate.
Saatva is an online mattress retailer that strives to provide high-quality mattresses at an affordable price. We have a large selection of mattresses to choose from. There's something for every kind of sleeper. Find out which of our mattresses is best for you by taking Saatva's quick and simple mattress quiz.