Winter is in full swing—and if you're anything like me, then a little retail therapy definitely perks up your mood on these dark, dreary days. The good news: Presidents' Day (which falls on February 20, 2023) is almost here, and you're guaranteed to find discounts on just about everything—including mattresses—over the upcoming holiday weekend.
But which mattress is right for you—and how do you know if that Presidents' Day mattress sale is really a good deal? In this piece, we've rounded up the best Presidents' Day mattress sales of 2023 along with answers to your most common questions so you can find the best bed for your money this holiday weekend. Happy shopping!
Best Presidents' Day mattress sales of 2023
Most mattress brands are offering Presidents' Day mattress deals this year, Saatva included. Check out our current sale offerings to see how you can save on a Saatva mattress right now—and stay tuned for details on our Presidents' Day sale! Below are the Saatva mattresses you can expect to find on sale over Presidents' Day weekend:
Innerspring mattress
Our bestselling Saatva Classic innerspring mattress has a supportive, durable coil-on-coil base and is topped with a cushiony 3-inch Euro pillow top for maximum comfort and support. It's even available in three firmness options (Plush Soft, Luxury Firm, and Firm) so you can easily find one that suits your sleep style best.
Memory foam mattress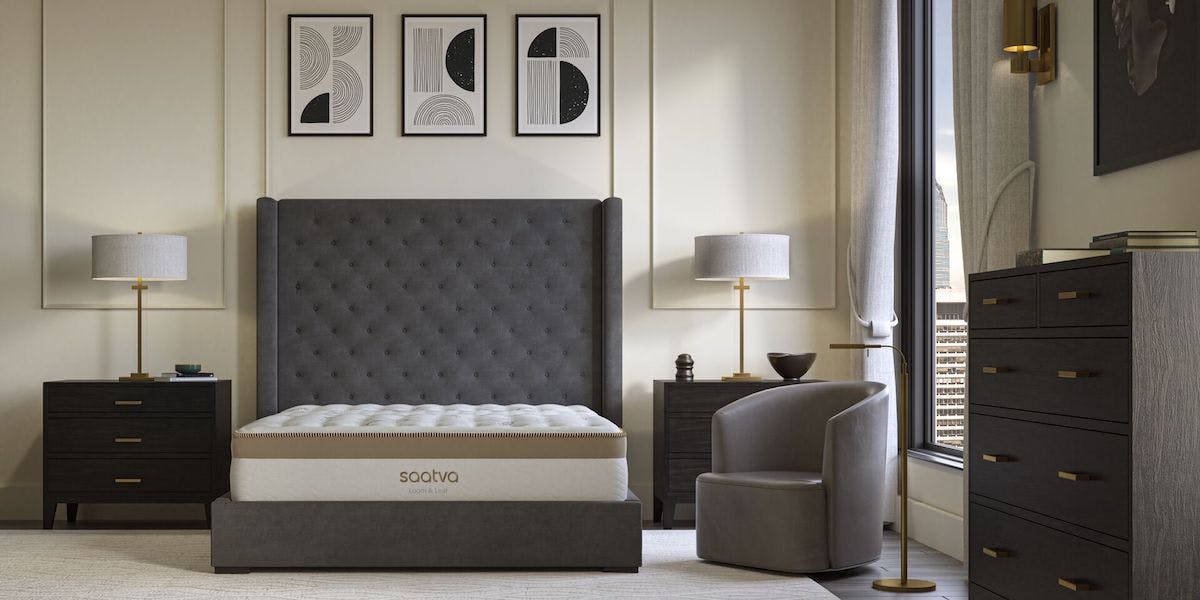 Our Loom & Leaf memory foam mattress is made with high-density memory foam that could never be stuffed in a box. It hugs your curves and cradles your body's pressure points for the ultimate in comfortable sleep. Choose Relaxed Firm, the most popular firmness option, which is ideal for back, side, and stomach sleepers.
Memory foam hybrid mattress
Our Saatva memory foam hybrid is the latest addition to our mattress lineup. It features AirCradle memory foam for a body-contouring feel and excellent pressure relief and durable pocketed coils for a responsive feel and greater ease of movement. It's available in medium-firm, which is ideal for couples with different sleep preferences as well as side, back, and combination sleepers.
Latex mattress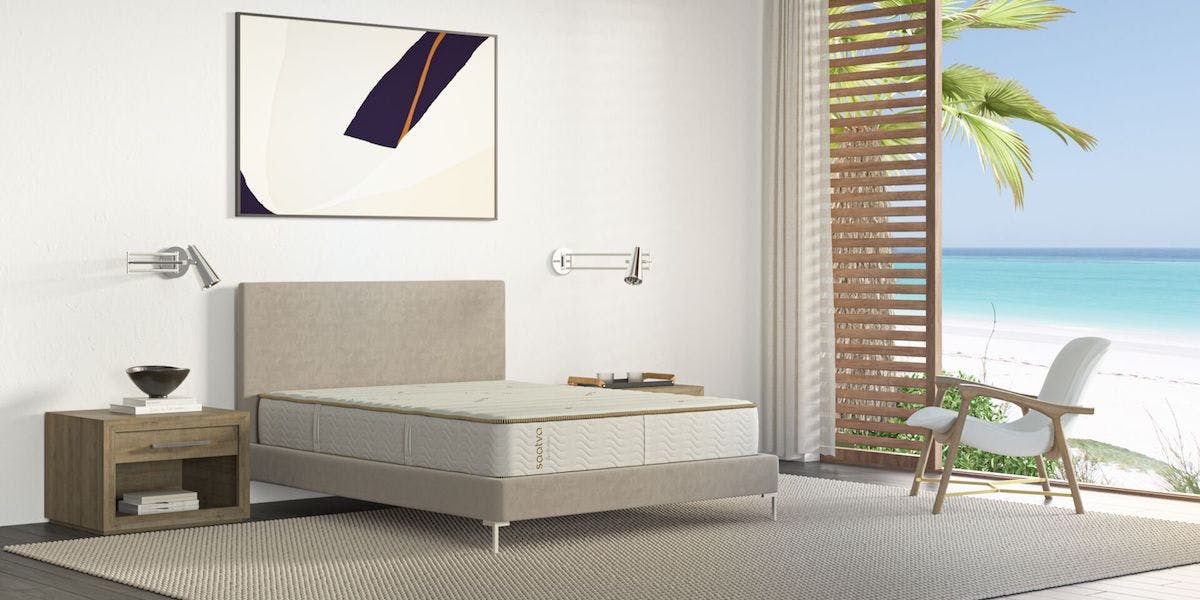 Our Zenhaven latex mattress is made from natural latex for maximum pressure point relief and cool sleep. As a bonus, the mattress is flippable to help you easily find the right firmness option for you. The plush side is suitable for all sleep positions, while the firmer side is ideal for stomach sleepers.
Latex hybrid mattress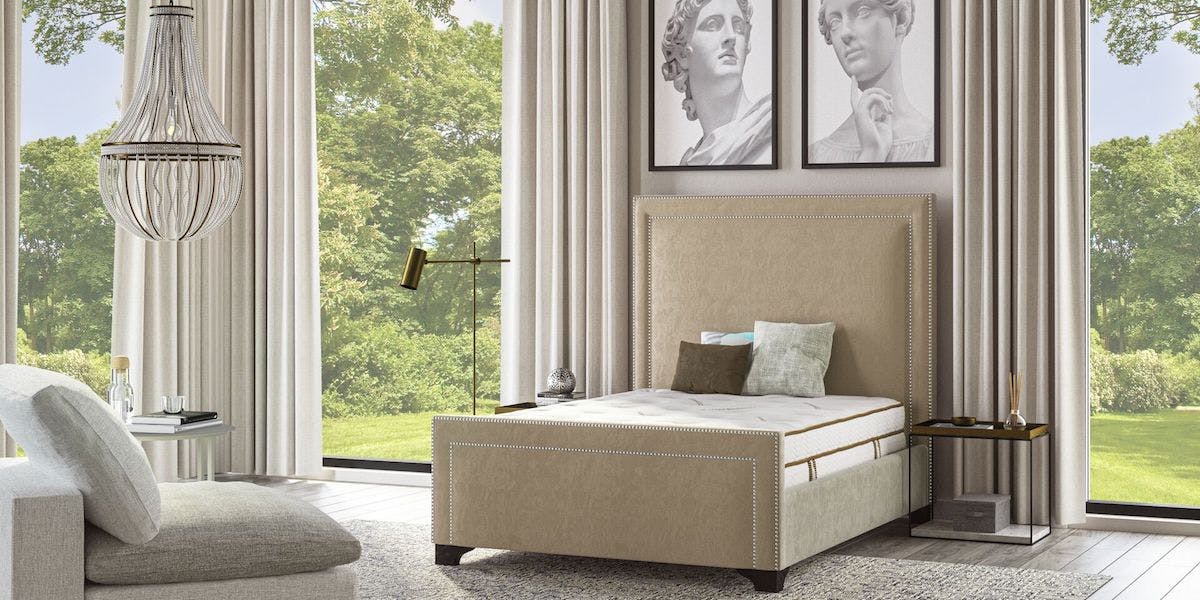 Our latex hybrid mattress has a base made of individually-wrapped recycled steel carbon coils that respond and contour to your body and reduce motion transfer. The base is topped with a layer of natural latex, which is conforming and responsive. The mattress is available in a medium firmness that suits most sleep positions.
Adjustable firmness mattress
Our Solaire adjustable firmness mattress features 50 firmness levels with individual comfort controls for each side of the bed. That means you and your partner can both set your desired firmness level to a number that's right for you. Upper-Flex and split models offer the most customization.
Heavy-duty mattress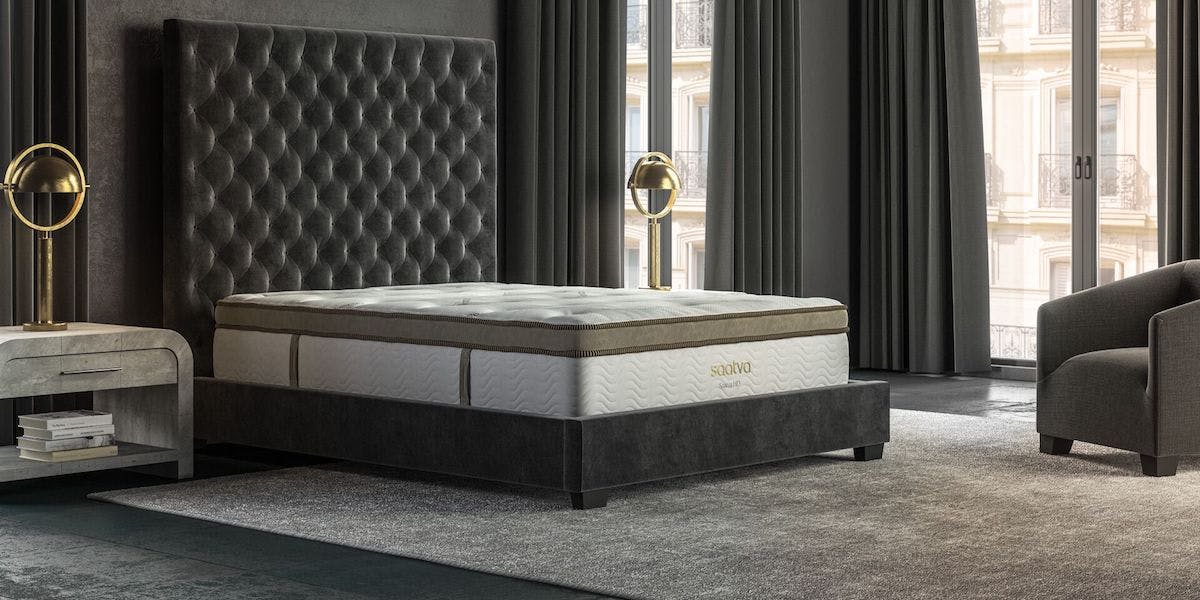 The Saatva HD is our best mattress for heavy people. This mattress is designed exclusively for people weighing up to 500 pounds. It has a base of 12.5-gauge coils that are 25% stronger than the industry standard, resulting in a mattress that won't sag or dip. The base is topped with layers of memory foam and latex for added back support and pressure relief.
Youth mattress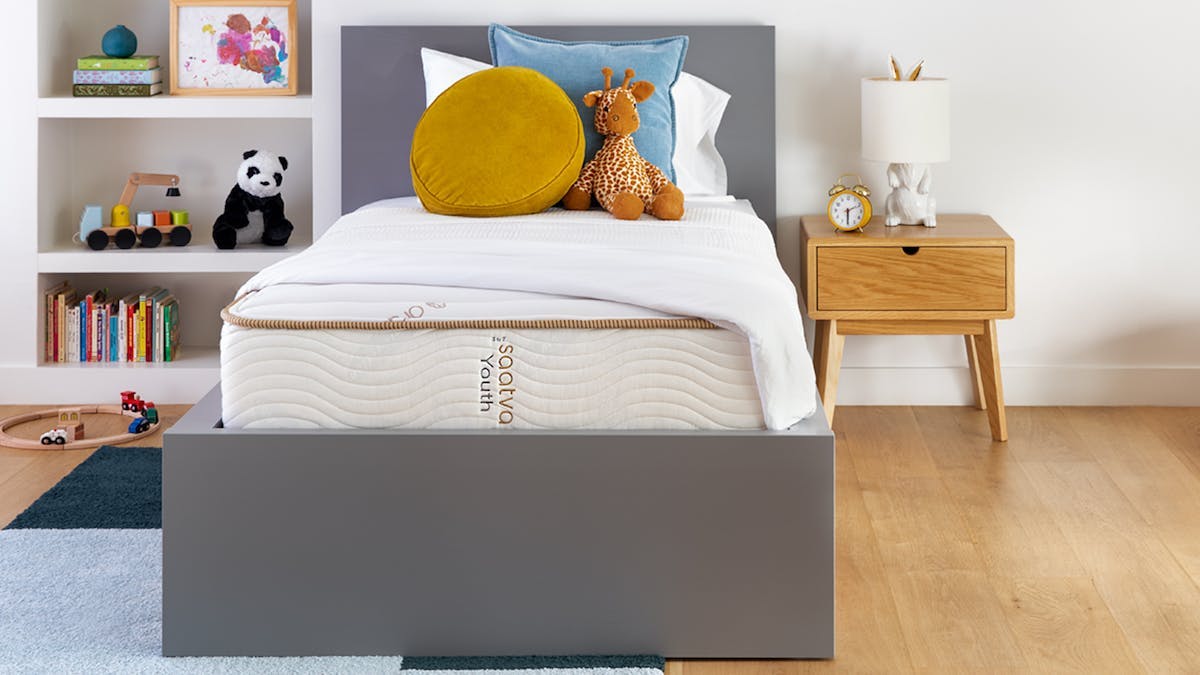 Our dual-sided, flippable youth mattress is an excellent option for kids ages 3-12. The mattress is made with naturally hypoallergenic and antimicrobial organic cotton, nontoxic natural thistle flame barrier, and eco-friendly foams that are healthier for your child and the planet. Bonus: It's also accident-proof.
Crib mattress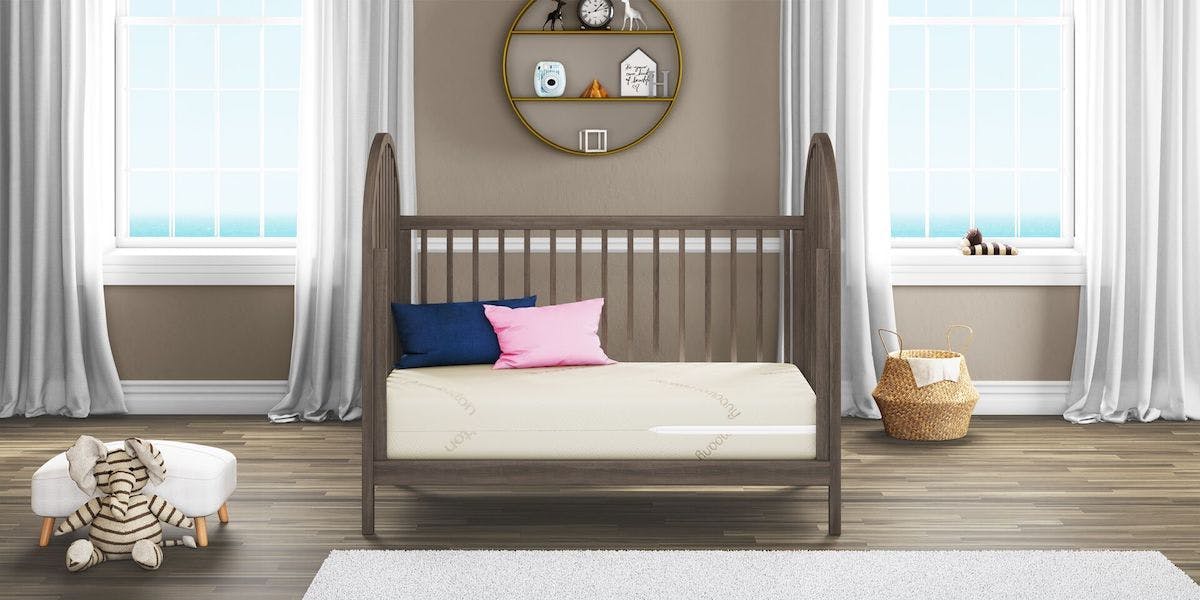 Our dual-sided crib mattress is designed for babies and toddlers. The flippable design provides double-firm support for babies and firm support for toddlers, while the removable cover is treated with a safe, eco-friendly water repellant to make cleaning up accidents a breeze.
Best Presidents' Day bed frame deals of 2023
Decided which mattress you're going to buy this holiday weekend? Now it's time to think about a bed frame to go with it. Here are the best bed frames to buy on sale over Presidents' Day.
Adjustable bed base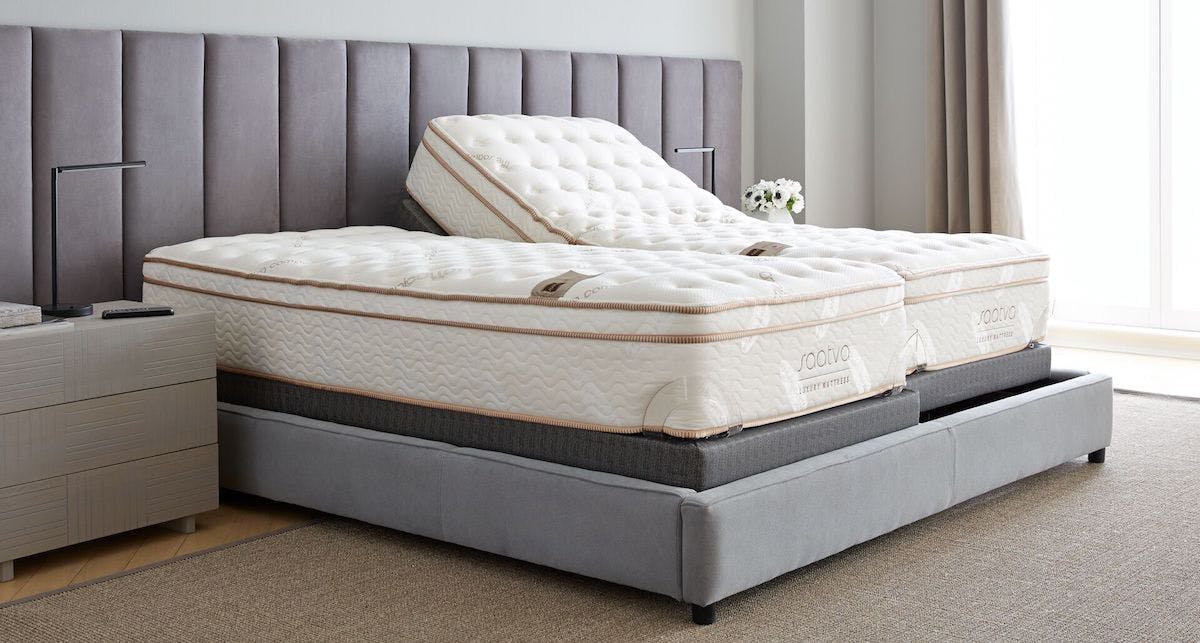 Our Saatva Adjustable Base Plus allows you to elevate your head and feet with the touch of a remote. Other features include under-bed illumination (a must if you tend to have middle-of-the-night bathroom trips), wave massage, and a whisper-soft motor.
Platform bed frame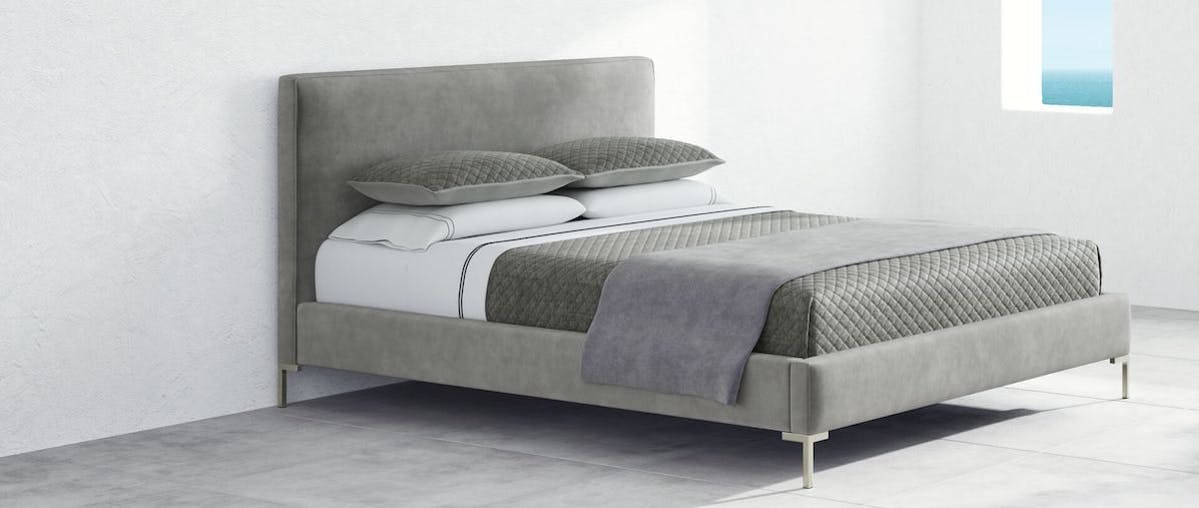 Our Santorini platform bed frame has a smooth headboard, lower profile, and graceful legs for a contemporary look.
Wingback bed frame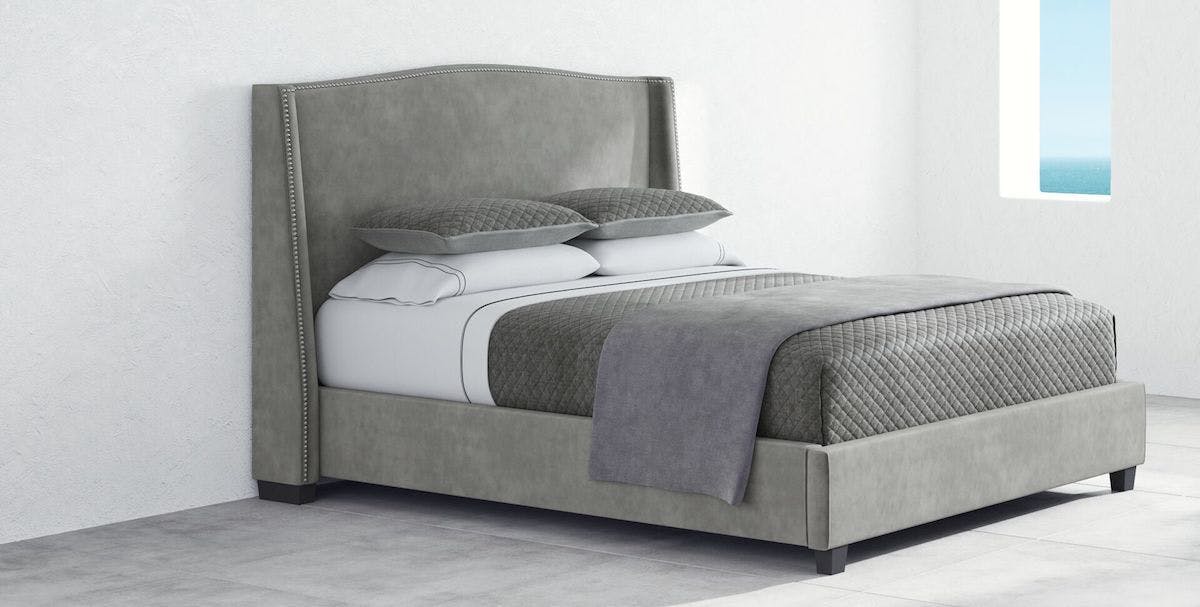 Our Minori wingback bed frame has a curved padded headboard, gently tapered wings, and subtle nailhead accents.
Diamond-tufted bed frame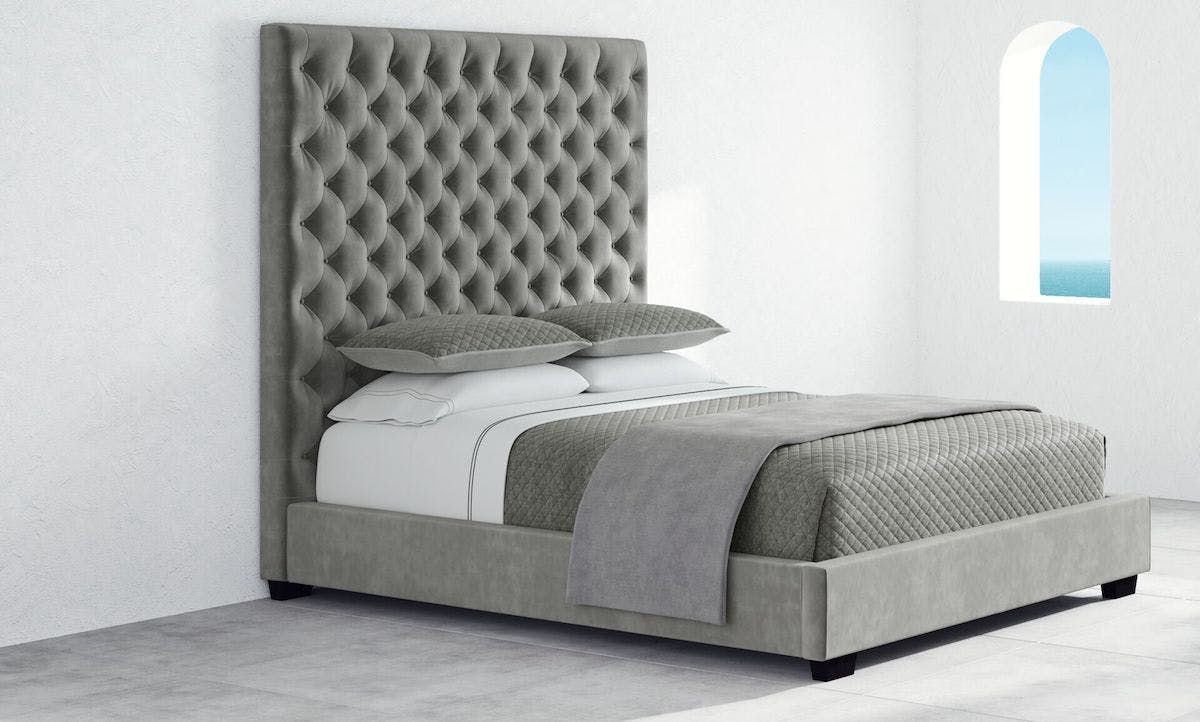 Our Marbella diamond-tufted bed frame has deep tufts, which are accented by buttons in a diamond pattern.
Mid-century modern bed frame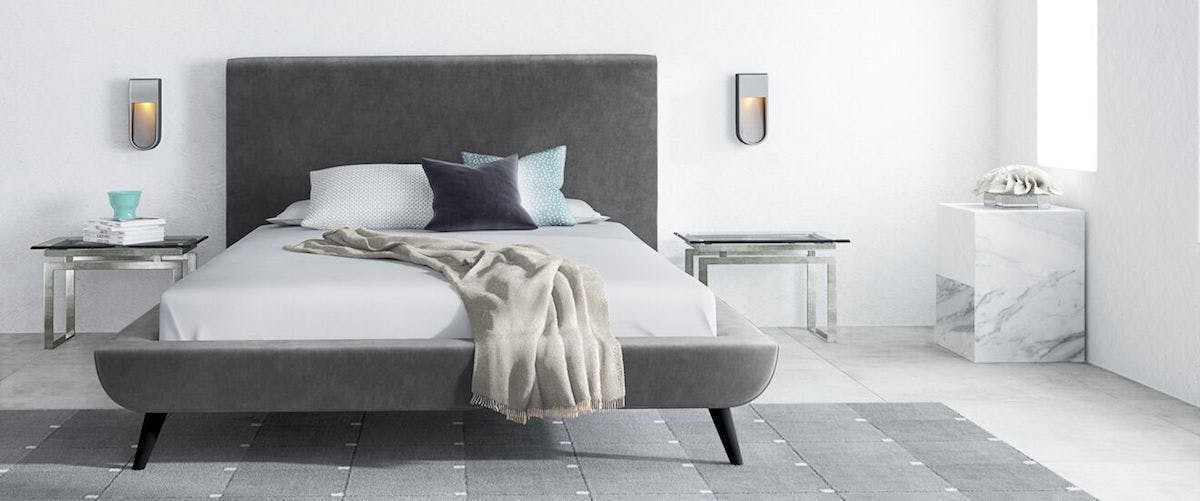 Our Porto mid-century modern bed frame is a platform bed that's elegantly finished with curved detailing and tailored piping on the foot rail to balance its minimalist headboard.
Best Presidents' Day bedroom furniture deals of 2023
In addition to mattresses and bed frames, you can also find bedroom furniture, including chairs, ottomans, and benches, on sale over Presidents' Day weekend. Here's a glimpse of Saatva's high-quality bedroom furniture selection.
Storage bench
Our Rhone storage bench has a refined and timeless designed and is meant to be paired with our upholstered bed frames. It fits at the foot of queen- and king-size beds and has a comfy tufted cushioned seat.
Tufted ottoman
Add a stately accent to your bedroom with our Constance tufted ottoman. Designed to be paired with our upholstered bed frames, we recommend placing the ottoman at the foot of your queen- or king-size bed to complement the rest of your bedroom furniture.
Swivel chair
Our Como swivel chair is the perfect reading chair to transform your bedroom. The geometric silhouette and plush seat come together for the perfect blend of modern style and cushiony comfort.
FAQs
What holidays do mattresses go on sale?
Mattresses go on sale during many of the big holiday weekends throughout the year. These include Presidents' Day, Memorial Day, July 4th, Labor Day, Black Friday, and Cyber Monday.
Why are there mattress sales on Presidents' Day?
Presidents' Day, a federal holiday honoring George Washington and Abraham Lincoln, is celebrated on the third Monday in February every year. It's also become a day synonymous with mattress sales, much like Memorial Day, Labor Day, and Black Friday.
That's because people tend to buy things—especially big-ticket items like mattresses—more over long weekends. A long weekend gives you plenty of time to comparison shop and research around your purchase.
Is Presidents' Day a good time to buy a mattress?
Presidents' Day is one of the biggest days for mattress sales, which means you'll certainly save money if you buy a new one this time of year. But it's always a good idea to do your research before buying any big-ticket item. After all, you'll be spending the next 10 (or more!) years on your new mattress, so you want to make sure you do your due diligence.
To figure out if you're getting a quality mattress, start by taking a look at what's inside the mattress. A good mattress company will provide diagrams with detailed descriptions and precise specifications for each layer in a mattress. A quality mattress should have added lumbar support to keep your spine in proper alignment, cooling features so you don't wake up sweating in the middle of the night, and materials that are free of harmful chemicals.
You should also read the fine print before purchasing any big-ticket item so you know exactly what you're getting into when it comes to delivery, returns, and more.
Some mattress companies, like Saatva, offer free white glove delivery, which includes setup of your new bed and removal of your old mattress. Many retail stores charge extra for this service. And while beds in boxes usually ship for free, you have to handle setup on your own—and a queen mattress can weigh more than 90 pounds.
What is the best time to buy a mattress?
Holiday weekends, like Presidents' Day, Memorial Day, and Black Friday are a great time to buy a mattress because there are so many sales happening. In fact, you can typically expect to save 10% to 20% on a mattress during a holiday promotion.
You don't have to shop during a holiday weekend to snag a good deal on a mattress, though. When you buy a mattress online, you can save money year-round. In general, you can expect to spend 15% less on a mattress when you buy it online, versus in-store. That's because selling online eliminates retail store overhead, including store rents and sales commissions.
Online mattress companies, like Saatva, can pass those savings onto you in the form of low prices every day, regardless of whether or not it's a holiday weekend.
Should I purchase in-store or online?
This Presidents' Day weekend, consider buying a mattress online rather than going to a store. When you buy a mattress from a retail store, you end up paying for more than just the mattress. That's because these stores have a wide range of costs they have to cover, including rent, sales, commissions, and inventory fees. Inevitably those fees are worked into the price of the mattress.
According to Consumer Reports, many mattress stores, particularly the national chains, mark up their products so high that they're able to lower prices by 50% or more during sales. That's not all, though. Oftentimes, mattress models are labeled with different names in different stores, meaning it can be impossible to truly know whether you're getting that good of a deal.
Online mattress companies eliminate the middleman by selling directly to you online. The direct-to-consumer relationship allows online mattress companies, like Saatva, to offer their products for a consistently low price. You can typically expect to pay 15% less for a mattress when you shop online.
How much should I pay for a good mattress?
Mattress prices can range a whole lot, with some coming in at just a few hundred dollars and others with price tags in the tens of thousands. That said, a quality mattress made with premium materials generally costs in the $1,000 to $3,500 range.
What is the best type of mattress to have?
No one mattress type is inherently better than another. The one that's best for you comes down to your personal preferences.
An innerspring mattress is the most common type of mattress and has that essential springiness you're familiar with in a mattress. It consists of a coil support system, and these days usually contains layers of memory foam or latex on top of the base for added comfort and durability. (This is often referred to as a hybrid mattress.)
An innerspring mattress accommodates lots of different sleep styles and preferences. If you sleep with a partner, choose one with individually-wrapped coils to cut down on motion transfer so you won't feel each other move while you sleep.
A memory foam mattress is made from viscoelastic foam, a type of high-density polyurethane foam. Memory foam softens in response to heat and pressure, resulting in a body-hugging feel many people love. Memory foam does an excellent job of relieving joint pain and minimizing motion transfer, however, it can sleep hot. It's also not ideal for people weighing more than 200 pounds.
A latex mattress is made of natural latex, with several layers of varying thickness and density. Latex offers the "best of both worlds" between innerspring and memory foam as its responsive yet conforming. When you sleep on a latex mattress, you'll feel like you're floating on top.
Latex is very breathable, so it's a good option for people who sleep hot. It's also a great choice for those with allergies since it's a naturally hypoallergenic material.
Improve your sleep with these Saatva mattresses
Presidents' Day mattress shopping tips
Want more advice on finding the right mattress for you this Presidents' Day weekend? We've rounded up these additional shopping tips to help you out.
Shop Saatva's Presidents' Day mattress sale
Ready to buy a new mattress this Presidents' Day weekend? Saatva offers a variety of high-quality mattresses, bed frames, and bedding to upgrade your bedroom.
All of our mattresses come with a generous home trial and industry-leading warranty so you can test one out in the comfort of your home before deciding if it's right for you.
Take our mattress quiz to find out which mattress is your perfect mattress.