One of the most important considerations when purchasing a new mattress is size. This includes the size of the people who will be using it, the size of the bedroom in which it will be placed, and of course the size of your budget.
Here we break down the differences between king vs. full-size mattresses and weigh the pros and cons of each, to help you find your perfect fit.
King mattress size
The standard king mattress measures 76 inches wide by 80 inches long.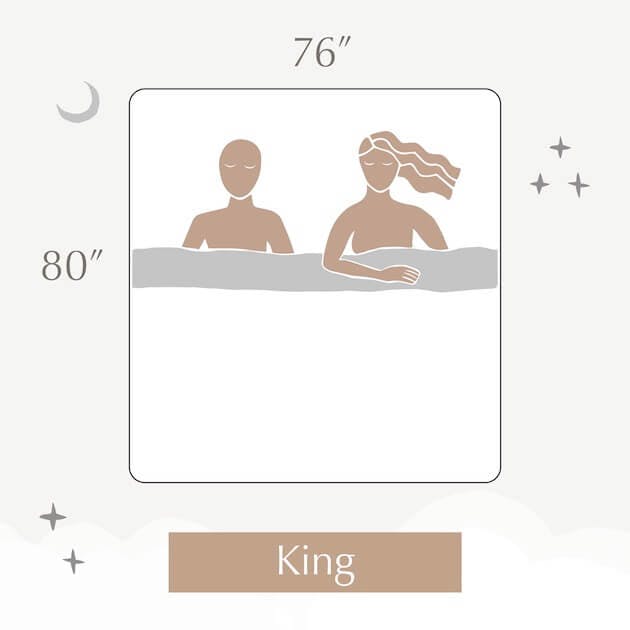 Pros of a king
To help you decide between a king vs. full bed, we've rounded up the top four benefits of choosing a standard king-size mattress:
A king-size bed provides more room for couples. "Most people would agree that the biggest advantage in getting a king-size bed is more generous room for you and your partner," says Mary Brennan, interior designer and founder of House of Fine Design in New Jersey. "Not only is it just more comfortable, but in particular, if one person is more of a restless sleeper or a light sleeper, the added sleep space helps keep disturbing the other to a minimum."
Due to its large size, a king mattress allows plenty of space for children and pets.
Its larger size can help fill empty space in a large-size bedroom.
A king offers extra space for other activities besides sleep and sex, such as working or watching TV from bed.
Cons of a king
While there are a lot of positives to getting a king-size mattress, there are some drawbacks too. Here are the four biggest reasons to not get a king bed:
It's too much work for a solo sleeper. The king isn't practical for solo sleepers because it's a lot of bed for one person to have to make up alone. A king-size is a bit more effort when it comes to making and dressing the bed since it is so much larger, says Brennan.
A king-size bed takes up a lot of space. It won't fit in studio apartments or small bedrooms. The ideal bedroom size for a king-size bed is 14 feet by 19 feet, although it will technically fit inside a room as small as 10 feet by 12 feet.
Since they're so large, they can be tough to maneuver. You may find yourself unable to fit it up the stairs or get it through your front doorway. (In this situation, you may want to consider a split king, which is comprised of two twin XL mattresses, as this will be much easier to fit up a narrow staircase.)
Because a king-size bed is the largest bed size, it can be a higher price than other mattress sizes—and you'll have to spend more on things like a headboard and bedding.
Full-size mattress
A full-size mattress, also known as a double bed, measures 54 inches wide by 75 inches long.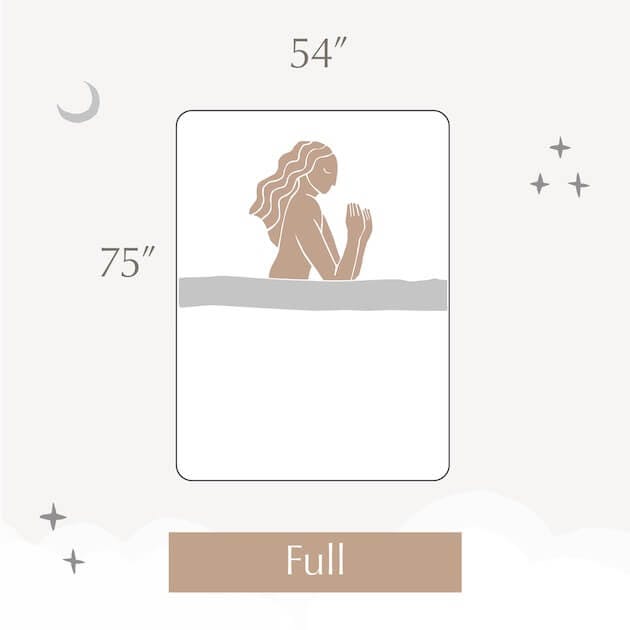 Pros of a full
Here are the top four benefits of getting a full-size bed:
Full-size beds offer an ideal situation for solo sleepers. If you live by yourself, a full-size bed will provide ample room.
This mattress size is a natural fit in downsized spaces. Those who live in apartments or who have small bedrooms will find that a full-size bed is a good option. A full-size bed can fit comfortably into a bedroom that's at minimum, 10 feet by 10 feet.
Full-size beds are a great option for children. Prudence Bailey, founder and principal designer of Prudence Home + Design in Connecticut, speaks from her first-hand design experience, saying, We use full-size beds a lot when designing kids' rooms since it's a bed that they won't outgrow until they leave home.
Full-size beds are usually less expensive than their larger counterparts and easier to transport than bigger mattresses.
Cons of a full
There are a few drawbacks to a full-size bed. Here are the biggest ones:
They don't provide adequate space for most couples. In a full-size bed, each person will only have 27 inches of space for themselves. Size is the biggest downside, as most adults will find it too small to share, says Bailey. That said, if you're not physically large and don't mind snuggling, it could be just fine. If they are a cuddling couple, this is the size for them, says Bailey.
Since they're not especially long, full-size beds aren't a great option for tall folks. A full-size bed is just barely over 6 feet in length, so you're looking at feet hanging over the edge of the bed if you're a few inches over 6 feet tall. Taller individuals will be better suited to a queen, or if you have the space, a king-size mattress.
King vs. full differences
By now you've probably figured out that the biggest difference between full and king-size beds is the size. A full-size mattress is 22 inches narrower and 5 inches shorter than a king-size bed.
Beyond that major difference, there are a few others to be aware of before buying a new bed. We've put together this handy comparison chart to help make your choice between the two easier.
| Comparison | King | Full |
| --- | --- | --- |
| Width | 76″ | 54″ |
| Length | 80″ | 75″ |
| Min. recommended room size | 10′ x 12′ | 10′ x 10′ |
| Who it's best for | Couples who want a generous amount of space | Solo sleepers, those with small bedrooms, or young children |
| Drawbacks | Most expensive mattress size and can be hard to move | Not enough space to comfortably sleep with a partner |
King vs. full prices: What's the difference?
You can find a high-quality mattress—regardless of size—for between $1,000 and $3,500. Of course, a full-size mattress is less money than a king given that it's significantly smaller in size. Expect to pay a few hundred dollars less for a full-size bed than you would for a king.
Improve your sleep with these king- and full-size mattresses from Saatva
Our flagship luxury mattress is expertly engineered with coil-on-coil construction for durability, a layer of memory foam for enhanced back support, and a cushiony Euro pillow top for extra comfort.
Premium memory foam, handcrafted in the U.S. with eco-friendly materials. Breathable organic cotton, cooling spinal gel, and layers of high-density support foam assure a cool, comfortable night's sleep.
Natural latex responds to every curve for pressure-free support and responsive comfort. Natural latex is supple, resilient, and durable, for the ultimate in elevated sleep. (It's naturally hypoallergenic too.)
FAQs
How much bigger is a king than a full?
A king-size mattress is 22 inches wider and 5 inches longer than a full-size bed.
What's bigger: a king or full-size bed?
A king-size bed is bigger than a full one. A king-size mattress measures 76 inches wide by 80 inches long, while a full-size mattress clocks in at 54 inches wide by 75 inches long.
Is a full bed a king?
A full bed isn't the same thing as a king. A full-size bed is one of the smaller standard mattress sizes and is intended for use by solo sleepers. A king-size bed, on the other hand, is one of the larger standard mattress sizes and is ideal for couples.
Are two full beds equal to a king?
Two full beds aren't equal to a king. Putting two full-size beds together results in a mattress that's 108 inches wide by 75 inches long. This isn't a standard size, so it'd be incredibly difficult to find sheets that fit.
Find the best king and full mattresses from Saatva
Saatva offers a wide range of high-quality king-size and full-size mattresses so you can easily find your perfect match, no matter which mattress size you decide is right for you.
All of our mattresses are handcrafted with premium materials to help you experience your most comfortable sleep. Plus, our mattresses come with a 365-night home trial and lifetime warranty.
Take our mattress quiz to find out which Saatva mattress is right for you.