Pillowcases can extend the lifespan of your pillow and help you sleep more comfortably. Just as bed pillow sizes vary, there are also different sizes of pillowcases.
As always, you should seek types of pillows and pillowcases ideally suited to your own sleeping habits. In this article, we'll look in some detail at the standard-size pillowcases on the market and even discuss a few less common bed pillow sizes too.
Here's what you need to know before buying your next set of pillowcases.
Common pillowcase sizes and dimensions
There are a few pillowcase sizes available, and each of them corresponds with a different pillow size. Pillowcases typically come as part of a bed set along with sheets. You can find standard-size pillowcases, queen-size pillowcases, and king-size pillowcases.
Below, we'll examine what type of sleepers should use each of these types of pillowcases so you can make the best buying choice for your sleeping habits.
Standard size pillowcases
As their name suggests, standard-size pillowcases are the most common on the market. They measure 20 x 26 inches (51 x 56 cm) and are a great choice for smaller beds.
We recommend standard-size pillows and pillowcases for twin beds, twin XL beds, and full-size or double beds. Standard-size pillows and pillowcases should fit nicely on one of these smaller beds.
Note that a standard-size pillowcase is meant to fit over both standard-size pillows and queen-size pillows. However, you may find it a little small for your personal preferences if you have a queen-size pillow.
Queen size pillowcases
Queen-size pillowcases are a little larger than the standard size, measuring 20 x 30 inches (51 x 76 cm). At four inches longer than the standard-size pillowcase, the queen-size pillowcase fits comfortably over queen-size pillows.
Although most queen-size pillows will fit inside a standard-size pillow cover, the fit may be a little too snug. So we suggest pairing your queen-size pillow with a queen-size pillowcase.
We also recommend using queen-size pillowcases and pillows with larger bed sizes, like queen beds or king beds. A smaller pillow like a standard pillow may feel too small on a larger bed.
For slightly larger pillows, there's also the super standard-size pillowcase, which is two inches longer than the standard. This pillowcase size measures 20 x 28 inches (51 x 71 cm).
King size pillowcases
King-size pillowcases are the largest of all. Measuring 20 x 36 inches (51 x 92 cm), they're made to fit king-size pillows.
People with larger beds—king beds or California king beds—may benefit from using a pillow this size, though king-size pillows may be too big for a queen mattress.
The larger size pillow can offer extra support to your back and neck throughout the night—which is helpful if you're a side sleeper or combination sleeper.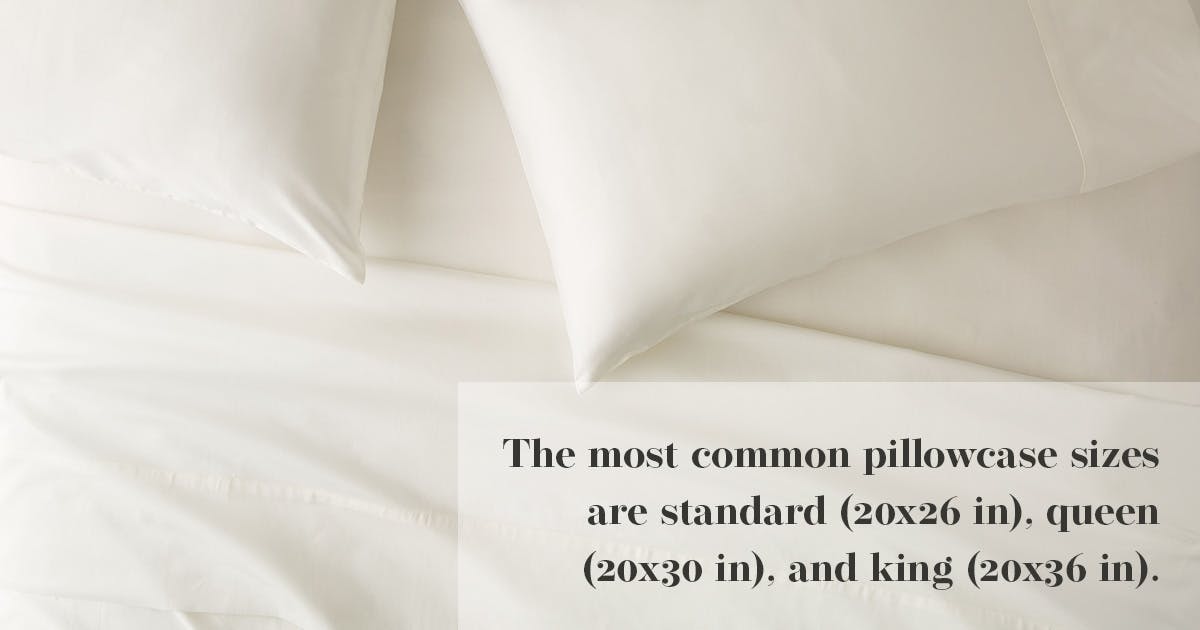 Other types of pillows and pillowcases
There are several other common types of pillows on the market for which you may need a pillowcase. The most popular ones include:
Body pillows
Throw pillows
Euro pillows
Here's a brief overview of each of these pillow types, who may benefit from using them, and which pillowcases to choose for them.
Body pillows
Body pillows are fairly common, especially for side sleepers and back sleepers. The extra length of a body pillow allows you to get additional support, increased sleep quality, and an overall more comfortable feel at night. Body pillows can be made with a variety of materials such as down, memory foam, and more.
The standard body pillow is an I-shape. The extra length lets you set one end beneath your head and neck and curve the other end around your body to tuck between your legs.
At 20 x 54 inches (51 x 137 cm), body pillowcases are the longest, largest pillowcases available and should fit nicely over a body pillow. Keep in mind some body pillows don't come with their own pillowcase, so if you want an extra pillow protector you may need to purchase one separately.
Throw pillows
Throw pillows are usually used for decorative purposes on your bed or sofa. They aren't commonly slept on like bed pillows, though you can use them to elevate parts of your body to relieve some pressure. They can be especially helpful for stomach sleepers who need to elevate their hips.
Although throw pillows come in different shapes and sizes, most are square-shaped. Pillowcases for decorative pillows offer a variety of colors, patterns, and designs. That said, it can be hard to find a pillowcase that fits throw pillows for decorative purposes.
Euro pillows
Euro pillows are so-called because of their popularity in Europe. These large, square pillows measure 26 x 26 inches (56 x 56 cm). Euro pillows are also popular in America for decoration or to provide back support when sitting on a sofa or leaning up in bed.
Euro-style pillowcases are designed to fit Euro pillows. It can be difficult to find pillowcases in this size, but some manufacturers do make them. Even if you use a Euro pillow only for decoration, a pillow cover will eliminate dirt, stains, or other grime that may get on it—so it's a good idea to try to find one.
Check out these plush, supportive pillows and soft, breathable pillowcases from Saatva
Benefits of using a pillowcase
Pillowcases are an extremely important part of your bed sheet set. They can impact the way you feel and your overall sleep quality.
Pillows can easily trap dirt, dust mites, and other grime. If you sleep without a pillowcase, all of the bacteria and other unpleasantness will be introduced directly to your skin.
Similar to pillowcases, there are pillow protectors and pillow covers. These are often waterproof and serve as a protective barrier against liquids and allergens. They're an effective way to keep your bedding clean and significantly extend the life of your pillows.
Another benefit of pillowcases is that they can be used for decorative purposes. You can use decorative pillowcases and pillow shams to liven up your bedroom and make it more decoratively cohesive.
FAQs
What is the standard size of a pillowcase?
The standard size of a pillowcase is 20 x 26 inches (51 x 56 cm).
How much bigger should a pillowcase be than the pillow?
A pillowcase should be one or two inches larger than the pillow for it to fit properly and not slip off in your sleep.
Check out Saatva's collection of pillows and pillowcases
Finding the correct size pillow and pillowcase for your personal preferences is key. You can maintain your skin's health, get a good night's sleep, and extend the life of your pillows—which can cost a considerable amount of money—just by adding a pillowcase.
Saatva offers a variety of high-quality, long-lasting pillows and pillowcases to ensure you can get a good night's sleep. Our pillows are made from plush, supportive materials, like
Saatva aims to provide you with the best pillow for your personal preferences to give you the ideal sleep experience. Check out Saatva's wide selection of pillows, pillowcases, and other bed accessories to find your perfect match.